Why complacent Germany needs to get a grip
The gas-supply crisis is merely the most conspicuous sign of the complacency and drift besetting Europe's largest economy. Germany's national business model needs an overhaul.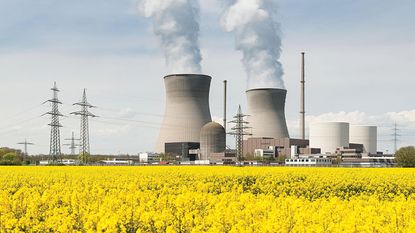 (Image credit: © Prasit Rodphan / Alamy)
What's happening?
Germany's economy stagnated in the second quarter, even as eurozone neighbours Spain, Italy and France all registered growth. Retail sales recorded their largest annual fall since 1994 in June, while gauges of business and consumer confidence are at their lowest levels in more than two years. Even Germany's much-vaunted trade surplus has evaporated, with soaring prices for energy imports seeing it record a €1bn deficit on a seasonally adjusted basis in May. That is its first trade deficit since 1991.
What's the problem?
Complacency. Germany is a wealthy country – GDP per capita is $50,802 compared with $47,334 in the UK – and has maintained its manufacturing base, with industry accounting for 27% of GDP (in Britain and France the figure is 17%). That has enabled companies to cash in on booming Chinese demand for machines and high-end cars since the latter joined the World Trade Organization in 2001.
Other countries have often been keen to emulate Germany, with many admiring its robust vocational education system, for instance. Yet the resulting sense that all is well has prevented overdue reforms. A moralising obsession with balanced budgets has seen road and digital infrastructure fall behind.
Subscribe to MoneyWeek
Subscribe to MoneyWeek today and get your first six magazine issues absolutely FREE
Get 6 issues free
Sign up to Money Morning
Don't miss the latest investment and personal finances news, market analysis, plus money-saving tips with our free twice-daily newsletter
Don't miss the latest investment and personal finances news, market analysis, plus money-saving tips with our free twice-daily newsletter
What about energy?
Berlin spent nearly €202bn between 2013 and 2020 on renewable-energy projects, part of its ambitious "Energiewende" (energy transition), says Lea Booth for Quillette. That investment has taken solar and wind's share of electricity production from 8% to 31% since 2010. The trouble is that the transition has been linked to a catastrophic decision to phase out nuclear power plants – the last are due to shut by December. That has left "the world's pre-eminent renewable energy champion" needing to reopen coal power plants, a "damning policy failure".
Now add to the mix naivety about Moscow's imperialist ambitions: 55% of German gas came from Russia prior to the Ukraine war. With Russia continuing to cut deliveries – the Nord Stream pipeline is currently running at just 20% capacity – Germans are facing a chilly winter.
Will there be energy rationing?
Quite possibly. The federal energy regulator's "latest scenarios predict that gas will completely or nearly run out by early 2023", notes The Economist. While households would be prioritised during rationing, industries such as chemicals could grind to a halt. That would send another wave of chaos through global supply chains.
There is already a drive to limit municipal energy consumption as the nation dashes to fill its gas storage to 95% of capacity by November (it is currently at 68%). Hanover has switched off hot water in public buildings; early last month a senator in the state of Hamburg said the city could ration hot water for private households if the gas shortage becomes acute. "The International Monetary Fund estimates that Germany is at risk of losing 4.8% of economic output if Russia halts gas supplies," say Vanessa Dezem, William Wilkes and Arne Delfs on Bloomberg.
What about German businesses?
They have fallen victim to complacency, too. "In the last ten years, two companies in the DAX… have experienced colossal implosions, caused by fraud," says John Lanchester in the London Review of Books. First there was the Volkswagen diesel-emissions scandal, which revealed a "contemptuous indifference" towards customers and regulators.
Then in 2019 payments star Wirecard was revealed to have cooked the books. When the Financial Times broke the story, BaFin, the local financial regulator, didn't just ignore the evidence, it opened an investigation into the whistle blowers, suspecting "market manipulation". Local banks and regulators closed ranks against trouble caused by "Anglo-Saxon" outsiders.
What else lies ahead for Germany Inc.?
The era of cheap gas is over. As Javier Blas notes on Bloomberg, prices look likely to stay elevated into at least 2024. That could force some energy-intensive industries to relocate. Germany is also trapped by a second "fatal dependency", says Diana Choyleva of Enodo Economics in Nikkei Asia. "For almost two decades, the synergy between China and Germany" has married cheap production costs with Germany's "technical know-how and the fruits of decades of engineering breakthroughs". It has been profitable for German business, but the partnership is now "in its death throes" as China develops its own world leaders. A decade ago, "the sudden emergence of Chinese competitors wiped out Germany's advanced solar-power industry". The car industry may be next.
German industry is also hampered by the country's sluggish moves to adopt new digital tools: "Whether it's a lack of [mobile phone] service even in the middle of cities, fax machines in doctors' offices, or a dearth of official services available online, [it is clear] that Germany is stuck in the technological past," says Elizabeth Schumacher for Deutsche Welle.
Can Germany turn things around?
Germany has been here before. In the 1990s and early 2000s a post-reunification hangover saw it branded the "sick man of Europe". As Christian Dustmann, Bernd Fitzenberger, Uta Schönberg and Alexandra Spitz-Oener note in the Journal of Economic Perspectives, growth was sluggish and unemployment hit 11.1% in 2005. What changed the picture were the 2003-2005 Hartz labour-market reforms. The resulting "jobs miracle" helped the German economy come through the Great Recession and the eurozone crisis relatively unscathed.
The country's blandly centrist, consensus-based political system can take time to arrive at the right answers, but it has shown the capacity to get there eventually in the past. With war raging in Europe, Germany's leaders need to get a grip again.