Margrethe Vestager: a symbol of all that's wrong with the EU
Margrethe Vestager, the EU's competition commissioner, wields enormous power over industry, and abuses it, says Matthew Lynn.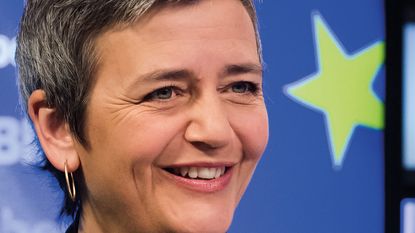 (Image credit: Margrethe Vestager, competition commissioner of the European Commission © Geert Vanden Wijngaert/Bloomberg via Getty Images)
Margrethe Vestager loves to portray herself as the European Union's competition powerhouse. The bloc's competition commissioner talks endlessly about how she is turning Brussels into a self-proclaimed regulatory superpower and how she's the only person willing to stand up to the power of Big Tech, dishing out fines so huge they are now a major source of EU revenues. Vestager is the closest thing the European Commission has to a superstar.
But there is a problem. It is increasingly becoming clear that she is also out of control and that her frequently illegal decisions, and her absurd faith in the power of regulation, are doing huge damage to the European economy.
The courts row back
Last week, the EU's second-highest court overturned her decision of four years ago to block the merger of the O2 and Three mobile networks in Britain. There were, it concluded, "errors of law" in the decision and the EU had failed to prove that consumers would be harmed. That is not the first time Vestager has been overruled by the EU's own courts. Last year an order to make Starbucks pay back €30m in taxes to the Netherlands was overturned. Many more appeals are making their way through the legal system. Google is fighting back against the fines it has been forced to pay and the changes demanded to its business model. Apple is fighting back against the vast fine levied on it for basing its operations in Ireland. Legal experts argue both cases have a good chance of success.
Subscribe to MoneyWeek
Subscribe to MoneyWeek today and get your first six magazine issues absolutely FREE
Get 6 issues free
Sign up to Money Morning
Don't miss the latest investment and personal finances news, market analysis, plus money-saving tips with our free twice-daily newsletter
Don't miss the latest investment and personal finances news, market analysis, plus money-saving tips with our free twice-daily newsletter
Many of Vestager's decisions are simply bizarre. It is hard to understand why Apple's tax arrangements were a "competition" issue rather than, er, a tax one. Likewise, the EU's insistence that Amazon and Google somehow harm competition won't make much sense to consumers or businesses. Open search and sales platforms have made most markets much more competitive than they used to be and price competition is often so brutal that it is virtually impossible for anyone to make any money.
Meanwhile, a few favourite European companies appear to be able to do anything they want to. Germany's massive bail out of the airline Lufthansa, along with a block on any foreign takeovers, appears to have been just fine with the Commission. Competition laws are being suspended to prevent Chinese takeovers, while Volkswagen's manipulation of diesel emissions, probably the worst corporate scandal of the last decade, doesn't seem to have prompted any serious criticism from Brussels.
Industrial strategy by the back door
In truth, Vestager has been waging a campaign to use competition policy to create a European industrial strategy. But it isn't obvious that people in Europe want an industrial strategy cooked up in Brussels and even if they did they probably couldn't agree on what it should be. Her war on technology more often seems waged on behalf of old vested interests than for consumers. Perhaps most seriously of all, Vestager's insistence that Europe can regulate its way to success is simply crazy. She makes a lot of noise about using the size of the European market to impose global regulatory standards that companies everywhere will have to follow. But while that might be great for the regulators in Brussels, it doesn't make the European economy any stronger.
Meanwhile, Vestager herself comes under very little scrutiny. Before Brussels made her the most powerful regulator in the world, she was an obscure Danish minor-party politician who had never held a proper job and was shuffled off to the EU as part of a complex coalition deal. Danish voters never thought much of her, never mind voters anywhere else. It is as if we suddenly found Jo Swinson – remember her? – was in charge of European industry. A few of us might be scratching our heads and wondering how that happened. Vestager symbolises everything that is wrong with the EU. Unelected, unaccountable and out of control, it is hard to see how the continent can ever prosper with someone wielding so much power over the economy.
Matthew Lynn is a columnist for Bloomberg, and writes weekly commentary syndicated in papers such as the Daily Telegraph, Die Welt, the Sydney Morning Herald, the South China Morning Post and the Miami Herald. He is also an associate editor of Spectator Business, and a regular contributor to The Spectator. Before that, he worked for the business section of the Sunday Times for ten years.
He has written books on finance and financial topics, including Bust: Greece, The Euro and The Sovereign Debt Crisis and The Long Depression: The Slump of 2008 to 2031. Matthew is also the author of the Death Force series of military thrillers and the founder of Lume Books, an independent publisher.