Is Covid's Delta variant putting pressure on Europe's economic recovery?
Just as Europe was beginning to open up after months of Covid restrictions, the Delta variant is bringing a third wave of infections. Saloni Sardana looks at what it means for the continent's re-opening plans.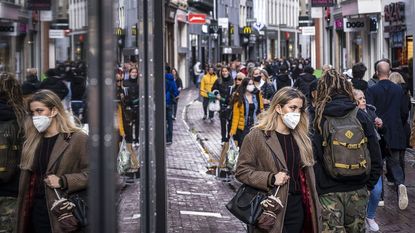 (Image credit: © RAMON VAN FLYMEN/ANP/AFP via Getty Images)
Just when the governments of Europe and other parts of the world were opening up after months of Covid restrictions, Delta – a deadly Covid variant – is raging across the bloc and the world, putting many reopening plans into limbo.
Germany, France, Italy, Spain and the Netherlands are some of Europe's major economies that are having to reassess their grand reopening plans as the Delta variant drives infections higher.
So what measures are these countries taking and what may it mean for investors?
Subscribe to MoneyWeek
Subscribe to MoneyWeek today and get your first six magazine issues absolutely FREE
Get 6 issues free
Sign up to Money Morning
Don't miss the latest investment and personal finances news, market analysis, plus money-saving tips with our free twice-daily newsletter
Don't miss the latest investment and personal finances news, market analysis, plus money-saving tips with our free twice-daily newsletter
Europe's hotspots
Germany and France warned their citizens against all travel to Spain last week. The warning came as Spain surpassed Portugal to become the worst hit country in mainland Europe in terms of the number of infections.
France this week moved to restrict restaurants and shopping centres to only those who have been vaccinated and those who can present a negative Covid test.
And European countries are getting nervous about travellers coming from the UK even as the UK is set to lift almost all Covid restrictions on 19 July. Portugal, Italy and Germany announced tougher restrictions on UK travellers.
In Germany politicians are bickering over whether to ease restrictions fully or not amid a higher incidence rate. The incidence rate, which shows the number of new cases per 100,000 people, has risen in Germany for several consecutive sessions, according to the Robert Koch Institute, Germany's public health body, which said that Delta accounted for 59% of the country's case at the end of June.
The Netherlands has enacted tougher measures after cases began creeping higher after 26 June, the day most restrictions were eased. As of 10 July, the government has introduced new measures including closing restaurants and bars between midnight and 6AM and shutting down nightclubs and discos.
Why should any of this matter?
The spectre of European countries imposing higher restrictions could potentially derail European economic growth and the recovery investors have been waiting for.
The European Commission increased its forecasts for the EU's economic growth last week. The Commission is now bracing for a rise of 4.8% this year, following the 6.2% drop last year.
But Paolo Gentiloni, the EU economics commissioner, has stressed that the robust predictions do not factor in the chances of a new Covid outbreak, such as one caused by a variant as deadly as Delta, although he made it clear that he doesn't expect the ongoing Delta variant to trigger more widespread lockdowns.
Erik Nielsen, chief economist at UniCredit, says he is getting nervous that Europe's growth could be "derailed by Delta"," reports the Financial Times.
What this means for investors
So that brings us to the question: will Delta really dampen Europe's recovery hopes and what should investors do about it?
It is worth noting that while many of these countries have been forced to reimpose some Covid restrictions, hospitalisations have still remained strikingly low.
As the Wall Street Journal points out: "The spike in Spanish cases is leading to an increase in hospitalisations, but much more slowly than in previous waves, with only 2.4% of the hospital beds and 6.6% of intensive-care-unit beds occupied by Covid-19 patients."
India, where the Delta variant originates, is also reporting much lower cases. The world's second most affected country reported just under 33,000 cases on Tuesday, the lowest daily figure since mid March when a deadly second wave raged across the country.
So there's a higher chance that many of the fears related to the variant have been overdone.
And as Kallum Pickering, economist at Berenberg, puts it: "thanks to rapid vaccination progress, we still consider it unlikely that countries will again have to impose serious restrictions to economic activity to contain the medical risks."
The Stoxx Europe 600, Europe's flagship stockmarket index, hit a record high of 461.38 in early trading on Tuesday ahead of key US inflation data and is up 11% since the start of the year, slightly lower than US exchanges.
So while Delta undoubtedly may threaten some of the summer party in Europe, it's likely that cyclical stocks and reflation trade are still the dominant themes for investors.
Saloni is a web writer for MoneyWeek focusing on personal finance and global financial markets. Her work has appeared in FTAdviser (part of the Financial Times), Business Insider and City A.M, among other publications. She holds a masters in international journalism from City, University of London.
Follow her on Twitter at @sardana_saloni