Quiz of the week 16-22 January
A Japanese car-maker announced plans to continue its UK operation, safeguarding 6,000 British jobs. But which one? And what else happened this week? Test your recollection of the events of the last seven days with MoneyWeek's quiz of the week.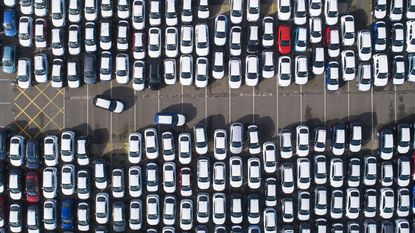 (Image credit: © Jason Alden/Bloomberg via Getty Images)
1. Which prominent Japanese car manufacturer, which employs 6,000 people in Sunderland, has recently announced plans to continue its UK operation post-EU trade deal?
a. Nissan
b. Hyundai
c. Honda
d. Toyota
2. Which video-streaming service, which saw spectacular growth during the pandemic, made an annual profit of $25bn and has accrued a total of 203.6 million subscribers?
a. Apple TV
b. Amazon Video
c. Netflix
d. Hulu
3. Which prominent Chinese entrepreneur resurfaced this Wednesday after a three-month hiatus, following the halting of his firm's $37bn IPO?
a. Softbank's Masayoshi Son
b. Ant Group's Jack Ma
c. Tencent's Ma Huateng
d. Samsung's Kim Ki Nam
4. In place of the usual crowds, missing because of the danger of spreading Covid-19, US President Joe Biden's inauguration filled America's National Mall with 200,000 of what objects representative of 'American unity'?
a. McDonald's Big Macs
b. Flags
c. Olive branches
d. Lit torches
5. Which prominent airline has reported a $33m daily cash burn, and $1.9bn loss in the fourth quarter of 2020?
a. United Airlines
b. British Airways
c. Ryanair
d. American Airlines
6. Which German car company boasted an annual profit of £12.bn for 2020, despite the Covid-19 pandemic?
a. Volkswagen
b. BMW
c. Porsche
d. Audi
7. Which European country surpassed the highest monthly borrowing figure on record for December after borrowing £34.1bn?
a. Germany
b. France
c. United Kingdom
d. Greece
8. Which high-flying CEO has recently acquired two Texan oil rigs for the price of $7m to serve as launch pads for their developing space programme?
a. Jeff Bezos
b. Richard Branson
c. Elon Musk
d. Mark Zuckerbeg
9. Which mortality-conscious American real estate mogul has recently offered scientists $1m in prizes to prove the existence of life after death?
a. Donald Trump
b. Robert Bigelow
c. Donald Bren
d. Sam Zell
10. The price of which controversial cryptocurrency dropped below $30,000 this week?
a. Ethereum
b. Litecoin
c. Ripple
d. Bitcoin
Answers
1. a. Nissan. Following the trade deal between the UK and EU, Japanese car manufacturer Nissan has reported plans to secure its UK manufacturing plant in Sunderland, guarding 6,000 local jobs.
2. c. Netflix. Making a $25bn, streaming giant Netflix reported it had hit a total of 203.6 million subscribers during 2020, as consumers turned to the entertainment service during the pandemic.
3. b. Ant Group's Jack Ma. Ant Group CEO Jack Ma returned to the limelight after three months, in a video praising China's teachers.
Subscribe to MoneyWeek
Subscribe to MoneyWeek today and get your first six magazine issues absolutely FREE
Get 6 issues free
Sign up to Money Morning
Don't miss the latest investment and personal finances news, market analysis, plus money-saving tips with our free twice-daily newsletter
Don't miss the latest investment and personal finances news, market analysis, plus money-saving tips with our free twice-daily newsletter
4. b. Flags. Because of concerns that crowds would spread Covid-19, US President Joe Biden's inauguration was performed to a background of 200,000 flags representing the 50 states and 5 territories of the USA.
5. a. United Airlines. The US carrier has recently pledged to cut costs to keep the airline aloft, after a disastrous fourth quarter of 2020 resulted in a $1.9bn loss .
6. a. Volkswagen. VW has made a £12.2bn annual profit for 2020, despite a 15% fall in worldwide vehicle deliveries; strong demand in China helped it rebound from the pandemic.
7. c. United Kingdom. The UK borrowed more money last month than in any December on record – £34.1bn, taking the total borrowing for the financial year to £270.8bn.
8. c. Elon Musk. Space X and Tesla CEO Elon Musk plans to use the rigs to expand his privatised space-programme off the coast of Boca Chica, Texas.
9. b. Robert Bigelow. Bigelow was inspired by readings by "psychic" George Anderson after the suicide of his son and grandson in 1992 and 2011 respectively.
10. d. Bitcoin. Bitcoin's price briefly crashed to below $30,000, wiping $200bn from its value in the last two weeks.
Jasper is a former writer for the MoneyWeek and he wrote on an array of topics including travel, investing in crypto and bitcoin, as well as cars. Previous to that he freelanced at The Art Newspaper, PORT Magazine and The Spectator. Jasper is currently a freelance writer at FAD magazine and he has an English literature degree from the University of Exeter, and a Master's degree from UCL.