Currencies: the yen just keeps on tumbling
The Japanese yen is trading close to a 20-year low with the US dollar, with the Bank of Japan in no rush to raise interest rates.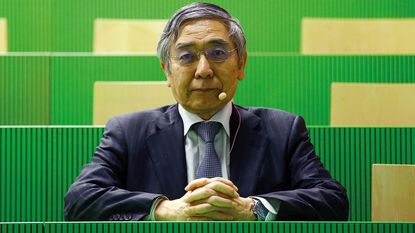 (Image credit: © Arnd Wiegmann/REUTERS/Alamy)
Japan has become "the land of the sinking currency", says Russ Mould in Shares. The yen is trading close to a 20-year low at 130 to the US dollar, having fallen 16% over the past 12 months. The main cause is divergent monetary policy: while US policymakers rush to tame inflation running at more than 8%, inflation in Japan is still below target at only 1.2%.
Thus Bank of Japan governor, Haruhiko Kuroda, is in no rush to raise short-term interest rates from -0.1% or to abandon yield-curve control, a policy that caps ten-year government bond yields at 0.25%. In any case, while politicians have begun to "fret" about the weaker yen raising the cost of living, there is little they can do, says The Economist. "Deep forces are driving the yen's depreciation…Fuel and raw materials make up roughly one-third of Japan's import bill", leaving the country especially exposed to the global commodity price spike. Some think "the yen could continue falling, perhaps to ¥150 to the dollar, a level unseen even during the Asian financial crisis of 1997-1998 (when it fell to ¥147 to the greenback)".
A fading export power
The yen is now at its lowest level in real terms since the early 1970s, says the Financial Times. In past decades, "such weakness would have prompted furious recriminations between Tokyo and Western capitals, which lived in fear of cheap Japanese imports". But times have changed. A weak yen will see Japan soak up global inflation, while exporting deflation. That's just what "an inflation-hit US wants".
Subscribe to MoneyWeek
Subscribe to MoneyWeek today and get your first six magazine issues absolutely FREE
Get 6 issues free
Sign up to Money Morning
Don't miss the latest investment and personal finances news, market analysis, plus money-saving tips with our free twice-daily newsletter
Don't miss the latest investment and personal finances news, market analysis, plus money-saving tips with our free twice-daily newsletter
The weak yen could be a buying opportunity, says David Brenchley in The Sunday Times. Historically, Japanese stocks do well when the yen weakens. A weaker currency makes Japanese exports more competitive and flatters the earnings of multinationals in yen terms. "Between September 2012 and June 2015 the yen fell 60%, while the Nikkei 225 index of large Japanese companies rose 120%."
But the idea that a weak yen is good for Japan's export-oriented economy is "a distorted echo of the past", say Marc Chandler and Omkar Godbole in Barron's. At 15% of GDP, exports now account for a smaller part of Japan's economy than the UK's (28%) or Germany's (43%). Offshoring means that Japanese exporters get less of the upside from a weaker yen than they used to.
For example, two-thirds of the cars that Japanese firms sell are made abroad, say Satoshi Sugiyama and Maki Shiraki for Reuters. "Almost a quarter of Japanese manufacturers' production is carried out overseas", up from less than 15% two decades ago. Kuroda insists that the current spurt of inflation will help Japan shake off its deflation problem. He may be right, but "some of Kuroda's former finance ministry colleagues now see the weak yen as a sign of Japan's fading economic power".