Build profits with this industrial equipment rentals company
United Rentals is poised to benefit from higher spending on infrastructure. Matthew Partridge explains the best way to play it.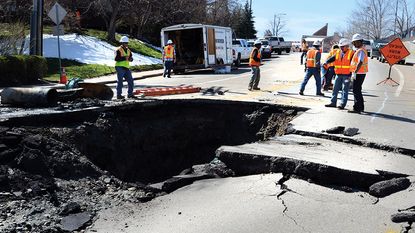 (Image credit: (C) 2012 Boulder Daily Camera, MediaNews Group, Prairie Mountain Publishinghttp://www.dailycamera.com/http://www.buffzone.com/)
Americans may disagree on many things, but most tend to think that more money needs to be spent on the nation's decrepit infrastructure. Governments at both state and national level face huge bills for fixing ageing roads, dams and bridges; they also need to build more in order to meet the needs of a growing population and economy. Last year the American Society of Civil Engineers estimated that $4.5trn needed to be spent to bring America's infrastructure up to what it considered to be an acceptable standard by 2025.
While such plans may seem ambitious, President Trump's potential opponents in November are now talking about spending around $1trn on repairs and upgrades over the next four years. Earlier this month, Trump himself floated the idea of a $1trn ten-year plan concentrating mainly on highways.
While Trump's plan is less ambitious than the Democrats', he seems to be coming around to the idea that these investments should be directly financed by the US government instead of being partly funded by the private sector. This means that whoever wins in November there will be a large increase in spending.
Subscribe to MoneyWeek
Subscribe to MoneyWeek today and get your first six magazine issues absolutely FREE
Get 6 issues free
Sign up to Money Morning
Don't miss the latest investment and personal finances news, market analysis, plus money-saving tips with our free twice-daily newsletter
Don't miss the latest investment and personal finances news, market analysis, plus money-saving tips with our free twice-daily newsletter
A fast grower at a reasonable price
All this is good news for United Rentals, Inc. (NYSE: URI), which stands to benefit from any increase in construction spending. United Rentals specialises in renting industrial equipment and aerial platforms to the construction industry. While it has a small presence in Europe, it gets most of its revenue from the US and Canada, where it has approximately 13% of the market.
A combination of acquisitions and organic growth has enabled it to increase revenue by nearly two-thirds from $5.86bn in 2014 to $9.61bn last year. This represents an average sales growth rate of around 10% a year, while it achieves a return on capital invested of around 10%.
While United Rentals' growth potential looks exciting, its valuation looks extremely reasonable. The company is trading on a mere 7.2 times estimated 2021 earnings. For comparison, the S&P 500 as a whole has a 2021 price/earnings ratio of 23. The reason for this low valuation is that many people worry that if the economy starts to slow down, construction spending will be first to fall.
While construction is normally a very cyclical industry, as it tends to do worse than other sectors during recessions, the backlog of work means that the government may try to use infrastructure spending to stimulate the economy. United Rentals also looks auspicious from a technical perspective, with the share price above the 100 and 200-day moving averages, and reasonably close to the 52-week high. I suggest going long on United Rentals at the current price of $153 at £25 per $1 (compared with IG Index's minimum of £8 per $1). Cover your position at $117, giving you a downside of £900.
Trading techniques: what's in a name?
While companies can change their names for legitimate reasons, such as a merger, sometimes they have a more cynical motivation. During the late 1990s, many firms rebranded themselves as "dotcoms" in an attempt to cash in on the craze for internet stocks.
Even though the core business of these firms didn't change, they still subsequently saw their prices rise before crashing back to earth when the market soured on tech stocks. Similarly, while Long Island Iced Tea's stock briefly tripled in value after it changed its name to Long Blockchain in late 2017, reflecting the craze for the digital ledger technology underpinning bitcoin, this didn't stop it being delisted a few months later.
There is further evidence that name changes can boost share price in the short term. A 2013 study by Robert Mayo of George Mason University of 25 such name changes in 2010 found that the share prices of these companies outperformed the market by an average of 4.4% in the 30 days after the name change was announced.
A 2011 study by Farooq Durrani of Brock University found similar short-term positive returns for Canadian shares between 1997 and 2011, both when the name change was approved and when it came into effect.
However, the evidence also suggests that in the longer run a name change bodes ill. A 2007 study by the universities of Coventry and Portsmouth examined 803 name changes in the UK between 1987 and 2002. It found that companies that changed their names lagged the market for up to three years.
Investors may have decided that managers were either overconfident about the future or trying to use the name change to hide the fact that the firms involved were in trouble.
How my tips have fared
My long positions have done well over the last fortnight, with six of the seven tips rising. Storage firm Safestore climbed from 801p to 855p, homebuilder Bellway increased from 4,077p to 4,243p, car manufacturer Volkswagen advanced from €163 to €172, building firm Taylor Wimpey climbed from 219p to 232p and recycling firm DS Smith rose from 357p to 358p. Coach and bus company National Express ticked up from 441p to 442p. The only share to decline was drug company Bausch Health Companies, down from $27.91 to $27.74. Five out of seven of my long tips are making money, with overall profits of £4,819.
Sadly, four out of my five short tips also appreciated. Ride hailing service Uber rose from $37.15 to $39.66 while social network Twitter increased from $32.85 to $37, which means that you would have covered your position at a loss of £1,006.
Tobacco company Philip Morris International advanced from $83.20 to $88.50, while aircraft manufacturer Boeing climbed from $318.27 to $338.37. The only short tip that fell was retailer Wayfair, down from $99 to $82.60. Counting the losses on Twitter, my short tips are in the red by a total of £662, up from £324.
I now have eight long tips and four shorts, while I would much prefer to have a portfolio that is evenly balanced. The two most obvious targets for closure are Safestore and Bellway, which I tipped nearly a year ago, but they are doing so well that I can't really justify suggesting that you close your positions.
Instead, I'm going to lock in some profits by increasing the stop losses on Safestore to 800p, while also increasing the stop losses on Bellway to 4,000p. I will come up with more short ideas in the next few columns.
Matthew graduated from the University of Durham in 2004; he then gained an MSc, followed by a PhD at the London School of Economics.
He has previously written for a wide range of publications, including the Guardian and the Economist, and also helped to run a newsletter on terrorism. He has spent time at Lehman Brothers, Citigroup and the consultancy Lombard Street Research.
Matthew is the author of Superinvestors: Lessons from the greatest investors in history, published by Harriman House, which has been translated into several languages. His second book, Investing Explained: The Accessible Guide to Building an Investment Portfolio, is published by Kogan Page.
As senior writer, he writes the shares and politics & economics pages, as well as weekly Blowing It and Great Frauds in History columns He also writes a fortnightly reviews page and trading tips, as well as regular cover stories and multi-page investment focus features.
Follow Matthew on Twitter: @DrMatthewPartri