Six winning Christmas wines
From a 2004 Château Potensac at the peak of its powers to a top-flight Chablis exuding class and finesse, MoneyWeek's wine columnist Matthew Jukes rounds up his favourite tipples for your table.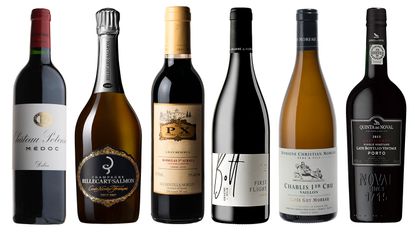 (Image credit: Christmas wines)
2004 Château Potensac, Médoc, Bordeaux, France
(£59.00, Magnum,bbr.com) There is no mystery here whatsoever as this is a well-known château and 2004 is a decent vintage. So why has it gained a place in this stellar line-up? The answer is that we are all so used to tasting young, vigorous wines that we sometimes forget just how beautiful mature wines can be. Potensac is owned by the Delon family and it shares a portfolio with none other than the mesmerising Saint-Julien Deuxième Cru, Léoville-Las Cases.There is pedigree here and at 16 years of age, this wine is at the peak of its powers. So £59 is the right price to pay for a fully mature, top-class claret and this is why it sits on this page. Oh, and £59 is for a magnum, not a bottle, so I am sure that you are already speed-dialling Berry's before you have even finished reading this sentence.
2007 Billecart-Salmon, Cuvée Nicolas François, Champagne, France
Subscribe to MoneyWeek
Subscribe to MoneyWeek today and get your first six magazine issues absolutely FREE
Get 6 issues free
Sign up to Money Morning
Don't miss the latest investment and personal finances news, market analysis, plus money-saving tips with our free twice-daily newsletter
Don't miss the latest investment and personal finances news, market analysis, plus money-saving tips with our free twice-daily newsletter
(£140, highburyvintners.co.uk; champagnedirect.co.uk) Back in April, I reviewed 2007 Billecart Louis in my column and this phenomenal 100% Chardonnay cuvée pricked up my ears for the collection of 2007 releases from this elite House. A few weeks ago, 2007 Nicolas François was launched and it built on the grace and majesty of Louis by adding phenomenal depth, magical resonance and extraordinary promise. Made from 79% Grands Crus and 21% Premiers Crus, with 60% pinot noir coming from the Montagne de Reims and the Vallée de la Marne and 40% chardonnay coming from the Côte des Blancs, the dosage is six grams (of sugar) per litre and a perfectly judged 15% was vinified in oak barrels. I awarded this wine 19.5/20 in my notes, so it is as close to perfection as anything I have tasted.
1990 Bodegas Toro Albalá, Don PX, Pedro Ximénez Gran Reserva, Montilla-Moriles, Spain
(£19.95, half bottle, 55 branches and waitrosecellar.com) I have no idea how a 30-year-old sweetie, which gains a mighty 19/20 score in my notes, can only tip the scales at 20 measly quid, but so be it. This ridiculously sweet, piratical, rum 'n' raisin-stuffed, prune and Armagnac tart-sozzled, treacle pudding-rammed, espresso bean-topped, figgy, nutty, elixir is the go-to drink with Christmas pud, mince pies, Christmas cake and every box of choccies ever made. It is so darned serious it is amazing and you only need a thimbleful to work its magic on your soul. Best of luck!
2018 First Flight Syrah, Graeme & Julie Bott, Northern Rhône, France
(£18.88, laywheeler.com) I shortlisted a few heavyweight Hermitage, Cornas and Côte-Rôtie wines for this spot and all of them cost north of 50 quid. However, an epiphanic moment took place when Lay & Wheeler sent me this beautifully designed syrah made by Kiwis Graeme and Julie Bott. With vast experience in the region, they make Côte-Rôtie, Crozes, Saint-Joseph among others and 2018 is only their second vintage, but they are already ones to watch. Their touch is exquisite, focusing on fruit purity, unquestionable accuracy and uncommon immediacy. This young syrah is jaw-droppingly delicious and it has the perfume and texture of truly grand wine – so get in quick with this sensational discovery.
2018 Chablis, 1er Cru Vaillon Cuvée Guy Moreau, Domaine Christian Moreau Père & Fils, Burgundy, France
(£37.35, reduced to £33.20 each for a case of six, Haynes, Hanson & Clark 020-7584 7927 & hhandc.co.uk) 2018 white Burgundies are generally fleshy and forward by comparison with the upright 2017s and yet well-chosen Chablis has the benefit of both silky-smooth fruit and also keen, refreshing acidity. Cuvée Guy Moreau is a top-flight wine and it exudes class and finesse. I have followed Moreau's wines for an eternity and this is one of the most luxurious and layered releases I can remember. This is my chosen Christmas white from thousands of bottles tasted over the last few months and it wins this spot because it is a sheer work of art.
2013 Quinta do Noval, Late Bottled Vintage, Porto, Portugal
(£21.49, ocado.com; £22.45, amazon.co.uk; £21.87, cambridgewine.com; £24.95, masterofmalt.com; £24.95, whitmoreandwhite.co.uk; £22.95, corkandcask.co.uk; £19.79, thedrinkshop.com) If the famous port houses were ever classified in some Cru classé system like the Bordeaux châteaux, then Noval would be a "first growth". While this late bottle vintage costs around twice the price of the more well-known named houses' own versions, this is a very different style of offering. Taking nothing away from the other estates' wines, Noval's late bottle vintage possesses a true vintage stamp, with intricate detailing and fabulous tonal variation. It is a connoisseur's port for those who are obsessed with the wines from this most dramatic of regions. With this in mind, £20 is a small price to pay for best in class.
Matthew Jukes has worked in the UK wine business for well over three decades and during this time has written 14 wine books.
Matthew regularly lectures, judges, speaks at wine conferences and runs masterclass tastings for both corporate and private clients all over the world. Matthew is also the creator of his ground-breaking initiative, the One Day Wine School, an indulgent day of tasting and learning first performed in 2006.
He has been the MoneyWeek wine correspondent since 2006 and has written a weekly column for the Daily Mail's Weekend Magazine since 1999. His four highly-acclaimed, annual wine reports – the Burgundy En Primeur Report, the Bordeaux En Primeur Report, the Piemonte Report and the 100 Best Australian Wines – are published on his website, www.matthewjukes.com.
Matthew is one of the world's leading experts on Australian wine and, with Brisbane-based wine writer Tyson Stelzer, runs an annual competition in Australia to find 'The Great Australian Red'. He was made Honorary Australian of the Year in the UK at the 2012 Australia Day Foundation Gala dinner.
Matthew is a winner of the International Wine and Spirit Competition's Communicator of the Year Trophy. His thoughts, recommendations and tastings notes are followed very closely by the wine world at large.