Plough your own furrow on furlough
Seen and done all the box sets and cleaning you can face? It's time to get creative, says Nicole Garcia Merida.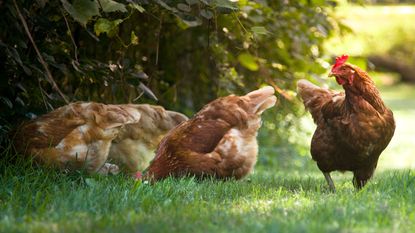 (Image credit: Chickens © Getty Images)
Secure your own supply of eggs
The coronavirus pandemic has radically altered consumers' behaviour, which has given rise to shortages of toilet paper, groceries, alcohol and, perhaps most surprisingly, of hens, says Alyx Gorman in The Guardian. The appeal of having your own supply of eggs is driving the demand, but hens are "not just something you can put in your backyard and leave", says the RSPCA's scientific officer, Dr Sarah Babington. "A backyard chicken coop is not an easy egg fix if the supermarket runs low."
But if you're up for the challenge, you'll need to keep at least three as hens are social creatures. They'll also need space to explore (around ten square metres for a flock of five), a nutritious diet, nests, perches, dust baths, and "Fort Knox-like protection from predators" such as foxes. Most of all, however, chickens need affection. Getting to know your chickens and their individual personalities is "the best part of owning them". Other things to consider include cleaning up – they "do poop a lot", but their waste makes for great fertiliser – veterinary bills, and ensuring the flock complies with council regulations.
And don't expect them to start laying eggs right away, says Catherine Smith, chairwoman of NSW Hen Rescue – laying eggs is a process that "happens when it happens". Maybe keep the chickens for companionship and treat the eggs as a bonus.
Subscribe to MoneyWeek
Subscribe to MoneyWeek today and get your first six magazine issues absolutely FREE
Get 6 issues free
Sign up to Money Morning
Don't miss the latest investment and personal finances news, market analysis, plus money-saving tips with our free twice-daily newsletter
Don't miss the latest investment and personal finances news, market analysis, plus money-saving tips with our free twice-daily newsletter
Bake the perfect loaf
If the pandemic has you feeling a bit anxious, baking might be just the hobby to take up, says Kristen Rogers on CNN. Baking gives us "something concrete to create, control and enjoy" and the process of making bread is a lesson in patience and mindfulness that will be helpful in everyday life. All the kneading, the waiting for the dough to rise, the scoring and standing by while it bakes, give you time to reflect. All of these steps demand patience and precision, which can help you feel "centred and focused". Kneading the dough and punching it into the right shape can also help relieve tension.
Joining a virtual baking club where you can share pictures of your loaves is also a great way to get some reassurance. If flour or yeast are in short supply, try a no-yeast bread recipe or a gluten-free one. The most important thing to know is that it's not so much "about creating the perfect loaf of bread" as about enjoying the whole process.
Brew up a beer
You can get much the same benefits of baking and a product you might enjoy rather more by taking up home brewing. Making your own beer is a "creative process" that teaches "invaluable lessons" in the importance of patience and paying attention to detail, Claire Russell, co-founder of Home Brewtique, a small-batch home-brewing kits company, tells Ally Head in Good Housekeeping.
To brew your own booze, all you'll need is a handful of ingredients, the right equipment, and patience. You can order starter kits online, which provide all the equipment you'll need, and you can experiment with ingredients depending on what type of beer you'd like to make and the flavours you're after.
After steeping the malted grains and boiling the hops, you ferment the resulting "wort" for around ten to 14 days. To carbonate, add some brewer's sugar. At the end of the process, all that's left to do is pop the bottles in the fridge to chill, then crack one open to enjoy with the football (repeats).
Develop green fingers
For those without a garden or nearby green space, lockdown can feel very grey. But creating an indoor garden on your windowsill is simple, rewarding, and can be done for next to nothing, says Vicky Frost in the Evening Standard. It might also liven up your dinner. Tomatoes, chilli peppers and sweet peppers, for example, are easy to grow on a sunny windowsill.
To get started, your local garden centre might be delivering. Alternatively, simply take some seeds from the vegetables in your fridge and put them into a pot of compost, Guy Barter, chief horticulturist for the Royal Horticultural Society, tells Frost. After a couple of weeks you'll have seedlings. "Water enough to keep the compost moist to the touch, but never soggy," says Barter. "Most people kill plants by over-watering."
Nic studied for a BA in journalism at Cardiff University, and has an MA in magazine journalism from City University. She joined MoneyWeek in 2019.