Workers could get 'pot for life' pensions to keep track of retirement savings
Chancellor Jeremy Hunt is considering letting staff rather than bosses choose pension pots, rumours suggest. Will this boost retirement savings?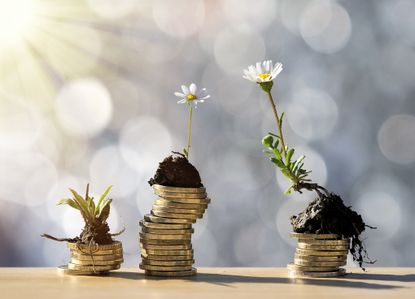 (Image credit: Getty Images)
Pension savers could be given a 'pot for life' as the chancellor seeks to help workers keep track of their retirement savings as they move jobs.
Staff have been auto-enrolled into workplace pension schemes since 2012 and while this ensures people are putting money away for retirement, it means people can have multiple pots to keep track of each time they move to a new employer.
Instead, Jeremy Hunt is expected to unveil pension reforms in tomorrow's Autumn Statement that would include plans for a 'pot for life.'.
Subscribe to MoneyWeek
Subscribe to MoneyWeek today and get your first six magazine issues absolutely FREE
Get 6 issues free
Sign up to Money Morning
Don't miss the latest investment and personal finances news, market analysis, plus money-saving tips with our free twice-daily newsletter
Don't miss the latest investment and personal finances news, market analysis, plus money-saving tips with our free twice-daily newsletter
According to the Financial Times, instead of the employer choosing the pension scheme, the employee would nominate where they want the contributions to go.
It comes as providers are already working on providing pension dashboards that users can access online to keep track of their retirement savings.
"'Pot for life' is a great solution to the problem of people having lots of old pensions from multiple jobs," says Becky O'Connor, director of public affairs at PensionBee.
"Pot for life has the potential to shake up the industry, bringing what consumers actually care about to the forefront, boosting competition and bringing the way people engage with pensions into the 21st century."
How would a 'pot for life' work?
Under the current auto-enrolment rules, employers choose which pension scheme to put employees in.
This can mean you have lots of different workplace pension schemes each time you start a new job, making it hard to keep track.
The 'pot for life' scheme is already used in Australia and lets staff have their own chosen scheme that moves with them when they change jobs.
The employer instead puts money into the scheme chosen by the individual employee, helping people keep track of their pensions.
This could be useful in the UK where at least £27 billion is thought to be sitting in 'lost pensions.'
"A pension could become a bit like having a bank account, into which different employers can pay," adds O'Connor.
"It's good for savers, giving them more say over how they want to grow their retirement fund and hopefully a decent solution to the problem of lost pension pots."
Employees would also potentially benefit from greater choice and flexibility, but Tom Selby, head of retirement policy at AJ Bell, says the biggest sticking point is the burden on employers.
"Currently, UK firms of all sizes – from corner shops to multinationals – are required to set up a workplace pension scheme for their staff," he says.
"This is already a significant administrative undertaking, but forcing businesses to connect to any pension scheme an employee chooses could significantly increase that burden at a time many are struggling in the face of high inflation and soaring interest rates."
Mark Futcher, partner at independent consultancy Barnett Waddingham, says while the Australian system is successful, the UK is "wildly different."
"We already have a mature employer-based pension system, in which the employer is partly responsible for ensuring members get good value," he says.
"A sudden shift to a 'pot for life' risks people choosing a suboptimal pension plan, being swayed by marketing over value, and ultimately exacerbating the UK's retirement crisis.
"What's more, the rumoured shift to a nominated scheme wouldn't necessarily solve the problem of savers having multiple pots, or solve the Government's desire for big schemes investing in high-growth UK assets – this seems to be a lose, lose, lose policy."
How to keep track of your pension
There are already ways to track down old retirement savings.
Check your post or email inbox for documents from old pension schemes that may have details of where your money is.
The government's free Pension Tracing Service also lets you search your previous employers by name to find your pension provider and contact details.
Another option to find lost pensions or other financial accounts is to provide your name and previous addresses to Gretel and it will do a free search for you.
The sector is also working on a digital service that will allow savers to see their pension information in one place, but it has been delayed until at least 2026.
Marc Shoffman is an award-winning freelance journalist specialising in business, personal finance and property. His work has appeared in print and online publications ranging from FT Business to The Times, Mail on Sunday and The i newspaper. He also co-presents the In For A Penny financial planning podcast.