Travel insurance: are you covered for Covid-19?
Most travel insurance offers limited protection for holidaymakers, so if you're planning a holiday, make sure your policy covers everything you need..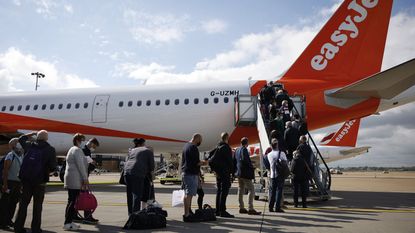 (Image credit: © Peter MacDiarmid/Shutterstock)
Vaccine passports. Coronavirus tests before departure and return. Sudden reclassification of a country's risk status while you are abroad. The threat of an expensive stay in a government-run quarantine hotel on return. International travel in the pandemic era will make any traveller nostalgic for the time when all they had to worry about were long queues, rip-off charges and lost luggage.
So if you're planning a holiday, make sure you check how these risks will affect your travel insurance. Insurers have updated their terms since the first lockdowns in spring 2020 and most now offer some form of "coronavirus cover", but the exact details vary widely.
On the plus side, virtually every policy covers emergency medical costs and repatriation if you fall ill while abroad, says Harriet Sime in the Daily Mail. The usual advice when choosing travel insurance policies is to get "£2m of medical cover for Europe, or £5m beyond".
Subscribe to MoneyWeek
Subscribe to MoneyWeek today and get your first six magazine issues absolutely FREE
Get 6 issues free
Sign up to Money Morning
Don't miss the latest investment and personal finances news, market analysis, plus money-saving tips with our free twice-daily newsletter
Don't miss the latest investment and personal finances news, market analysis, plus money-saving tips with our free twice-daily newsletter
What's more, the majority of policies will cover circumstances such as your trip being cancelled because you have contracted the virus prior to travel. However, if you get a call from NHS Test and Trace telling you to isolate, you may be out of luck: only 18 out of 60 policies looked at by Times Money Mentor cover emergency repatriation in this case, says David Byers.
The traveller bears the brunt
Beyond that, the risks of travelling during the pandemic are increasingly being borne by the consumer. First, note that the majority of policies are currently only valid for a handful of destinations, says Ben Smithson on The Points Guy. The government advises against "all but essential travel" to amber and red list countries, giving insurers legal cover to void guarantees. Some specialist firms (who typically cover workers in war zones and after natural disasters) offer coverage for amber list destinations, but this is not the norm.
In the past, you could usually claim if the government changed its travel advice before or during your trip. This is now exceedingly rare. If your green holiday destination turns amber you will be out of luck. Meanwhile, no policies that the Daily Mail examined would cover the cost of unexpectedly having to quarantine in a hotel on return. Travellers returning from countries that suddenly go on the red list will have to pay £1,750 per person out of their own pockets.
Other ways to reduce risks
With travel insurance offering a partial solution at best, look for other ways to reduce the risks, says Miles Brignall in The Guardian. Package holidays have greater protection under the Air Travel Organisers' Licensing (Atol) scheme. A change in travel rules would force the tour operator to cancel. Customers are then technically entitled to a refund within 14 days.
Try to book flexibly, says Jaymelouise Hudspith in The Daily Post. More airlines are now offering free date changes, while hotels and rental accommodation providers are increasingly allowing cancellation at short notice, sometimes as little as 24 hours.
Indeed, "wait until the very last minute if you can" before booking, says Lucy Perrin in Times Expert Traveller. "There are going to be some amazing deals … and the longer you leave it, the more of an idea you'll have on the places you can actually travel."