Nationwide to give £100 cash boost to customers
Nationwide Building Society is giving customers £100 as it reinvests profits. Dubbed the Nationwide Fairer Share scheme, we look at who is eligible.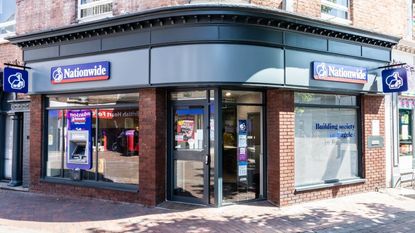 (Image credit: © Nationwide)
Nationwide is giving back a record amount back to its members following a strong set of financial results and profits of £2.2 billion. The move will see thousands of customers receive a £100 bonus this year.
But, not everyone will benefit from the Nationwide Fairer Share scheme as it comes with terms and conditions attached.
This means if you haven't been using your Nationwide current account regularly or had at least £100 in savings, or £100 outstanding on your mortgage account on 31 March, you still may not get the money.
Subscribe to MoneyWeek
Subscribe to MoneyWeek today and get your first six magazine issues absolutely FREE
Get 6 issues free
Sign up to Money Morning
Don't miss the latest investment and personal finances news, market analysis, plus money-saving tips with our free twice-daily newsletter
Don't miss the latest investment and personal finances news, market analysis, plus money-saving tips with our free twice-daily newsletter
We explain everything you need to know about Nationwide's £100 bonus.
Why is Nationwide giving £100?
Nationwide is the UK's biggest building society and owned by its members, which means it can use its profits to benefit customers.
While Nationwide does offer current accounts, it's not a bank and doesn't have shareholders who would expect a cut of any profits in the form of dividend payments.
Over the last tax year Nationwide made pre-tax profits of £2.2 billion and is using £340 million to reward eligible members through its Fairer Share Scheme.
Who will get the £100 cash from Nationwide?
Not everyone who has an account with Nationwide will get the £100 payment.
To qualify, you need a Nationwide current account that you use, along with a savings or mortgage account – however Nationwide has imposed further rules which may mean many of its members miss out on the free cash windfall.
When it comes to your current account, there are slightly different rules to qualify depending on the account you have.
For example if you have a FlexAccount, FlexBasic or FlexDirect account - Nationwide say this must have been open on 31 March 2023 and you will need to have been using the account to qualify for the £100 payment.
With these accounts you should have paid a minimum of £500 into your account in two of the first three months of this year as well as making at least two payments from the account each month in two of the three months from January to March. Transfers from existing Nationwide accounts are excluded when it comes to incoming payments.
There are slightly different criteria for its other FlexPlus, FlexOne, FlexStudent and FlexGraduate accounts.
As well as holding an eligible current account you'll also need to have at least £100 in an eligible Nationwide savings account on any day in March or have at least £100 left on your mortgage as of 31 March.
You can be taxed on any savings interest you earn, however under the personal savings allowance, you can earn up to £1,000 in interest tax free, although for higher rate tax payers, this falls to £500 and it's zero for additional rate taxpayers.
When will I get the money from Nationwide?
If you're due to get the £100 payment, you should hear from Nationwide, by 26 May, either with a message when you log on to its online banking or via email or letter.
And if you are eligible for the free cash, the £100 payment will be paid to your Nationwide current account between 13 - 30 June.
It's worth noting that if you are thinking of switching your current account, you should leave your Nationwide current account open until your £100 payment has been made, otherwise you could miss out as the Fairer Share Payment needs to be paid into a Nationwide current account.
You won't be asked to apply or provide bank details for the payment to be made so worth being on your guard in case of scams.
Nationwide Fairer Share Bond
As part of the profit sharing initiative, Nationwide is also launching a two year fixed savings deal for existing members.
The Fairer Share Bond pays 4.75% for a two year fix - and is available now.
Sue Hayward is a consumer and personal finance journalist, broadcaster and author whose work has appeared everywhere from the Guardian and Good Housekeeping to My Weekly and Lovemoney. Sue is a regular money guest on TV and Radio with recent appearances on Steph's Packed Lunch, Jeremy Vine on 5 and 5 News.