The best student bank accounts
Whether you're off to university or have a child going later this year, then here are the best student bank accounts you need to know about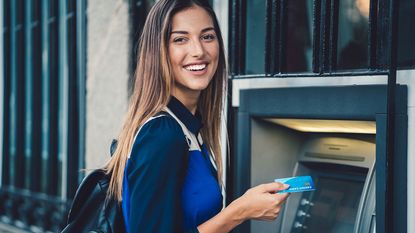 (Image credit: © Getty )
With A-levels results now out, young people across the country are making preparations for university. One key consideration is which student bank account to opt for, as opening the best student account could land you perks, freebies and attractive overdraft terms.
Pick wisely and this account will help you manage your finances for the duration of your course and in the years afterwards. Banks roll out the red carpet for teenagers heading off to university because many people stick with the same bank for their current account for decades after they graduate.
This means banks often acquire a long-term customer to whom they can cross-sell many of their other products.
Subscribe to MoneyWeek
Subscribe to MoneyWeek today and get your first six magazine issues absolutely FREE
Get 6 issues free
Sign up to Money Morning
Don't miss the latest investment and personal finances news, market analysis, plus money-saving tips with our free twice-daily newsletter
Don't miss the latest investment and personal finances news, market analysis, plus money-saving tips with our free twice-daily newsletter
The best student bank accounts
If you need a big overdraft - HSBC or Nationwide
HSBC's student account offers one of the biggest overdrafts of any student account provider, and it grows as you get deeper into your studies. You get a £1,000 interest-free overdraft in your first year and then you can apply to increase it to £2,000 in year two and £3,000 in year three.
While an overdraft should always be used with caution, it can act as a handy buffer.
Beyond the attractive overdraft arrangement, you can take advantage of other perks. If you spend money on the debit card more than five times in the first 30 days, you'll get £100 cash – which you could use to cover the cost of a railcard for four years. You also get a free one year subscription to Headspace, an app to help with meditation and stress.

Even if you don't think you'll use your entire overdraft it could still be worth going for the largest one possible. Student finance website Save The Student notes that you can transfer some of your unused overdraft into a savings account. "You can then [earn] interest on the borrowed money while you're a student."
The Nationwide FlexStudent current account is another option that offers very similar terms,
with £1,000 in your first year. You can then ask to increase the overdraft limit to £2,000 in your second year and £3,000 in your third year. You'll need to pay in at least £500 each term, keep up with any bill payments and stay within your arranged overdraft limit.
To sweeten the deal, a limited time offer of £100 is available to those opening an account from 1 August 2023. Eligible students will receive £100 within 14 calendar days of crediting £500 to their FlexStudent account, which must be done by 15 December 2023.
If you'll be catching the train - Santander
Heading to university elsewhere in the country? Santander's student account is an attractive option as it gives you a free four-year railcard. You get a third off rail tickets, which can save you hundreds of pounds over the course of your studies.

With the Santander 123 Student Account you receive an interest-free £1,500 overdraft for three years, as long as you pay in at least £500 a term. If you remain studying, the overdraft then rises to £1,800 in year four and £2,000 in year five.
If you're a foodie - Natwest
The Natwest student bank account comes with a £500 interest-free overdraft in your first year rising to £2,000 in years two and three. So it's still significant, even if it is not quite on par with the leading options from HSBC and Nationwide.
If you apply for the account before 30th November 2023 then you'll also get £100 in cash as well as a four year membership of the Tastecard scheme. Tastecard usually costs £39.99 a year, so that's a saving of nearly £160, and gives cardholders discounts on hundreds of big chain restaurants and cinemas in the UK which will come in handy as a student.
Make sure you register for their online/mobile banking and ask for a paper copy statement within 30 days of opening your account, so you can receive the perks.
Other accounts to consider
The accounts listed above are the pick of the bunch when it comes to maximising interest-free overdrafts while getting a freebie on the side. But there are other accounts which may still be worth considering, particularly if you study somewhere with limited in-person banking services.
Here's a rundown of what other major banks offer.

Bank of Scotland: £1,500 overdraft for years 1-3, up to 15% cashback at some retailers and a free TOTUM card (it gets you exclusive student discounts, but lots of unis hand them out for free in the first year).

Lloyds Bank: £1,500 overdraft for years 1-3, up to 15% cashback at some retailers and a free TOTUM card.

Halifax: £1,500 overdraft for years 1-3, up to 15% cashback at some retailers.

TSB: £1,500 overdraft for years 1-3, 5% interest on balances up to £500

Barclays: £500 overdraft in year one, rising to £1,000 in year two and £1,500 in year three. You also get a Perlego subscription, which gives you access to academic books.
Prioritise your overdraft
The perks offered to students range from cash to railcards, but don't be swayed by the freebies. This account needs to work well throughout university and beyond, so the main thing to consider is how much of an overdraft you'll need and how long you will need it to be interest-free.
Student bank accounts offer much larger than normal free overdraft facilities to help students through their expensive university years.
"Although a 0% overdraft can be a godsend when you're trying to manage on a tight student budget, it is still a form of borrowing that will need to be repaid at some point," says Andrew Hagger of personal finance website Moneycomms in The Sun.
"Once you start work you'll need to start paying it back – however most banks offer graduate overdrafts where you can gradually repay your student debt for free over a period of two to three years."
Tom is a journalist and writer with an interest in sustainability, economic policy and pensions, looking into how personal finances can be used to make a positive impact.

He graduated from Goldsmiths, University of London, with a BA in journalism before moving to a financial content agency.
His work has appeared in titles Investment Week and Money Marketing, as well as social media copy for Reuters and Bloomberg in addition to corporate content for financial giants including Mercer, State Street Global Advisors and the PLSA. He has also written for the Financial Times Group.
When not working out of the Future's Cardiff office, Tom can be found exploring the hills and coasts of South Wales but is sometimes east of the border supporting Bristol Rovers.
With contributions from