Calculate your personal inflation rate
This useful calculator lets you see the effect of price rises on your budget, to calculate your own personal inflation rate.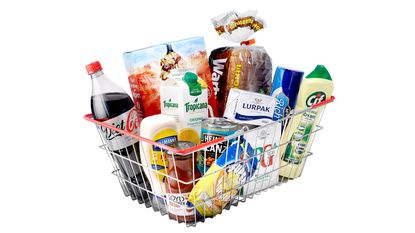 (Image credit: Sup© Frankie Angel / Alamy)
Household bills have soared in recent months and many of us will be feeling the pinch to the point where we start to doubt the official inflation statistics. Inflation hit 7% on the consumer price index (CPI) measure in March, but your own personal inflation rate could be quite different.
The CPI figure is a national average; it simply looks at the price of a basket of goods and movements in the cost of those items. Whether that basket is an accurate reflection of your own spending will affect whether CPI inflation seems realistic. For example, households that choose to do a lot of driving for school runs or work may find they are hit harder by inflation, as they have to pay much higher petrol prices.
Poorer households bear the brunt
In general, inflation is running faster in the kind of items wealthier households buy more often. In December, the Office for National Statistics (ONS) calculated that inflation was at 6.5% for high-income households and 5.6% for lower earners. That captures the impact of "eye-watering hikes in car prices and the impact of the removal of the stamp-duty holiday", says Sarah Coles in The Yorkshire Post.
Subscribe to MoneyWeek
Subscribe to MoneyWeek today and get your first six magazine issues absolutely FREE
Get 6 issues free
Sign up to Money Morning
Don't miss the latest investment and personal finances news, market analysis, plus money-saving tips with our free twice-daily newsletter
Don't miss the latest investment and personal finances news, market analysis, plus money-saving tips with our free twice-daily newsletter
But, while the inflation rate is highest for wealthier families, that doesn't mean they are being hit harder by the rising cost of living. For households that are already struggling, price rises are far harder to manage. "For those on lower incomes, inflation is largely driven by the soaring cost of food and drink, gas and electricity," says Coles. "These make up a far larger proportion of spending for lower earners than they do for higher earners, so these rises have a bigger impact."
Conversely, the items driving inflation for high-income families are luxuries such as new cars, hotels and package holidays – all things that are easier to trim. "Inevitably, lower-income households will feel the impact most, having fewer options of things to cut back on," says Rachel Rickard Straus in The Mail on Sunday.
Know your own inflation rate
If you want to know your own inflation rate, the ONS website has a calculator. You put in your household outgoings, and it tells you how much your costs have gone up by since last year. The result can be sobering "I knew that our bills had gone up, but it's quite scary and an eye-opener seeing it there in black and white," says Rebecca Goodman in The Mail on Sunday. "We're spending a massive £222 a month more than last year – and that is with us cutting back."
Knowing your own inflation rate isn't just a matter of idle curiosity. Seeing where your own budget is feeling the biggest increases can help you tailor where you make cutbacks. For example, finding out your food bill has gone up by over £100 a month could be just the incentive you need to switch to a cheaper supermarket.
SEE ALSO:
The inflation scare will fade – here's why
The UK jobs market is still red hot – but will it last?
Ruth Jackson-Kirby is a freelance personal finance journalist with 17 years' experience, writing about everything from savings and credit cards to pensions, property and pet insurance.
Ruth started her career at MoneyWeek after graduating with an MA from the University of St Andrews, and she continues to contribute regular articles to our personal finance section. After leaving MoneyWeek she went on to become deputy editor of Moneywise before becoming a freelance journalist.
Ruth writes regularly for national publications including The Sunday Times, The Times, The Mail on Sunday and Good Housekeeping among many other titles both online and offline.