Why the EU should fear an exodus of Big Tech companies
Politicians are making the EU a hostile environment for Big Tech. It would be wise to tread more carefully, says Matthew Lynn.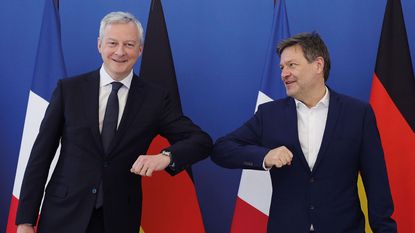 (Image credit: © REUTERS / Alamy)
It was not the kind of warning you see very often in company statements. In its annual report filed with regulators in New York earlier this month, Meta, which owns Facebook, Instagram and WhatsApp, stated bluntly that it may be forced to pull its operations from the EU. The reason? That planned rules for transferring data between America and the EU were so onerous it would be impossible for the company to operate anymore. Leaving would be the only responsible option.
You might think that would be of concern to the EU's leaders. Meta is, after all, one of the world's biggest, most innovative, and fastest-growing businesses with a market value of close on $600bn and more than two billion users, and which is investing huge sums in new products. Politicians usually bend over backwards to persuade those kinds of companies to invest more, not less, in their countries. Yet the continent's power-brokers could hardly be more pleased. "Life would be very good without Facebook," said French finance minister Bruno le Maire, alongside German counterpart Robert Habeck. Both made it clear that driving Meta out of the continent would be a victory for their policies.
A perverse pride in obstruction
We understand that Meta is not a popular company. It has paid little attention to privacy and aggressively monetised its data. Its ubiquitous apps have sown political division. Even so, it would be quite something if it left the EU completely. Yet that is surely only a matter of time.
Subscribe to MoneyWeek
Subscribe to MoneyWeek today and get your first six magazine issues absolutely FREE
Get 6 issues free
Sign up to Money Morning
Don't miss the latest investment and personal finances news, market analysis, plus money-saving tips with our free twice-daily newsletter
Don't miss the latest investment and personal finances news, market analysis, plus money-saving tips with our free twice-daily newsletter
Over the last decade, the EU has engaged in a sustained campaign of harassment against the US tech giants, with ever larger fines and more and more cumbersome rules. In GDPR it created data rules that were so badly designed and difficult to follow, backed up by the threat of huge fines, that they crushed innovation and forced some websites to close. Another huge piece of digital markets legislation is being drafted right now. Vast fines have been levied, such as the €13bn punishment of Apple for basing itself in Ireland, or the $2.8bn Google was charged for allegedly abusing its position in the search market, even though many of them have subsequently been overturned by the European Court as clearly illegal.
The EU's commissioners pride themselves on punishing the tech companies as if this were a virtue in itself. The data transfer rules are simply the latest in a long series of barriers put in place. At a certain point, it is surely only a rational commercial decision for one or two of the internet giants to decide it is simply not worth the cost of trying to operate a business on the continent. Sure, the EU is a big prize, but in the end it is only 15% of global GDP, and doesn't grow very fast. It might be better to concentrate on other markets.
Making the EU a museum
European leaders can welcome that if they want to, but they face three big problems. First, you can't regulate your way to success. The EU believes that if it can drive US companies out then European ones will replace them. But that is not necessarily true. Nothing might replace them, or the firms that do might be far less competitive and innovative. Second, if companies such as Meta are forced to leave, it will isolate Europe from the most dynamic sector of the global economy, leaving it to the Americans and the Chinese. Ideas won't be incubated and consumers won't have access to the most advanced technology. Finally, it will almost certainly set a precedent for the other internet giants. If Meta goes it may not be long before Amazon, Apple and Alphabet, the owner of Google, follow.
"Mexit" could then very quickly turn into a wider "Tech-xit". That would turn the EU into a museum – a nice place to visit, but one cut off from the rest of the world. Growth would dwindle and the world's fastest-growing industries may decide it is no longer worth bothering with. Maybe then the French and German finance ministers won't be quite so relaxed about i
Matthew Lynn is a columnist for Bloomberg, and writes weekly commentary syndicated in papers such as the Daily Telegraph, Die Welt, the Sydney Morning Herald, the South China Morning Post and the Miami Herald. He is also an associate editor of Spectator Business, and a regular contributor to The Spectator. Before that, he worked for the business section of the Sunday Times for ten years.
He has written books on finance and financial topics, including Bust: Greece, The Euro and The Sovereign Debt Crisis and The Long Depression: The Slump of 2008 to 2031. Matthew is also the author of the Death Force series of military thrillers and the founder of Lume Books, an independent publisher.