Share tips of the week – 4 November
MoneyWeek's comprehensive guide to the best of this week's share tips from the rest of the UK's financial pages.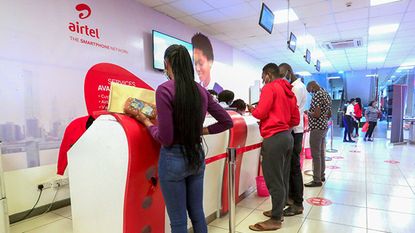 (Image credit: © REUTERS / Alamy)
Six to buy
Airtel Africa
The Times
Telecoms operator Airtel Africa sells mobile data and payments services across 14 African countries. It has "dramatically outpaced" the FTSE 100, returning 82% since it listed in 2019. Despite that it has "flown low under the radar". The number of customers grew by 10% in the first half of the year and sales rose by 7%. There is vast scope for further growth: only half of adults in Africa have a mobile phone. The stock is almost as cheap as it has ever been, making now a good time to invest. 113p
Subscribe to MoneyWeek
Subscribe to MoneyWeek today and get your first six magazine issues absolutely FREE
Get 6 issues free
Sign up to Money Morning
Don't miss the latest investment and personal finances news, market analysis, plus money-saving tips with our free twice-daily newsletter
Don't miss the latest investment and personal finances news, market analysis, plus money-saving tips with our free twice-daily newsletter
Ergomed
Investors' Chronicle
Developers of small drugs are likely to "rank among the highest-risk equities" on the market, which is already volatile. Many biotech firms have also seen their share price crash after a pandemic boom. But Ergomed "appears to have found shelter from both micro-and macroeconomic storms". It operates in a "favourable niche": it is not a drug developer, but a provider of services to the biotech and pharmaceutical industries. The company has estimated that its "addressable markets" will grow by more than 10% a year in the medium term. The share price is "reasonable… for the long-term growth potential". 1,132p
Lam Research
Shares
Lam Research is a Silicon Valley-based company that makes semiconductor-manufacturing equipment. Its products are helping the chip industry meet growing demand as the world "embraces a digital-first future". Since 2015 revenues have grown from $4.6bn to $17.2bn, while net income has jumped by over 600%. The company nonetheless trades on a low price/earnings (p/e) ratio. One reason might be Washington and Beijing's "souring relationship", which has restricted Chinese companies' access to US technology. Lam sells to China. However, this seems to be priced in already, and it looks as though the market is focusing on short-term difficulties instead of "massive opportunities from a multi-year industrial growth phase". $374
Hercules Site Services
The Mail on Sunday
Researchers predict that the construction industry will need at least 250,000 more employees by 2026 to keep up with demand. Hercules "is helping to bridge the gap". It provides construction companies with workers through a digital system that makes the recruitment process "as simple and effective as possible". The Hercules app allows users instantly to find out about jobs that are local and relevant to them, and the number of workers on the app is growing, connecting more employees with employers. The firm also provides specialised kit to construction sites, which adds to its revenue stream. Sales are expected to have grown by 38% to £45m in the year to 30 September, and profits are likely to have grown too. "At 42.5p, the shares are a buy."
Ultimate Products Global Sourcing
The Sunday Times
The rising cost of living is making going out increasingly unaffordable, which is good news for Ultimate Products Global Sourcing as more of us cook at home. It sells home goods such as "reasonable and reliable kitchen stalwarts" to retailers including Britain's five largest supermarkets, Argos, Primark and TK Maxx. Online sales grew throughout lockdowns and greater brand recognition has boosted sales in supermarkets. Revenues for the year to August hit a record £154m, up by 13% from the year before, and pre-tax profit was 42% higher at £15.8m. The company looks poised for growth and is "very attractively priced". 122p
... and the rest
The Times
Premier Inn-owner Whitbread has great potential as a takeover candidate given its largely freehold hotel estate, net cash and the slump in sterling. Buy (2,608p). Intercontinental Hotels Group's third-quarter figures "painted a buoyant picture of a gradual return to pre-2020 normality" and more positive results look likely. Buy (4,741p).
Investors' Chronicle
Balfour Beatty builds infrastructure worldwide. The impending fiscal squeeze in the UK is likely to reduce capital spending, while the US market is very competitive. A price/earnings to growth (PEG) ratio of six is very high and suggests that the risks ahead have not been factored into the share price. Sell (295p).
Shares
F&C Investment Trust is Britain's first, launched in 1868. It has navigated multiple crises, yet continued to generate long-term capital and income growth. It has an "ultra-diversified portfolio" to help protect investors from market volatility. Buy (889p).
The Telegraph
Investors are becoming concerned with environmentally-friendly investing, but they shouldn't overlook a company's competitive advantage in favour of environmental and social governance (ESG) credentials. Weir Group "offers the best of both worlds", providing mining firms with "innovative engineering solutions" to improve their efficiency and ESG credentials. Sales look likely to rise with the world's appetite for copper and iron, which are needed for renewable energy infrastructure and electric vehicles. Buy (1,544p).