Invest in defence stocks as war goes hi-tech
The operational efficiency of defence equipment and cybersecurity is developing rapidly owing to the war in Ukraine, says Jonathan Compton. Here's what this means for investors.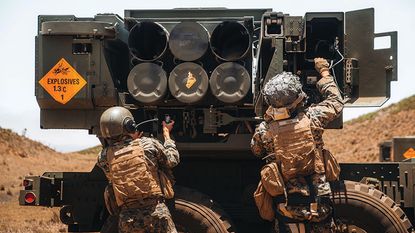 (Image credit: © Cpl. Patrick King/US Marines Photo/Alamy)
It was advanced technology that did it. Until around 1,100BC, the biggest guy in armour with the longest sword was always going to win. But David's new-tech catapult put paid to Goliath's career and the Philistine army. By contrast, three millennia later Britain's most successful general ever, the Duke of Wellington (who never lost a battle) lacked any technological edge. Yet he defeated three much larger French armies when liberating Spain during the Napoleonic wars. A vital factor was his focus on detailed and up-to-date intelligence on all aspects of the enemy and terrain. Technology and good intelligence explain why Russia singularly failed to subdue Ukraine in a handful of days, as many initially expected.
I would like to see the Russian army both humiliated and pushed out entirely, even though the latter seems unrealistic. Yet even though the invasion began just six months ago, it is already clear that the huge leaps in electronics, artificial intelligence (AI) and cyberspace over the last 30 years have radically changed the way governments, their military and businesses will operate in future.
Even before the invasion was official, US and other sources were trumpeting the timing, location and strength of the Russian incursions into Ukrainian territory. Their accuracy was extraordinary (yet derided beforehand as alarmist). Part of this information would have come from "old tech", but ever-improving, satellites. Much more must have stemmed from successful hacking into government computer systems – not just Russia's, but those of allies such as Belarus too.
Subscribe to MoneyWeek
Subscribe to MoneyWeek today and get your first six magazine issues absolutely FREE
Get 6 issues free
Sign up to Money Morning
Don't miss the latest investment and personal finances news, market analysis, plus money-saving tips with our free twice-daily newsletter
Don't miss the latest investment and personal finances news, market analysis, plus money-saving tips with our free twice-daily newsletter
When the war began Russia used some of its cyberwarfare capabilities to close down Ukraine's internet and communications; crucially, it hacked into and shut the US-based Viasat satellite system used by Ukraine's armed forces. The surprising hero of the hour was Elon Musk, best known for Tesla cars. One of his other companies, SpaceX, managed to rapidly position 50 of its low-orbit satellites over Ukraine, while it also distributed more than 11,000 Starlink receivers and necessary ground stations (one will fit easily onto a truck) across the country. Mobile, flexible and technologically adaptive, they have proved impossible to shoot down or jam, which is why key Russian aims of making the Ukrainian military "blind" and silencing communications in and from Ukraine have had very limited success. President Zelenskyy and all broadcasters rely on Starlink.
Russia asleep at the wheel
It is hard to understand, however, why Russia failed to fully deploy its considerable cyber capabilities. Possible reasons, think-tanks surmise, are that cyberwarfare took a back seat to battle planning; that to make it effective takes several years of preparation; and that Moscow thought it would win quickly. There is also evidence that the Kremlin wanted to keep communication, transport, energy and other networks open for its own imminent use.
Another factor may be the cyberwarfare conundrum, a lesser version of nuclear deterrence: the risks of retaliation. It is certain Russia could still inflict considerable "electronic pain" and even destroy vital networks, but that would invite reciprocal attacks closing down, say, its own power stations, airports or water systems. Even so, Russian cyberattacks outside Ukraine against all of its allies have soared from an already high base. The UK has seen a 72% increase in cyberattacks on its private-sector national infrastructure since the start of the war, according to the security company Bridewell.
Surprisingly, given Ukraine's economy is dominated by heavy industry and agriculture, it has a large and vibrant community of software engineers and developers on and offshore. One of President Zelenskyy's first moves after his election victory in 2019 was to ramp up Ukraine's technological abilities; he put the 28-year-old Mykhailo Fedorov in charge of the Ministry of Digital Transformation (he is now also vice prime minister).
Fedorov initiated and accelerated two vital developments. Firstly, the government decided to digitise each department as much as possible to make public services cheaper and more efficient, and to reduce corruption and the overall size of the bureaucracy. Data was to be accessed by the entire population via a mobile-phone app known as Diaa. Take-up was rapid and widespread, so key data such as passports and driving licences are now held by individuals on their phones.
Secondly, the government changed the law to encourage all ministries to upload their data into the cloud. So the government's capacity to function normally endured, thanks to companies such as Cisco, Microsoft and Google providing continuing cybersecurity for the government and business. Some servers were also moved to safe areas overseas when the invasion began.
Teenagers' endearing derring-do
Cyberwarfare has its limits. No cybersystem will allow you to gain territory. Yet what the war has also highlighted is a wholly novel approach using inexpensive equipment requiring minimal training. An endearing story of derring-do in the first weeks of the war provides a good example.
As the Russian army closed in on Kyiv, a 15-year-old boy crept into a field one night and using his personal drone (available on Amazon and in many other stores) tracked down a military column. His father entered the GPS co-ordinates into a social-media app. Ukrainian artillery then pounded the convoy. There are thousands of civilian drone operators and no shortage of mobile phones with GPS.
If this blurs the lines between civilians and combatants, then consider anti-tank and anti-aircraft weapons. In the preliminary stages of the war these became symbolic of Ukraine's resistance. Next Generation Light Anti-Tank launchers (NLAW), designed by SAAB of Sweden, have been sent in their thousands, along with the portable MILAN tank destroyers and longer-range Javelin and similar makes. The equally portable Stinger anti-aircraft rockets have proved highly effective. The training required to operate them is minimal, so after a few hours of instruction that 15-year-old and his father could have completed part of the destruction of the convoy themselves.
The upshot is that hyper-sophisticated electronics and design have potentially turned me and my young grandchildren into lethal Davids against the two key traditional Goliaths of attack: the battle tank and the warplane. Point it vaguely in the right direction, pull the trigger and home for breakfast. The AI and electronics will do the rest.
Moreover, these weapons come relatively cheap: $40,000 for the SAAB missile and around $140,000 for the Stinger. A modern battle tank costs $7m; the Eurofighter Typhoon $120m. The mathematics of attack and defence are stark in their imbalance.
How drones have developed
These cyber-cum-electronic weapons have suddenly become well known, although they have been around for a couple of decades. Yet the weapon that is really changing warfare has been around for 50 years, but only now has been developed to a stage where it is either useful or terrifying: the drone, officially known as an unmanned aerial vehicle (UAV).
UAVs' first successful military use was in the 1973 Arab-Israeli war when the Israeli Air Force commander General Peled had the brilliant idea of flying them over Egyptian lines. The Egyptians shot off all their anti-aircraft rockets to bring them down, thus allowing the Israeli air force then to strike with impunity. But these were slow, simple, dumb drones. Now they come in a variety of sophisticated forms. Initially designed only for surveillance (Ukraine is said to have more than 6,000 of this type), many new variants are weaponised, of which the largest single shipment to Ukraine has been the US-supplied Switchblade.
This is portable in single units or comes in multipacks. The advanced version weighs only 50lbs, can be set up in ten minutes and has a range of 50 miles. It can loiter around while the faraway operator looks for a target, or be preprogrammed. It has the same punch as a Javelin anti-tank missile and is classified as a "kamikaze drone": it is not designed to return.
Very recently America agreed to send 580 Phoenix Ghost kamikaze drones – similar to the Switchblade, but more lethal. This model is so new that little public information is available, save that it can fly faster, for longer and has a heavier payload. Before this US support Ukraine's best drone was the reusable Turkish Bayraktar TB2, which with its 12-metre wingspan, long range and laser-guided bombs is a far larger and deadlier weapon. It is unknown which type of drone successfully attacked a Russian oil refinery over 100 miles behind the front line, but that incident is one of many examples of how far these erstwhile toys for hobbyists have developed.
However, drones will no more win the war for Ukraine than cyberattacks. Already Russian anti-drone jamming systems and rockets are proving successful. The reality is that the war has become a huge slogging match. Neither side is using its air forces much nor sending forward tanks, as both have proved vulnerable, while each is running out of manpower. As a result, Russian forces are relying primarily on heavy artillery firing over 20,000 large shells a day to flatten whatever is in front of them and then inch forward.
Meanwhile, Ukraine's government has urgently demanded ever more heavy weapons to compensate for its relative artillery weakness and has just started to receive and deploy new systems, such as the lethal HIMARS long-range multiple-rocket launchers. The war is now reminiscent of trench warfare in the Great War overlaid with hi-tech as both sides become exhausted. It is difficult to see how either can make sufficient advances to declare victory.
Military technology is accelerating
Just as World War II massively accelerated technology, design and efficiency in both the military and civilian spheres, including aeroplanes, ships, vehicles and computing, so events in Ukraine are having a significant impact today. Unmanned vehicle and ground systems hint at large improvements in driverless vehicles. SpaceX has shown how rapidly communication networks have evolved. Some drones are now as large as commercial aircraft and are easily transferable for useful civilian purposes.
Strategists have already noted the potential for drone swarms, with dozens or perhaps even hundreds co-ordinating their operations. It sounds like science-fiction, but it is likely to be a reality within a few years. In cyberspace Russia had been pummelling Ukraine for over a decade, but since the war began Ukrainian and foreign hackers have accessed "an avalanche of data", according to the successor group to Wikileaks. They have also disrupted banks and accessed data belonging to the FSB (the successor to the KGB).
There are already lessons to be learned or relearned from current events. I'm intrigued by the return of the barely trained citizen soldier and the huge importance of the private sector in battlefield communications. Armaments remain vital, but that granny wheeling her shopping trolley could be taking her Javelin missile home to launch; that teenager in the attic may be taking down communication systems in cyberspace or sending drones to attack the enemy. The key lesson is that however cautious you may be, there is always a nutter on the bus who wishes you ill, so it's best to be prepared. While president Putin is now in plain sight, the adversaries you can't see are more dangerous. Countries such as Iran already have drone-manufacturing capability; these are used frequently in the Red Sea by Yemeni pirates attacking shipping, or by other allies such as Hezbollah in Lebanon, which last month attempted to damage Israeli offshore-gas platforms.
Over the two decades to 2021, the EU's defence expenditure rose by a fifth from a low base; America's jumped by 66% from a higher level. China's increased by 592% and overtook the EU's. Its spending is now second only to America's. China is far more advanced in cyberspace, AI-drone and automated fighting machines than Russia and in some areas able to match America. Two dominant themes of the current decade, then, both in politics and markets, will be cybersecurity and electronic warfare, both propelled by advances in AI and machine learning. Investors need to work out where the new advantages lie.
The defence stocks to buy now
In January 2022 I recommended several cheap defence companies, all of which I owned; they took off when the invasion commenced. I will keep holding these shares and buy more on any downturns for two reasons. The first is that in January the sector was too cheap, and although prices are now higher, so is earnings visibility. Defence expenditure, and hence companies' order books, will rise significantly for many years. Most Western militaries are short of either basic armaments or sufficient stockpiles – or they own outdated or useless new equipment (the alarmingly bad next-generation Ajax tank ordered by the British Army doesn't work).
I suggest staying with the sector's leaders. The easiest pick is still BAE Systems (LSE: BA), which despite trading close to an all-time high is still on a forward price/earnings (p/e) ratio of 14 times and yields more than 3%. Its businesses run the gamut of the sector, from submarines to rockets. There are many catalysts for growth such as next-generation fighter aircraft. BAE is the lead partner in the nascent Tempest programme, a joint venture with Japan and Italy. The group will also benefit from its cyber and unmanned-aerial-vehicle (UAV) capabilities. In Europe, where defence expenditure will rise proportionally more than here, I continue with my two large favourites; Sweden's' Saab (Stockholm: SAAB) and Italy's Leonardo SpA (Milan: LDO). The latter looks cheap on a sub-ten times p/e partly due to fears over Italy's solvency. The former stock is expensive but politics justifies the price. The EU will want to re-equip as much as possible using European firms, and there aren't many choices.
Two defence-related companies I recommended much longer ago than last January, by contrast, have been outright blunders: Rolls-Royce Holdings (LSE: RR) and Babcock International (LSE: BAB). They are either bust or recovery plays. On Rolls-Royce I am more comfortable as the civil and military-engine markets are recovering, while its potential in mini-nuclear power stations remains intriguing. Babcock isn't really a defence company at all. It provides a range of logistical support, such as docks and military bases. It appears to be stabilising, but don't bet the farm. When it comes to cybersecurity, MoneyWeek rightly cautioned investors against jumping into the largest UK firm, Darktrace (LSE: DARK), after its successful 2021 flotation, when it briefly traded above 925p. But at 378p, many of the risks are in the price.
There are still very few defence funds and exchange-traded funds (ETFs). How virtue-signalling fund managers keen to burnish their environmental and social governance (ESG) credentials expect to protect liberal capitalism without armaments remains a mystery. The few cybersecurity ETFs available have all traded lower in the general tech bear market, but the iShares Digital Security UCITS ETF USD Acc (LSE: LOCK) and the L&G Cyber Security UCITS ETF (LSE: ISPY) provide some insurance.
Drone companies? No thanks. There are dozens listed, but a mere handful will survive. The long-term winners in this sector are likely to be America's top contractors, such as Lockheed Martin, General Dynamics, Raytheon Technologies and Northrop Grumman.
Jonathan Compton was MD at Bedlam Asset Management and has spent 30 years in fund management, stockbroking and corporate finance.