Three "billionaire" stocks to give your portfolio a boost
Samed Bouaynaya of the Global Billionaires Fund picks three diverse global stocks that are overseen and guided by billionaire owners.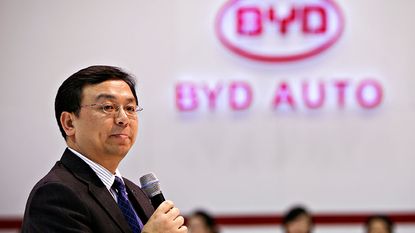 (Image credit: © Fabrizio Costantini/Bloomberg via Getty Images)
Billionaires are billionaires for a reason. Our global equity fund researched the performance of companies overseen and guided by billionaire owners back to 2004 and found that they outperformed their rivals. We now invest in 115 large-cap global companies held by 100 of the top billionaires (as ranked by Forbes and Bloomberg). Each stock makes up 1% of the fund and the maximum exposure to a single stock is capped at 1%. We rebalance the portfolio every January and this year applied a new environmental, social and governance (ESG) filter that eliminated some Russian oligarchs and underperforming Chinese billionaires.
It has been a tough two years for global stocks, particularly in emerging markets, but historically these have been first to recover. Asia is becoming increasingly important to the global economy while Indian billionaires are flourishing, although their companies are difficult to invest in from the UK.
A portfolio of 400 beers
Anheuser-Busch InBev (Brussels: ABI) owns more than 400 beers, including Budweiser, Corona and Stella Artois. Lockdowns heavily affected business but in 2021 InBev's North American sales, which account for one-third of revenues, rebounded by 4%. Asia-Pacific saw growth of 21%. Total revenue growth was up $6bn for the year and it is now summer in the northern hemisphere.
Subscribe to MoneyWeek
Subscribe to MoneyWeek today and get your first six magazine issues absolutely FREE
Get 6 issues free
Sign up to Money Morning
Don't miss the latest investment and personal finances news, market analysis, plus money-saving tips with our free twice-daily newsletter
Don't miss the latest investment and personal finances news, market analysis, plus money-saving tips with our free twice-daily newsletter
The suspension of the group's licence to brew Budweiser in Russia is unlikely to affect the top line. The group also turns by-products of the brewing process into plant-based proteins for sale to the food industry, which bolsters its environmental credentials.
China's leading EV manufacturer
Shenzen-based carmaker and battery group BYD Company (HK: 1211) has just overtaken Tesla in global electric-vehicle (EV) sales. It also overtook South Korea's LG as the world's second-biggest producer of EV batteries. Some of its stellar share performance in the past year ( it is up by 40%) is due to avoiding the Covid-19 lockdowns that hampered its rivals.
Chemist Wang Chuanfu's company is living up to its full name: "Build Your Dreams". He started manufacturing rechargeable nickel cadmium batteries in 1995 before moving into cars, buses, trucks and bikes. In 2008 Warren Buffett bought 10% of BYD, enjoying a 33-fold gain by July 2022. While speculation that his stake is now for sale has affected the share price, BYD is the leader in China's rapid transition to EVs and is gearing up for a potentially profitable push into foreign markets.
Profiting from natural stupidity
Investing alongside Carl Icahn, who owns 88% of Icahn Enterprises (NYSE: IEP), is not for the faint of heart, but it has proved very rewarding. One of the very first activist investors, Icahn has been shaking up large US corporations since the 1980s by buying large stakes and urging management to make changes to benefit shareholders.
Icahn Enterprises holds investments across sectors including energy, automotive, food packaging, metals, real estate and home fashion, but the balance changes whenever potential value is unearthed. He famously said he makes money from "studying natural stupidity". His personal wealth has jumped over 20% since the pandemic, which makes it hard to question his judgement.
Samed Bouaynaya is portfolio manager of the Global Billionaires Fund