Is this vaccine the big Covid-19 breakthrough?
A vaccine that appears so far to be safe and effective is making its way through the final trials before commercialisation. There are reasons to be cheerfully optimistic, says Simon Wilson.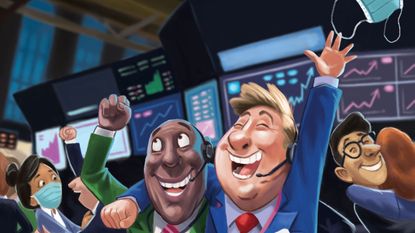 What's new?
The German drug company BioNTech and its US partner, Pfizer, announced on Monday that their Covid-19 vaccine has been found to be 90% effective. The drug remains in phase-three clinical trials, and there are significant unknowns around the extent of its effectiveness, as well as challenges around scaling up and distribution (the vaccine has to be stored at temperatures around –75˚C). But there is hope.
What happened in the trial?
In a double-blind global trial involving 43,500 volunteers, who were either taking the trial vaccine or a control-group placebo, 94 people contracted Covid-19. The split between the two groups indicates that the vaccine – which is taken in two doses, three weeks apart – is more than 90% effective. We don't know yet how many of those 94 had been given the vaccine and got Covid-19 anyway. It's also not yet known how long vaccinated patients remain immune, or whether the vaccine stops transmission or just the development of the disease. What we do know is that it remains effective 28 days after the second of the doses is taken, and there are no reported safety concerns.
So this is good news?
Indeed, and not just because there appears to be an effective, safe vaccine, but because this particular virus is susceptible to control by a vaccine at all. Some viruses from the same family, and other pathogens such as HIV and malaria, have defied all efforts to develop a vaccine over many decades. The finding of 90% efficacy is also higher than most people had dared hope for (it's twice as effective as flu vaccines, for example). BioNTech co-founder and boss Dr Ugur Sahin said he expected his vaccine's immune response to last for "at least one year" and that the vaccine-induced antibodies were shown to block about 20 different mutations of Sars-Cov-2, the virus that causes Covid-19. All this makes it more likely that other effective vaccines will be developed.
Subscribe to MoneyWeek
Subscribe to MoneyWeek today and get your first six magazine issues absolutely FREE
Get 6 issues free
Sign up to Money Morning
Don't miss the latest investment and personal finances news, market analysis, plus money-saving tips with our free twice-daily newsletter
Don't miss the latest investment and personal finances news, market analysis, plus money-saving tips with our free twice-daily newsletter
How do vaccines work?
A conventional vaccine works by introducing the deactivated husk of a virus, or proteins from that virus, into the body. That dead virus triggers an immune response that prevents subsequent infection. It's a very effective and proven approach, but it takes time. This new vaccine is different. It uses mRNA (messenger ribonucleic acid) technology that was originally developed as a cancer therapy. Genetic code wrapped in microscopic droplets of oily liquid is injected into the body. This code instructs cells to make viral proteins that prime the immune system. The idea is that the mRNA "tricks" cells into making fragments of the coronavirus, so that the body learns to spot what it looks like and produce antibodies.
Is this technology new?
Not completely. Such mRNA vaccines have been under development for years, aimed at tackling viruses including influenza, HIV, rabies and Zika. But the arrival of Covid-19 "turbocharged the process", says Clive Cookson in the Financial Times. The crucial advantage of mRNA vaccines is that they are potentially faster to develop and easier to manufacture – making the technology ideal, if successful, to tackle a novel coronavirus pandemic. Their proponents also say they may be safer than conventional vaccines which may provoke an unwanted reaction from the immune system. BioNTech has led the charge, with backing from Pfizer. They say they will be able to produce a combined 1.35 billion doses by the end of next year. And there are three other mRNA candidate vaccines under development at Moderna in the US, CureVac in Germany and Imperial College London.
What happens next?
Phase-three trials of the Pfizer drug will continue, pending emergency regulatory approval, expected in the coming weeks. The UK has pre-ordered 40 million doses (enough for 20 million people), of which a possible ten million could be available before the end of December. Meanwhile, as more data arrive, scientists will be better placed to answer some of the crucial unknowns about how well this vaccine works. Does it work well in all age groups – and in particular the elderly? Does it prevent transmission as well as illness? If not, it may not get us to herd immunity. Does it prevent all illness or just mild illness? How long does immunity last? More broadly, there is a societal question of whether enough people will be willing to be vaccinated at all; in the UK around one in six say they are firmly opposed.
What if the vaccine fails in the end?
More are on the way. The UK has made deals to secure more than 350 million vaccine doses from five suppliers in addition to Pfizer. The AstraZeneca-Oxford University team's vaccine, for example, uses a harmless chimpanzee virus to ferry genetic material from the coronavirus into human cells. It is expected to announce the results of its trials in coming weeks – and crucially its vaccine is already known to stimulate a good immune response in the elderly. Janssen (owned by Johnson & Johnson) is using a similar technique. GSK/Sanofi Pasteur, Novovax and Valneva are the other three potential suppliers with vaccines currently in clinical trials.
But the hype for this vaccine is justified?
More than that, it might even be rather too cautious. Stephen Innes of brokers Axi thinks the markets are putting too much emphasis on the logistical challenges and too little on the fact that this could be a "real game-changer". Given that we have in months leapt over the hurdles that usually keep a vaccine from market for a decade, the other challenges "will be a snap in comparison". Brace yourself for "the mother of all economic and reflationary rebounds… once we have made it through what will still be a harsh winter". This is definitely not the end of the pandemic, but it may well mark the beginning of the end.
Simon Wilson's first career was in book publishing, as an economics editor at Routledge, and as a publisher of non-fiction at Random House, specialising in popular business and management books. While there, he published Customers.com, a bestselling classic of the early days of e-commerce, and The Money or Your Life: Reuniting Work and Joy, an inspirational book that helped inspire its publisher towards a post-corporate, portfolio life.
Since 2001, he has been a writer for MoneyWeek, a financial copywriter, and a long-time contributing editor at The Week. Simon also works as an actor and corporate trainer; current and past clients include investment banks, the Bank of England, the UK government, several Magic Circle law firms and all of the Big Four accountancy firms. He has a degree in languages (German and Spanish) and social and political sciences from the University of Cambridge.