Do you own shares in Sirius Minerals? Here's what you need to do now
Mining giant Anglo American has proposed a cash takeover of Yorkshire-based minnow Sirius Minerals. Unhappy shareholders must decide whether to accept. Michael Taylor looks at the situation and the options for shareholders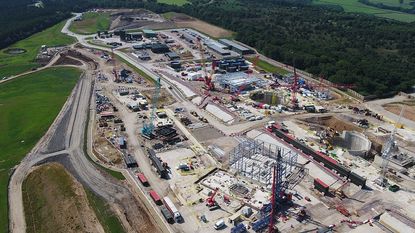 Yorkshire-based mining minnow Sirius Minerals had hoped to extract millions of tonnes of polyhalite – a form of potash used in fertilisers – from the world's largest deposit underneath the North Yorkshire Moors. It has long been a favourite with small investors. But it ran into trouble late last year after plans to raise $500m via a bond sale fell through.
Mining giant Anglo American has proposed a cash takeover, at 5.5p per share. That offer's deadline is now looming. On the one hand, Anglo American's offer seems like a lifeline. But on the other, it means big losses for many of the shareholders. This offer has been recommended by the board – a board many shareholders feel has consistently overpromised and failed abysmally. Many private investors have lost huge sums of money. Some have lost life savings and pensions.
Shareholders will need to make a decision to vote either "yes" or "no" for the recommended takeover approach, with 75% of the votes cast required to be in favour.
Subscribe to MoneyWeek
Subscribe to MoneyWeek today and get your first six magazine issues absolutely FREE
Get 6 issues free
Sign up to Money Morning
Don't miss the latest investment and personal finances news, market analysis, plus money-saving tips with our free twice-daily newsletter
Don't miss the latest investment and personal finances news, market analysis, plus money-saving tips with our free twice-daily newsletter
So what should you do if you own the shares? We look at the situation and possible options.
Sirius shareholders are understandably unhappy
Small shareholders will be a big factor in play here. Some 85,000 retail investors (ie the likes of you and me) were said to be on the register at one point, with 11,000 of them being local to the Whitby-based polyhalite project. Those shareholders who also work on the Woodsmith Mine stand to lose their jobs should the project go into administration – clearly an incentive to accept the deal – but there is an overwhelming feeling of being let down by the board.
Paul de Gruchy, a director of ShareSoc (the lobby group for individual investors), which has been approached for help by hundreds of investors in Sirius, said that "while ShareSoc cannot recommend whether investors should accept the offer or not, we can help them to get the information they need to make an informed decision and to hold the board to account, in particular in understanding what alternatives have been explored and why the offer on the table is the best the board can propose".
In a rather tetchy call with ShareSoc and prominent Sirius shareholders, Sirius chief executive Chris Fraser remarked that he was losing out on millions due to the 5.5p offer price. But what Fraser didn't point out was that the vast majority of his shareholding was not paid for out of his own pocket.
There's also the fact that in 2018 he earned a basic salary of £475,000, alongside a bonus of £548,625. And the fact that Fraser stands to earn a huge £6,819,855.24 payout with the 5.5p takeover offer.
As a result, there is a growing call to arms to risk losing everything simply to spite Fraser and the board. This goes against everything we're told about efficient markets – but such is the animosity here.
Small shareholders aren't the only ones hoping for a better offer though. Hedge fund group Odey Asset Management published an open letter on Wednesday 19 February, telling the board of Sirius Minerals of their intention to vote "no". The firm believes the recommended offer makes a "mockery of both internal and external audit at Sirius". Furthermore, Anglo American not designating their offer as a "final offer" was noted – suggesting that the mining giant wishes to retain the option to submit a counter bid.
Any hopes of a counter bid, however, are slowly trickling away as the deadline comes ever closer.
What could happen next at Sirius Minerals?
In short, there is a serious possibility that the takeover offer will be voted down by shareholders. The share price has traded within a range around 5.5p in sufficient liquidity since the offer was announced. So any shareholder who wanted to vote "yes" would have been able to realise those gains instantly without risk, and perhaps at a slightly better price too.
That suggests that many of the remaining shareholders, particularly those who aren't happy, will be voting "no" – and they'll be spurred on by Odey's letter of intent.
On that front though, what is interesting to note is that many short positions in the stock are being closed (in other words, speculators have stopped betting that the price is going to fall). There could be two reasons for this:
Shorters believe the offer is a done deal and so are closing their positions
Shorters are wary that another bid may come in higher than 5.5p and don't want to be squeezed
Should shareholders vote yes or no?
One thing is clear: Sirius' project requires several billion in capital expenditure in order for the mine to produce cash flow and profits. The cash required to finance the mine to production is many multiples higher than the current market cap. That means unprecedented dilution (ie massive new share issuance, meaning that the value of existing stakes will fall drastically), assuming that there even takers for such a sizeable equity raising. It could be done in steps, but at the current share price it is unlikely any holders would ever see any positive returns.
If Sirius does go into administration as the board has warned, then it is likely that Anglo American or another bidder will be able to pick up the project even cheaper, and shareholders will lose everything. In capitalism, the value of something is only the price that somebody else is willing to pay.
So if you want to vote "yes", consider selling your stock in the market now, in order to remove the downside risk of receiving 0p. If you want to vote "no", you have to be prepared to lose everything. Because in the absence of any higher bidders, there is no need for Anglo American to increase its bid.
As for how to vote, then unless you are holding certificated shares (and not many of us do these days), then it is likely your shares will be held in a nominee account. You will need to notify your broker of your intention to vote in advance of the vote on 3 March.