Procter & Gamble's right royal celebrity folly
Procter & Gamble wants the Sussexes to be its shield against the woke, but they are a costly distraction from real issues, says Matthew Lynn.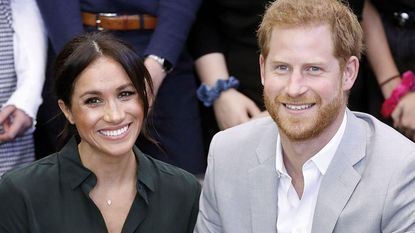 (Image credit: © Alamy)
Soaring commodity prices. A once-in-a-generation shift to online shopping. New hipster competitors and staff who want to permanently work from home. The consumer-goods giant Procter & Gamble (P&G) has plenty of problems to contend with. But hey, not to worry: Harry and Meghan, the Duke and Duchess of Sussex, are here to help. The company last week agreed a long-term deal that will see the Sussexes advise the conglomerate on issues such as gender equality, inclusiveness and resilience.
Really? It is very hard to believe that the royal-ish couple have any real insight to offer. In truth, the history of celebrities getting involved in businesses is very poor. From Jamie Oliver's role as a brand ambassador for Sainsbury's to Johnny Depp's publishing imprint for HarperCollins, the results have tended to be at best, mildly disappointing, and rarely worth the effort and time. The only people who will be celebrating Harry and Meghan's latest gig will be shareholders at Unilever and Nestlé, P&G's great rivals.
Navigating the culture wars
P&G was already one of the most "woke" of the major multinationals and it will now have Harry and Meghan on hand to offer guidance, support and advice on such tricky issues as whether its razor blades are sexist. Last week the company agreed a deal with the couple's Archewell Foundation for advice on gender equality, inclusive online spaces and resilience. Next time executives are worrying about whether a product is acceptable or not they can get one or other of them on the phone and figure out the best way of dealing with it.
Subscribe to MoneyWeek
Subscribe to MoneyWeek today and get your first six magazine issues absolutely FREE
Get 6 issues free
Sign up to Money Morning
Don't miss the latest investment and personal finances news, market analysis, plus money-saving tips with our free twice-daily newsletter
Don't miss the latest investment and personal finances news, market analysis, plus money-saving tips with our free twice-daily newsletter
Of course, on one level it is possible to see what P&G is getting at. Consumer-goods companies face an unprecedented level of political activism. Social-media storms can be whipped up, brands boycotted and products removed from the shelves at the blink of an eye. The Sussexes might seem like a useful shield to deflect any criticism. Any woke activists can at least be told it has the okay from Harry and Meghan, and perhaps that will deal with any criticism.
But there are three big problems. First, the celebrities don't actually know anything about business and have little useful to offer. A small handful of celebrities have managed to create significant businesses, but mostly they don't have the time or the skills to contribute anything meaningful to running a company. Meghan Markle knows a little about acting and marrying a prince, but it is hard to believe she knows anything about managing a major conglomerate. As for Harry, he has hardly clawed his way up from the shopfloor.
Secondly, their popularity can easily implode, with knock-on reputational damage to the company they are working with. Jamie Oliver is hardly the brand he once was, for example. Fame is a perishable, transient commodity; the Sussexes may have a following at the moment, but that could easily disappear in a few years. Worse, any form of scandal will damage the company's brand as well as their own.
A shot in the foot
Finally, this is all just a distraction from real problems. A multinational such as P&G faces plenty of real challenges. As we switch to shopping online, brands don't have the same power they once did. They face more and more competition, both from internet platforms – Amazon Basics is as much of a threat as supermarket own labels once were – and niche, artisan rivals. Meanwhile, raw materials are more expensive than ever, and staff are adjusting to home working. A consumer-goods conglomerate should be focusing on addressing those issues, not worrying about some political activists who will disappear in a few years. Still, at least Unilever and Nestlé will be raising a quiet glass of plant-based milk to the appointment. It is always good to see a rival shoot themselves in the foot.
Matthew Lynn is a columnist for Bloomberg, and writes weekly commentary syndicated in papers such as the Daily Telegraph, Die Welt, the Sydney Morning Herald, the South China Morning Post and the Miami Herald. He is also an associate editor of Spectator Business, and a regular contributor to The Spectator. Before that, he worked for the business section of the Sunday Times for ten years.
He has written books on finance and financial topics, including Bust: Greece, The Euro and The Sovereign Debt Crisis and The Long Depression: The Slump of 2008 to 2031. Matthew is also the author of the Death Force series of military thrillers and the founder of Lume Books, an independent publisher.