Trump takes on Twitter
Donald Trump's row with social-media giants is another sign that Big Tech may face a regulatory and political clampdown. Matthew Partridge reports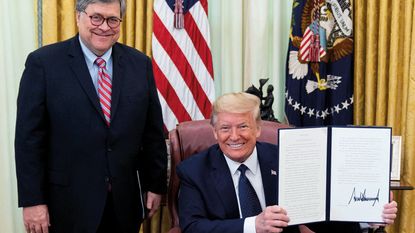 (Image credit: Donald Trump and William Barr © Shealah Craighead/White House Photo/Alamy Live News)
It has been a "momentous week" for social media, says Tae Kim on Bloomberg. Twitter's shares slumped by 9% after the company decision to regulate some of President Donald Trump's "most controversial posts" sparked a "backlash" from the president.
After Twitter added a fact-check warning label to two of the president's posts about voting by post, Trump insisted he would "strongly regulate or close" social-media platforms. He then signed an executive order that "seeks to limit some of the broad liability protection social-media companies have under federal law".
Trump is targeting Section 230 of the Communications Decency Act, says Charlie Savage in The New York Times. This prevents social media being sued for libel by stating that it "will not be treated as the publisher or the speaker for making others' posts available".
Subscribe to MoneyWeek
Subscribe to MoneyWeek today and get your first six magazine issues absolutely FREE
Get 6 issues free
Sign up to Money Morning
Don't miss the latest investment and personal finances news, market analysis, plus money-saving tips with our free twice-daily newsletter
Don't miss the latest investment and personal finances news, market analysis, plus money-saving tips with our free twice-daily newsletter
It also means social-media firms can't be sued for making "good faith" decisions to remove or restrict posts they deem "obscene, lewd, lascivious, filthy, excessively violent [or] harassing", even if such material is constitutionally protected. Trump's executive order argues that if they remove posts in "bad faith", they should lose their immunity.
Twitter's shareholders shouldn't panic, says David Smith in The Guardian. "[The] bark of [the] executive order is likely to be worse than its bite." The courts look set to rule that a change in the law would require an act of Congress. What's more, Trump's "dependence" on social media means he can't go too far (or even quit Twitter) since he could end up losing one of the key platforms of his presidency.
Facebook takes a different approach
Ironically, Twitter's rival, Facebook, is under fire for taking the opposite approach to Trump's posts, with employees staging a "virtual walkout", says Deepa Seetharaman in The Wall Street Journal. It took place in response to Mark Zuckerberg's decision to leave up a post from Trump about recent social unrest that many say "violated the company's rules about inciting violence". While Zuckerberg said he found it "deeply offensive", he argued that it was better to leave it up in order "to have this discussion out in the open".
Both companies may not be in any imminent danger, but in the longer run some sort of regulatory change may be on the cards, says Lex in the Financial Times. After all, Trump's opponent, Joe Biden, has also called for Section 230 to be changed. He wants social media "to be more responsible for misinformation".
Such cross-political support for change "could push Congress into greater scrutiny of the law". If this happens, then all social-media companies could either be obliged to "limit publication to a far smaller group of users", which would hit advertising, or "monitor everything that is posted on their sites", requiring a "huge increase in headcount".
Matthew graduated from the University of Durham in 2004; he then gained an MSc, followed by a PhD at the London School of Economics.
He has previously written for a wide range of publications, including the Guardian and the Economist, and also helped to run a newsletter on terrorism. He has spent time at Lehman Brothers, Citigroup and the consultancy Lombard Street Research.
Matthew is the author of Superinvestors: Lessons from the greatest investors in history, published by Harriman House, which has been translated into several languages. His second book, Investing Explained: The Accessible Guide to Building an Investment Portfolio, is published by Kogan Page.
As senior writer, he writes the shares and politics & economics pages, as well as weekly Blowing It and Great Frauds in History columns He also writes a fortnightly reviews page and trading tips, as well as regular cover stories and multi-page investment focus features.
Follow Matthew on Twitter: @DrMatthewPartri