Will HSBC be torn apart?
Banking giant HSBC has pleased the market with a new dividend policy. But its top shareholder thinks it should be split in two. Matthew Partridge reports.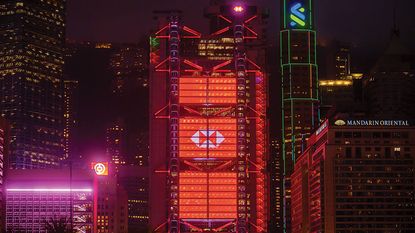 (Image credit: © Paul Yeung/Bloomberg via Getty Images)
HSBC's shares jumped by 7% on Monday as the bank promised to boost dividends and start paying them on a quarterly basis again from the start of next year, says Kalyeena Makortoff in The Guardian. Pre-tax profit reached just $9.2bn in the first half of the year, compared with $10.8bn in the same period last year; sales were flat at $25.2bn. But shareholders will be in line for an interim cash dividend of nine cents a share. The move comes as HSBC's top shareholder – the Chinese insurer Ping An – "revived calls to separate the bank's profitable Asian business from the rest of the lender's operations".
The new dividend policy will be welcomed by "disaffected retail shareholders", who own a third of HSBC's shares, say Tabby Kinder and Stephen Morris in the Financial Times. Such shareholders were "enraged" by the Bank of England's decision to prevent UK lenders from paying dividends during the pandemic and by HSBC's decision to pay out at just half the previous rate after the ban was lifted in July 2021. Indeed, HSBC's dividend policy was so unpopular that Ping An has put it at the centre of its argument for a break-up.
Higher interest rates boost profits
Ping An picked a "bad moment" to agitate for a breakup from a financial viewpoint, says Jennifer Hughes on Breakingviews. Thanks to rising borrowing costs, HSBC's net income is set to total $37bn next year, one-sixth higher than this year, while its shares have risen by 37% in a year: it is one of the top-performing "global banking titans". Meanwhile, a break-up could come with a lot of risks, including "higher taxes and capital charges". It could even "[jeopardise] the bank's licences to clear US dollar transactions". What's more, HSBC benefits from its 63-country network: "Nearly half the bank's business with wholesale clients crosses a border, for example."
Subscribe to MoneyWeek
Subscribe to MoneyWeek today and get your first six magazine issues absolutely FREE
Get 6 issues free
Sign up to Money Morning
Don't miss the latest investment and personal finances news, market analysis, plus money-saving tips with our free twice-daily newsletter
Don't miss the latest investment and personal finances news, market analysis, plus money-saving tips with our free twice-daily newsletter
HSBC's new dividend policy, along with its optimistic profit projections, might "placate [most] shareholders in the short-term", says Ben Marlow in The Daily Telegraph. But it "won't improve the political backdrop". Ping An is not like other "shareholder activists". The group is technically not state-controlled, but it is generally acknowledged that "nothing of consequence happens in China without... the green light from Beijing". The state is likely to be "agitating in the shadows" for a break-up "as relations with the West become more tense".
HSBC "has been navigating tricky international waters with aplomb since it was founded in 1865", says Ruth Sunderland on This is Money. But it's becoming increasingly clear that its unique position with "substantial operations" in Asia and the West means that it is "at risk of upsetting either China or the US, or both".
HSBC has been lambasted in the West for its involvement with firms linked to the Chinese repression of the Uyghurs, as well as its refusal to "take a principled stance over Ukraine" by pulling out of Russia. The upshot is that the UK banking authorities "would be prudent to insist it takes steps to protect the British taxpayer in the event of a break-up, just in case".
Matthew graduated from the University of Durham in 2004; he then gained an MSc, followed by a PhD at the London School of Economics.
He has previously written for a wide range of publications, including the Guardian and the Economist, and also helped to run a newsletter on terrorism. He has spent time at Lehman Brothers, Citigroup and the consultancy Lombard Street Research.
Matthew is the author of Superinvestors: Lessons from the greatest investors in history, published by Harriman House, which has been translated into several languages. His second book, Investing Explained: The Accessible Guide to Building an Investment Portfolio, is published by Kogan Page.
As senior writer, he writes the shares and politics & economics pages, as well as weekly Blowing It and Great Frauds in History columns He also writes a fortnightly reviews page and trading tips, as well as regular cover stories and multi-page investment focus features.
Follow Matthew on Twitter: @DrMatthewPartri