Warsaw and Stockholm: the unexpected new threats to the City of London
London has seen off challenges from Frankfurt and Paris, but two other booming financial centres are a bigger threat, says Matthew Lynn.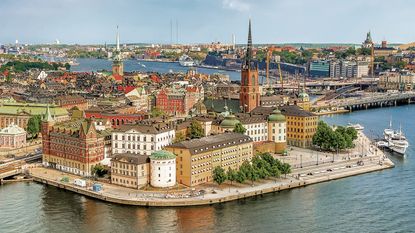 (Image credit: © Getty Images)
Frankfurt has attracted only a handful of bankers over the last four years. If any firms have relocated to Paris, then they are keeping it a secret. Despite all the money and political capital Germany and France poured into making sure London was no longer Europe's financial capital in the wake of our departure from the European Union, so far it has had very little impact. Some share trading has shifted, mostly to Amsterdam, and so have some deposits, but that is just numbers stored on a server. Most of the real work is being done in London.
The City may well feel it is time to relax. But hold on. Perhaps we are looking in the wrong place. London has plenty of competition in Europe – it is just not coming from the cities we expected. Financial centres are booming in two other cities that no one usually pays much too: Warsaw and Stockholm. Sweden has more than 1,000 listed companies, more than either Paris or Frankfurt, while Warsaw has 770, only 35 below Paris. Both are some way behind London, which has more than 2,000 listed companies, but they are gaining fast.
Fast-growing economies
Warsaw is building on the strength of the Polish economy. Annualised growth of more than 4% a year is steadily turning Poland into one of the richer countries on the continent (its stockmarket is one of the world's few remaining bargains, but that is a different story). That is throwing up lots of growing businesses, some of which are ready to float. At least 20 companies are expected to list on the main market this year, and another 16 at least on NewConnect, its version of Aim. But it is also starting to attract global companies as well. Pepco, the owner of discount retailer Poundland, also has a big business in Poland and it decided to list in Warsaw earlier this year, rather than London.
Subscribe to MoneyWeek
Subscribe to MoneyWeek today and get your first six magazine issues absolutely FREE
Get 6 issues free
Sign up to Money Morning
Don't miss the latest investment and personal finances news, market analysis, plus money-saving tips with our free twice-daily newsletter
Don't miss the latest investment and personal finances news, market analysis, plus money-saving tips with our free twice-daily newsletter
Likewise, Stockholm is thriving on the back of the booming technology industry. Sweden is second only to the UK in Europe in the number of new tech companies it has created, and on a per capita basis it is probably ahead. Nasdaq Stockholm has benefitted hugely from that, as well as from positioning itself at the centre of a vibrant, tech-led Nordic economy that also takes in Denmark, Norway, Finland and Estonia. The trend is not likely to stop any time soon. Klarna, the buy-now-pay-later start-up based in Stockholm, is valued at $45bn, making it the most successful fintech company in Europe. When it lists, it may well choose its home market – there is no reason not to – and that will give Stockholm yet another boost.
Four big advantages over Britain
Warsaw and Stockholm have four things going for them. Both are outside the single currency, but inside the EU, just as Britain was before we left. That means they have their own central bank which can help the finance sector when it needs to, and they have their own domestic bond market. They can also be a lot more flexible, both in terms of devising regulations and implementing them. Sure, they still have to comply with directives from Brussels, but they have more independence than they otherwise would.
Next, they have thriving entrepreneurial economies to tap into. An emerging market such as Poland is always going to have a lot more energy than a mature, developed one. That means a steady stream of companies coming to the market. Thirdly, they have competitive tax systems. Poland has no capital gains tax, and just levies the standard corporate tax rate of 19% on gains, while Sweden is a lot more competitive than it used to be. And finally both are inside the single market. Brokers and asset managers based in either city have full access to financial markets across the continent whilst preserving some flexibility and independence. The UK has lost that, and there is little chance of getting it now.
London has done well to fend off the assault from Frankfurt and Paris. Warsaw and Stockholm may be more serious challengers. The City can't take its status as Europe's financial hub for granted. Competition is arriving from new centres. It will have to work harder to survive that.
Matthew Lynn is a columnist for Bloomberg, and writes weekly commentary syndicated in papers such as the Daily Telegraph, Die Welt, the Sydney Morning Herald, the South China Morning Post and the Miami Herald. He is also an associate editor of Spectator Business, and a regular contributor to The Spectator. Before that, he worked for the business section of the Sunday Times for ten years.
He has written books on finance and financial topics, including Bust: Greece, The Euro and The Sovereign Debt Crisis and The Long Depression: The Slump of 2008 to 2031. Matthew is also the author of the Death Force series of military thrillers and the founder of Lume Books, an independent publisher.