What's behind Sri Lanka's crippling debt crisis?
Sri Lanka has been hit by a triple whammy of economic shocks and has gone to the IMF for a bailout. It may just be the first domino to fall in a global debt crisis.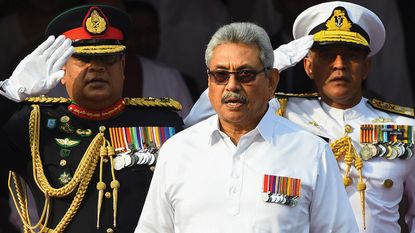 (Image credit: © ISHARA S. KODIKARA/AFP via Getty Images)
Sri Lanka is undergoing a full-scale economic collapse and political crisis, with every chance of further violent unrest. Last week the parliamentary speaker warned of an imminent hunger crisis. This week the "new" prime minister, Ranil Wickremesinghe, a septuagenarian on his fifth stint as PM since the 1990s, warned that the country had run out of petrol, and that it desperately needed $75m of foreign currency to pay for essential imports to avoid social collapse.
For months, the government of president Gotabaya Rajapaksa has been struggling to cope with an inflationary spiral and a lack of foreign reserves that has led to shortages of food, fuel and medicines, and rolling power cuts. In recent weeks, public anger has spilled over onto the streets. There have been multiple cabinet reshuffles and failed attempts to form a national unity government.
But so far Rajapaksa has clung on – albeit without a fully functioning government – in part because the opposition doesn't fancy the job of fixing his mess.
Subscribe to MoneyWeek
Subscribe to MoneyWeek today and get your first six magazine issues absolutely FREE
Get 6 issues free
Sign up to Money Morning
Don't miss the latest investment and personal finances news, market analysis, plus money-saving tips with our free twice-daily newsletter
Don't miss the latest investment and personal finances news, market analysis, plus money-saving tips with our free twice-daily newsletter
What's caused the crisis?
A mix of long-run factors and shorter-term triggers. Sri Lanka's economy has long been dominated by export-orientated crops and more recently the garment industry. Its economy is therefore highly vulnerable to global economic downturns and external shocks, with declines in exports driving regular balance-of-payments crises from the mid-1960s onwards.
Still, until now post-independence Sri Lanka has never defaulted on its sovereign debt and was a relative success story by South Asian standards.
What went wrong?
Gotabaya Rajapaksa is from one of Sri Lanka's dominant political families with influence dating back to the 1930s. In 2005 Mahinda Rajapaksa, Gotabaya's brother, was elected president, and many other members of the family have taken up senior positions since then.
Even before the Rajapaksas took power, "financial trouble was brewing", says Karl Schultz on Bloomberg. During the family's first stint in office (under the presidency of Gotabaya's brother Mahinda in 2005-2015), the government took out big loans from China to invest in infrastructure projects. But many of those stalled and foreign debt more than doubled between 2010 and 2020.
Things got worse from 2019, due to a combination of terrible luck and disastrous policy decisions. In April that year, Sri Lanka's thriving $4.4bn tourism sector took a big blow from a series of church bombings that killed nearly 300 people, including some foreign nationals.
What was the effect of that?
Tourism collapsed by as much as 80%, and then the following spring the pandemic hit, making any recovery impossible. Together, these blows would have challenged any government. But the Rajapaksas proved unequal to the task. Gotabaya Rajapaksa was popular for bringing an end to the 26-year civil war as a head of the ministry of defence in 2009, during the time when Mahinda was president.
Though accused of war crimes in the fight against the Tamil Tigers – and corruption – he was elected by a landslide in 2019 on a security-focused platform in the wake of the bombings. He then brought Mahinda back as PM, along with several more relatives as ministers. But "untrammelled authority seems to have gone to the Rajapaksas' heads", says The Economist.
What have the Rajapaksas done wrong?
First, they immediately pushed through massive but unaffordable tax cuts that seriously weakened the government's finances, despite warnings that they were recklessly dangerous. They then failed to reverse course as the pandemic halted tourism, downgrades closed the door to fresh borrowing and foreign reserves dwindled.
Next, with the economy and fiscal position worsening fast, in April 2021, the Rajapaksas banned the use of chemical fertilisers to try and save money. The predictable result was chaos, and a slump in rice production of between one quarter and one third – and an even bigger crash for tea, a key export earner.
Although the ban was withdrawn in November, the damage was done – accelerating the inflationary spiral that was worsened this spring by the commodities spike following Russia's attack on Ukraine.
What will happen now?
A formal default looks imminent, and the government's chances of clinging on appear slim. "The threat this time round for the Rajapaksas' survival is real," political commentator Kusal Perera told the Financial Times. "They want someone to take over who could diffuse this heat, and after a while to negotiate an exit path for them."
The country is due to pay $8bn this year in debt repayments and interest on a foreign debt pile of $50bn. But its foreign reserves are now down to a few tens of millions of dollars – in effect nothing – leading it to suspend payments last month and start talks with the IMF on yet another bailout.
The government is also seeking new bilateral loans from the US, China and Japan. Sri Lanka is the "first country to buckle" under the mounting pressure of the "three-pronged" global crisis, says Larry Elliott in The Guardian – namely, the pandemic, the rising cost of debt, and the sharp increase in global food, fuel and fertiliser prices caused by Russia's invasion of Ukraine. It's the first, but unlikely to be the last.
Where's next?
The list is "long and varied", says Elliott. The UN's trade and development arm, UNCTAD, recently assessed that 69 countries are currently facing a triple whammy of shocks in the form of rising food prices, rising energy prices and tighter financial conditions.
Of these, 25 nations are in Africa, 25 in Asia and the Pacific, and 19 in Latin America and the Pacific. So far, the IMF has opened rescue talks with Egypt and Tunisia – both big wheat importers – and with Pakistan, which has imposed power cuts because of the high cost of imported energy.
Sub-Saharan African countries at risk include Ghana, Kenya, South Africa and Ethiopia. Argentina recently signed a $45bn debt deal with the IMF, and other Latin American countries at risk include El Salvador and Peru.
Simon Wilson's first career was in book publishing, as an economics editor at Routledge, and as a publisher of non-fiction at Random House, specialising in popular business and management books. While there, he published Customers.com, a bestselling classic of the early days of e-commerce, and The Money or Your Life: Reuniting Work and Joy, an inspirational book that helped inspire its publisher towards a post-corporate, portfolio life.
Since 2001, he has been a writer for MoneyWeek, a financial copywriter, and a long-time contributing editor at The Week. Simon also works as an actor and corporate trainer; current and past clients include investment banks, the Bank of England, the UK government, several Magic Circle law firms and all of the Big Four accountancy firms. He has a degree in languages (German and Spanish) and social and political sciences from the University of Cambridge.