Indonesia: an intriguing market for investors
Indonesia hasn't lived up to the potential shown when president Joao Widodo came to power in 2014. But patient investors may one day be rewarded.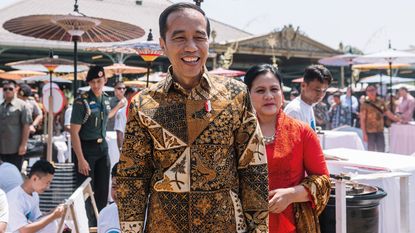 (Image credit: Joko Widodo, Indonesia's president © Muhammad Fadli/Bloomberg via Getty Images)
"There are cruel limits to how much and how fast a nation can change," says Una Galani on Breakingviews. Observers had high hopes for Indonesian president Joko Widodo (known as "Jokowi") when he came to power in 2014. But instead of taking on his nation's "entrenched oligarchy", which has long held back development, he has increasingly "come to resemble" it.
A new biography by Ben Bland praises Jokowi for his efforts to remove red tape and boost infrastructure spending, but also criticises a government marked by "protectionist instincts" and capricious policymaking. A case in point was last year's decision to spend $33bn on moving the capital city out of Jakarta and into the jungle of East Kalimantan.
Due to Covid-19 the economy shrank by 5.3% on the year in the second quarter, its first contraction since 1999. Before the pandemic, activity had been expanding at around 5% annually, less than the 7% promised by Jokowi during his election campaign.
Subscribe to MoneyWeek
Subscribe to MoneyWeek today and get your first six magazine issues absolutely FREE
Get 6 issues free
Sign up to Money Morning
Don't miss the latest investment and personal finances news, market analysis, plus money-saving tips with our free twice-daily newsletter
Don't miss the latest investment and personal finances news, market analysis, plus money-saving tips with our free twice-daily newsletter
The IDX Composite, the local stockmarket's benchmark index, has tumbled more than 16% so far this year. It has gained an underwhelming 4% in the six years since Jokowi took office. The country's rupiah currency has been one of Asia's worst performers this year, shedding more than 5% against the US dollar.
Bullying the central bank
Parliamentary proposals to change the mandate of Bank Indonesia, the central bank, and bring in more direct political control have spooked markets, says Gareth Leather of Capital Economics.
Central bank independence was "already in question" after it stepped in to fund directly $40bn of this year's ballooning government budget deficit.
Still, policymakers know they cannot push things too far. Foreign investors own about 30% of government bonds, so Jakarta risks massive capital flight if it doesn't offer a stable investment environment. Indonesia depends on foreign capital to fill the gap created by twin government and current-account deficits, says Trinh Nguyen on carnegieendowment.org. So the economy is at the whim of foreigners' "appetite for risk".
Yet foreign money managers have good reason to send in their cash. With 268 million people this is the largest economy in southeast Asia. A young population will provide a favourable tailwind for "the next 30 years".
A small manufacturing sector means that exports account for just 18.4% of GDP, far less than neighbouring economies. At a time of slowing global trade a strong focus on the domestic market may prove a strength.
With GDP per capita of just $4,135, the economy has ample room for catch-up growth. Patient investors may one day be rewarded.