The end of cheap money hits the markets
Markets have swooned as central banks raise interest rates, leaving the era of cheap money behind.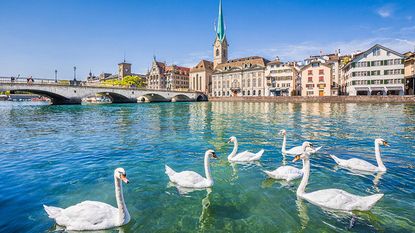 (Image credit: © Scott Wilson / Alamy)
"The world has been hooked on cheap money for years. Now we're witnessing what withdrawal looks like," says Randall Forsyth in Barron's.
Last week, central banks from Scandinavia to Mongolia and from South Africa to Indonesia raised interest rates. America's Federal Reserve delivered its third successive three-quarter point interest-rate hike, while the Bank of England raised interest rates by half a percentage point to 2.25%. Switzerland became the last European central bank to end its experiment with negative interest rates, leaving Japan as the only big economy where rates are still below zero.
Markets have swooned, with America's S&P 500 stock index falling to its lowest level of the year so far on Monday. Oil prices have hit their lowest level since January on expectations of weaker demand.
Subscribe to MoneyWeek
Subscribe to MoneyWeek today and get your first six magazine issues absolutely FREE
Get 6 issues free
Sign up to Money Morning
Don't miss the latest investment and personal finances news, market analysis, plus money-saving tips with our free twice-daily newsletter
Don't miss the latest investment and personal finances news, market analysis, plus money-saving tips with our free twice-daily newsletter
Bond-market pain
"We're living through… the most truly global attempt to tighten financial conditions in memory," says John Authers on Bloomberg. "With 2022 not quite three-quarters over, this is already the worst year for [US Treasury] bond investors in six decades." The yield curve, a measure of the gap between yields on US ten-year and two-year government bonds, has reached its steepest inversion "in more than 40 years". Previous inversions have heralded a recession.
It has been clear for some time that monetary policy would need to tighten, but traders are only slowly waking up to the implications for overpriced equities, says James Mackintosh in The Wall Street Journal. "Markets are doing what they always do, hoping against hope that there's no recession, or at least a very mild one, right up to the last minute."
Fed policymakers have made clear that more hikes are in the pipeline, says Aaron Back in the same paper. Fed chair Jerome Powell describes the US labour market as "extremely tight", a sign that the economy is still running too hot. US central bankers want "to see the economy slow significantly, even if that involves some pain". Yet the bulls may still have a point: "the inflation... Powell is contending with isn't nearly as entrenched as that of the 1970s. So a recession isn't a sure thing and, if there is one, it might not be very deep or prolonged by historical standards".
Investors are struggling to accept that their lost wealth isn't coming back any time soon, says Katie Martin in the Financial Times. "The five stages of grief are denial, anger, bargaining, depression and acceptance." Markets spent much of the summer in bargaining mode, when they "briefly took seriously the notion that central bankers might be gentle with rate rises".
The current mood in stocks is somewhere between depression and acceptance. The latest round of global rate rises "has demonstrated, as if it were not already obvious, that declines in asset market valuations are simply not going away".