Five unexpected events that could shock the markets in 2022
Forget Covid-19 – it's the unexpected twists that will rattle markets in 2022, says Matthew Lynn. Here are five possibilities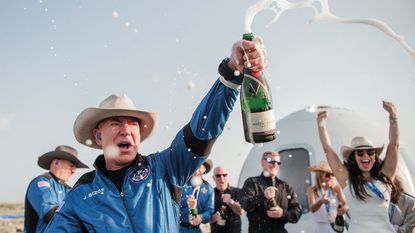 (Image credit: © Shutterstock)
A new variant of Covid-19; a scandal swirling around Boris Johnson – there are lots of things that we can be sure will happen during 2022. Investors will have already taken them in their stride, but what are the unexpected twists, the surprises that no one saw coming? With an obvious pinch of salt, here are five events that might rock the markets over the next 12 months.
Bezos will be back at Amazon
First, Jeff Bezos returns to Amazon. In July when the world's most relentlessly driven entrepreneur stepped back from day-to-day management of the company he founded to spend more time with his space rockets, the share price hit an all time high of $3,800. It was a fantastic achievement. How has it done since Andy Jassy took over? Well, it has hardly been a disaster, but it has been gently declining since then, with a steady fall to $3,400.
There have been worrying signs that the company is not quite as remorseless as it was with Bezos at the helm; labour costs have been rising and sales growth has slowed. It would hardly be a shock to anyone if Bezos decided to take personal control again – he is not the kind of person willing to sit back and watch the company he created lose its edge.
Subscribe to MoneyWeek
Subscribe to MoneyWeek today and get your first six magazine issues absolutely FREE
Get 6 issues free
Sign up to Money Morning
Don't miss the latest investment and personal finances news, market analysis, plus money-saving tips with our free twice-daily newsletter
Don't miss the latest investment and personal finances news, market analysis, plus money-saving tips with our free twice-daily newsletter
A change at the top of the ECB
Next, a change of leadership at the European Central Bank. Christine Lagarde, a lawyer with no formal experience in banking or finance, was always a very political choice. That would be fine if she just needed to run a steady ship, but the ECB is about to enter the stormiest waters of its short life. Inflation is already up to 5% in Germany and will go a lot higher still (just take a look at the price of natural gas).
This will be unacceptable in a country where most savings are held in the bank and there is a pathological fear of inflation. If it breaches 8%, Olaf Scholz, Germany's new chancellor, will demand Lagarde is replaced to placate domestic public opinion.
Russia and China strike a deal
Thirdly, a Russian-Chinese pact. The Russian president Vladimir Putin's massed troops on the border with Ukraine will turn out to be just a bluff; by the spring, he will have extracted the concessions he wants. Ukraine will stay out of Nato and he will get the pipeline to take Russian gas straight into the German market.
The real action will be elsewhere. While the West is distracted, Putin and China's president, Xi Jinping, will strike a wide-ranging geopolitical partnership. The two countries will commit to working together, militarily, economically, financially and diplomatically. The West, led by the United States, will have to work out how to respond to the most serious threat it has faced since the end of the Cold War.
France will have a new president
Fourth, Emmanuel Macron loses the French presidency. The markets have complacently assumed that the centrist Macron is a certainty for re-election in April next year, but no sitting president has won a second term since Jacques Chirac in 2005. It would be rash to assume that Macron will be the person to break that record.
The National Rally leader, Marine Le Pen, is fading, and so is the Trump-like TV personality, Eric Zemmour, but the centre-right candidate, Valérie Pécresse, is a real threat. The polls are starting to suggest she can edge out her far-right rivals to make it into the second round.
If so, she will shift Macron to the left, and she stands a very good chance of beating him. There is nothing very radical about Pécresse, and she won't make any huge shifts in policy, but France is now the largest debtor in Europe. Any sign of political instability will make the debt markets very nervous.
A bust-up at the US Federal Reserve
Finally, Jerome Powell quits as chair of the Federal Reserve, America's central bank, after a bust up with the White House. Inflation in the US has already hit 6.2% and will go much higher. Powell will press for far higher rates, US president Joe Biden will resist and Powell will walk away.
That will trigger a collapse in confidence in Biden, a spike in bond yields, and falls on Wall Street that will send shockwaves through the global economy. Biden will have to appoint someone even more hawkish on inflation to restore confidence – and the battle to bring inflation under control will be a lot harder.
Matthew Lynn is a columnist for Bloomberg, and writes weekly commentary syndicated in papers such as the Daily Telegraph, Die Welt, the Sydney Morning Herald, the South China Morning Post and the Miami Herald. He is also an associate editor of Spectator Business, and a regular contributor to The Spectator. Before that, he worked for the business section of the Sunday Times for ten years.
He has written books on finance and financial topics, including Bust: Greece, The Euro and The Sovereign Debt Crisis and The Long Depression: The Slump of 2008 to 2031. Matthew is also the author of the Death Force series of military thrillers and the founder of Lume Books, an independent publisher.