Is the bull market over, or is this a short-term pullback?
Stockmarkets have had a bit of a swoon recently as the Omicron variant spreads around the world. But is this just a market tantrum, asks Dominic Frisby, or the beginning of a crash?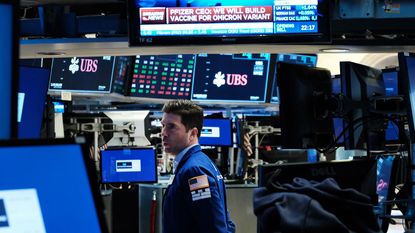 (Image credit: © Spencer Platt/Getty Images)
It was all going so swimmingly well. The money printer was going brrrr and stock markets were going whoosh. Simples.
Then last week came along and suddenly things are looking decidedly dicy.
Let's review.
Subscribe to MoneyWeek
Subscribe to MoneyWeek today and get your first six magazine issues absolutely FREE
Get 6 issues free
Sign up to Money Morning
Don't miss the latest investment and personal finances news, market analysis, plus money-saving tips with our free twice-daily newsletter
Don't miss the latest investment and personal finances news, market analysis, plus money-saving tips with our free twice-daily newsletter
Markets don't know if they're coming or going
The bulls had control of the tape. The September swoon was forgotten. New highs were an almost daily occurrence. Markets looked well placed for the Santa rally and the Christmas bonus.
Heck, the S&P 500 at 5,000 by early next year looked on the cards.
Then along came the latest variant of the virus, the one they should have called Xi, but for reasons of health and safety – well tact – called Omicron instead, and the bulls were caught with their trousers down.
Last Friday markets suddenly went "risk-off". Everything sold off – and hard. Excessively so, it seemed. This wasn't March 2020 all over again. Over the weekend, participants gathered their thoughts – consensus was that the sell off was overdone and on Monday we got a whopper of a relief rally. Normal business was resumed.
It seems there was an excess of complacency, however. Markets got walloped again on Tuesday – "Actually, do you know what, we are not sure how effective vaccines are against this new variant?" – that was one problem.
The other was a surprisingly hawkish turn from the money-printer-in-chief, Jerome Powell, 16th chair of the Federal Reserve Bank.
All this inflation we've been seeing is "transitory," the money-printers have been saying. Then suddenly Powell declared that it isn't: "It's probably a good time to retire that word," he said. What? Sell!
His next line got the Fed-speak interpreters smirking: it's also probably a good time, he said, to "explain more clearly what we mean." Expect obfuscation – and lots of it.
Here's what really got the jitters going though. It's time, Powell said, for the Federal Open Market Committee (FOMC) to consider accelerating the pace of the quantitative easing (QE) taper at its December meeting.
That doesn't mean they are going to stop the money printers. It doesn't even mean they are going to accelerate the pace at which they slow them down. It just means the time has come to consider deceleration.
How about that for bureaucrat-speak? "The time has come to consider".
One hopes they would have been considering this for some time previously (which they will have been, of course) but when a central banker says the time has come to consider, markets – which are more addicted to stimulus than I am to Twitter – panic.
The S&P 500 tanked. The Dow tanked. The Nasdaq tanked. Wednesday saw a relief rally, but then it emerged that the Omicron variant has reached California, and so markets tanked again.
My hunch is that it'll all be OK
As always, it's easy to make the bear case and it's easy to make the bull case. But I am going to take the line that this is a tantrum, not the beginning of a crash.
In the short term we are extremely oversold – the type of oversold that marks short-term bottoms. We have pulled back to roughly the 21-week moving average (looking at a weekly chart) and said moving average, give or take a few points, tends to market the level where tantrums end.
I'm suggesting that this correction is more of the "pullback in an ongoing bull market" variety, rather than the onset of the end of the world. If the world really does start to end, I console myself with the thought that they will just print more money and stop all this chat about considering accelerating the pace at which they taper. Their hands are tied: markets are addicted to stimulus.
We seem to get these tantrums – or pullbacks to the 21-week moving average – about once a month. We got one in May, in June, in July, in August. We got a pretty big one in September. And we are getting another one now.
In the short term – like the next day or two – we probably rally perhaps to around 4,650. Then we correct a bit more, retest the lows, maybe even go a bit lower. That would be typical market action. Flush out a bit of the excess.
But I don't think this is the end of days. Far wiser heads than mine say it is. I reserve the right to be wrong. I always do.
There's a definite sense of the jitters about, and this urge to lockdown again is apparent. But it seems this latest bout of the virus, while more contagious, is less lethal. And threats to stop printing money are similarly more about hype than reality.
Those are the two "causes" of the latest pullback and both, from the vantage point of this desk, look overblown.
In short, everything's going to be ok.
Daylight Robbery – How Tax Shaped The Past And Will Change The Future is now out in paperback at Amazon and all good bookshops, with the audiobook, read by Dominic, on Audible and elsewhere.
Dominic Frisby ("mercurially witty" – the Spectator) is the world's only financial writer and comedian. He is MoneyWeek's main commentator on gold, commodities, currencies and cryptocurrencies. He is the author of the books Bitcoin: the Future of Money? and Life After The State. He also co-wrote the documentary Four Horsemen, and presents the chat show, Stuff That Interests Me.
His show 2016 Let's Talk About Tax was a huge hit at the Edinburgh Festival and Penguin Random House have since commissioned him to write a book on the subject – Daylight Robbery – the past, present and future of tax will be published later this year. His 2018 Edinburgh Festival show, Dominic Frisby's Financial Gameshow, won rave reviews. Dominic was educated at St Paul's School, Manchester University and the Webber-Douglas Academy Of Dramatic Art.
You can follow him on Twitter @dominicfrisby