US-China tension mounts
Could a resumption of the US-China trade war sink the stockmarket?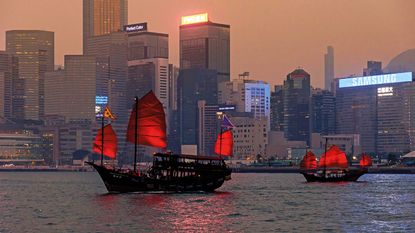 (Image credit: Junks in Hong Kong harbour © Jayskyland Images / Alamy Stock)
US secretary of state Mike Pompeo has announced that Washington no longer considers Hong Kong to be autonomous from mainland China following the imposition of a new security law, jeopardising the city's privileged economic and legal relationship with the US.
The "combative rhetoric" is hardly creating the stable backdrop the global economy needs if it is to bounce back from Covid-19, say Michael Farr and Dan Mahaffee for CNBC. Markets have yet to succumb to the grim economic news worldwide, but we could be approaching the "last straw" – the moment when just one more negative development finally pushes markets over the edge.
The political crisis has taken a heavy toll on Hong Kong's Hang Seng index, which has tumbled by 15% since the start of the year. The index has significantly underperformed other Asian markets, with mainland China's SSE and Japan's Topix down just 5% and 6% respectively this year.
Subscribe to MoneyWeek
Subscribe to MoneyWeek today and get your first six magazine issues absolutely FREE
Get 6 issues free
Sign up to Money Morning
Don't miss the latest investment and personal finances news, market analysis, plus money-saving tips with our free twice-daily newsletter
Don't miss the latest investment and personal finances news, market analysis, plus money-saving tips with our free twice-daily newsletter
The city's stocks enjoyed a good start to the week, advancing 4.4% over Monday and Tuesday, but concern is growing that the "Phase One" US-China trade deal could be under threat. China has promised to buy $36bn in US agricultural products this year as part of the truce. There was confusion this week as reports that Beijing had halted the purchases conflicted with news that state-owned firms had placed new orders for 180,000 tonnes of American soybeans.
Decoupling gathers pace
On other fronts the American and Chinese economies are drawing further apart. The Luckin Coffee accounting scandal has prompted greater scrutiny of the 150 or so Chinese companies listed stateside, says Craig Mellow in Barron's. Political and regulatory pressure to evict the likes of Alibaba and Pinduoduo from New York exchanges is "real and mounting". Yet denying Chinese businesses easy access to American capital may not carry the sting it once did. Social media giant Tencent Holdings has not suffered from its Hong Kong listing, returning more than 150% over the past five years.
The US has other ways to tighten the financial screws on Beijing, says Mike Bird for The Wall Street Journal. The announcement that Hong Kong is no longer to be considered autonomous could mark the first step towards a policy of restricting the ability of Chinese banks to conduct international trade in dollars, a favoured US tactic against adversaries. US moves to isolate Hong Kong strike at China's most important "point of access to global finance". That could ultimately undercut the Chinese leadership's overseas ambitions and place new strains on the country's "debt-laden property developers".