Global stockmarket bulls start to stampede
Global stockmarkets' rise suggest investors are optimistic that the economy is heading for better days. But bad earnings data could put their faith to the test.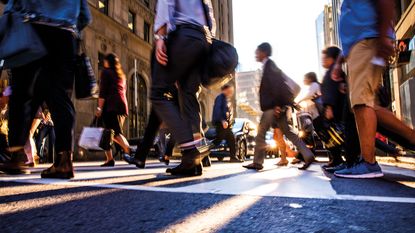 (Image credit: People crossing a city street © Getty Images/iStockphoto)
The global stock rally has "reached a tipping point", writes John Authers on Bloomberg. The S&P 500 has bounced by more than a third since its March nadir, with the FTSE 100 advancing by almost 25% over the same time period.
Many commentators have been perplexed by the strength of the comeback. The virus is still far from under control, a vaccine looks far off and global unemployment has risen to Depression-era levels. Yet bulls argue that the economy will be able to stage a swift recovery now that lockdowns are being lifted and point to the tidal wave of central-bank liquidity juicing market returns.
Cyclicals join the party
The rally has been spearheaded by technology and pharmaceuticals, but in recent weeks more cyclical businesses such as carmakers, retail and travel have been catching up. That suggests that rather than simply pricing in the winners and losers of lockdown, markets are now optimistic that the economy as a whole is heading for better days.
Subscribe to MoneyWeek
Subscribe to MoneyWeek today and get your first six magazine issues absolutely FREE
Get 6 issues free
Sign up to Money Morning
Don't miss the latest investment and personal finances news, market analysis, plus money-saving tips with our free twice-daily newsletter
Don't miss the latest investment and personal finances news, market analysis, plus money-saving tips with our free twice-daily newsletter
The market has staged a recovery far swifter than that seen after previous crashes, notes Authers. The "great majority" of S&P 500 stocks are now trading above their 50-day moving average, a technical measure that historically spells further gains to come. The "force and momentum" of the current rally can no longer be denied. Investors who were once sceptical are now "prepared to believe the best".
The "doubters" are turning into "believers", agrees Richard Henderson for the Financial Times. American retail investors have decided to buy the dip. Morgan Stanley reports that users of trading app Robinhood have "more than doubled their positions" in US blue chips since the rally started. Strikingly, depressed travel businesses American Airlines and cruise operator Carnival are among the most popular plays. Steven DeSanctis of Jefferies says that frenetic trading of biotech stocks has started to resemble the "frothy buying" of the dotcom bubble.
Fundamentally unsound
US consumer spending dropped by 13.6% in April, the biggest monthly fall on record. American consumption accounts for about 70% of US GDP and is a key driver of global growth. Yet with more than 40 million unemployed, many are tightening their belts.
The Congressional Budget Office forecasts that the pandemic will cost the world's biggest economy a cumulative $7.9trn in lost real GDP over the coming decade. That dims the outlook for company profits, the key driver of equity valuations. Analysts expect a 20% year-on-year drop in S&P 500 earnings over the next four quarters, reports Justin Lahart for The Wall Street Journal.
Falling earnings and rallying stock prices have pushed the US market's valuation up to 21.6 times expected earnings, "territory last seen during the dotcom bubble". Optimists say that the role of markets is to look through the turmoil to better days ahead. But the relentless drumbeat of bad earnings data could yet put the faith of stockmarket bulls "to the test".