Airline industry braces for turbulence
The economics of airlines make them particularly vulnerable to external shocks, such as the Covid-19 virus outbreak. Flybe was the first to fall. Will there be more?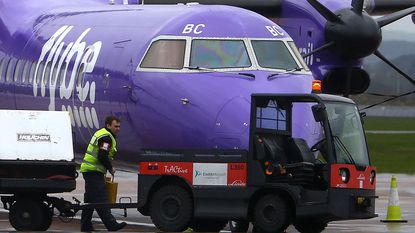 What has happened?
Flybe, Europe's largest regional airline that operated almost 40% of UK domestic flights, collapsed into administration last week with the loss of more than 2,000 jobs. The 40-year-old airline served 27 airports in Britain and Ireland, and 30 short-haul destinations in mainland Europe (mainly France and Germany).
Flybe had long looked wobbly, wrestling with rising fuel costs, weak demand, overcapacity and intense competition. But the impact of the coronavirus proved the last straw for the Exeter-based business, which basically ran out of cash when the UK government stalled on a controversial £100m loan. Rather than prop up the ailing business, Flybe's owner, Connect Airways – a consortium of Virgin Atlantic, Stobart Air and the hedge fund Cyrus Capital – pulled the plug just a year after buying it.
Now the aviation industry, which has seen revenues plummet and share prices plunge by a quarter in recent weeks, is understandably asking: who's next?
Subscribe to MoneyWeek
Subscribe to MoneyWeek today and get your first six magazine issues absolutely FREE
Get 6 issues free
Sign up to Money Morning
Don't miss the latest investment and personal finances news, market analysis, plus money-saving tips with our free twice-daily newsletter
Don't miss the latest investment and personal finances news, market analysis, plus money-saving tips with our free twice-daily newsletter
Why are airlines so vulnerable?
Because the travel business is an inherently volatile and cyclical sector that can be blown off course by all kinds of unforeseen events (terrorist attacks, public health emergencies, or just sudden downturns).
Airlines are especially vulnerable because their fixed costs are so high (owning or leasing planes is not cheap; nor are large workforces) and they tend to be highly indebted, yet they cannot forecast demand with any certainty beyond a few weeks. Hence any sudden fall in demand and top-line revenues can have an immediate and disproportionately big impact on cash flow and profits.
In the well-known formulation of Warren Buffett concerning the tendency of downturns to expose weaker businesses, it is only when the tide goes out that you discover who has been swimming naked. But "in the case of the airline industry that's not really true", says Christopher Williams in The Daily Telegraph. "Quite a few of its players were parading around hopelessly exposed long before coronavirus turned up to spoil the party."
How bad is the current crisis?
It's too early to tell exactly, but we do have some authoritative best guesses. According to the International Air Transport Association (IATA, the global aviation industry's main trade body), the impact of Covid-19 is likely to mean a fall in global passenger revenues in 2020 of between $63bn and $113bn – which means a plunge of up to a fifth.
And that's just the passenger side; the body says it's too early to estimate the impact on global cargo business. To put those figures in context, just three weeks ago IATA was forecasting a far more manageable hit to global revenues of $29.3bn, based on impacts largely confined to markets closely associated with China.
Now it's reckoning on a realistic worst-case scenario almost four times as bad. (The oil-price falls of recent weeks will help, possibly to the tune of $28bn over the course of the year, depending on future price moves.)
What assumptions is IATA making?
Its best-case scenario of a $63bn hit is based on an overall slump in global passenger revenues of around 11%, with China accounting for about a third of that ($22bn). This scenario is based on a limited global spread of Covid-19 and a sharp downturn followed by a bounceback.
The worst-case scenario involves a more extensive spread of the coronavirus and an overall hit to global passenger numbers of 19%. This estimate includes, for example, a fall of 24% in the UK and other European countries, including France and Germany – but also in Italy, an assumption that already looks out of date given the total lockdown there. Who knows what IATA's estimates might be in a fortnight?
How are airlines reacting to the crisis?
Multiple carriers around the world have cancelled flights, withdrawn earnings guidance and put austerity measures in place – such as putting staff on short hours or offering/requiring unpaid leave.
In Europe one of the biggest carriers, Lufthansa, scrapped 50% of its schedule, while the EU said it would suspend airport-slot rules, letting airlines cut capacity without risking the loss of lucrative takeoff and landing rights (or having to run "ghost flights" in order to keep them).
Even in the US, where the industry is relatively consolidated and relatively profitable, Delta, American Airlines and United Airlines all pulled their 2020 financial forecasts – with United predicting a fall in revenues of up to 70% in April and May. "We can ride this out," said Alan Joyce, boss of Australia's Qantas, announcing drastic cost-cutting measures including a 25% drop in international flights. But "not all airlines around the world will".
Which airlines might be vulnerable?
Korean Air, which has cut 80% of international capacity, sent an email to all staff warning that it might not survive. And a notably indebted Asian airline that might struggle is SriLankan Airlines.
But the focus of investors' concern has moved away from Asia as the crisis spread and its potential economic effects became clearer ."At the beginning, investors were looking at 'who's the most exposed to China'," aviation analyst Seth Kaplan told Quartz. "Now, it's 'who has the best balance sheets'."
One airline widely cited as vulnerable is the heavily geared budget transatlantic carrier Norwegian Air, which said it plans temporarily to lay off a "significant share" of its workforce. Meanwhile, hedge funds are betting heavily that AirFrance-KLM will also suffer badly.
"Restructuring experts are rubbing their hands at all this," reckons Williams in The Daily Telegraph – though the banks standing behind aircraft leasing giants will be feeling pretty sick. "Ultimately, the only sensible result will be a major shake-out" and a process of consolidation that "permanently reduces capacity and the number of airlines.
The industry's history is not rich in rational economics, however." Stand by for lots more turbulence.
Simon Wilson's first career was in book publishing, as an economics editor at Routledge, and as a publisher of non-fiction at Random House, specialising in popular business and management books. While there, he published Customers.com, a bestselling classic of the early days of e-commerce, and The Money or Your Life: Reuniting Work and Joy, an inspirational book that helped inspire its publisher towards a post-corporate, portfolio life.
Since 2001, he has been a writer for MoneyWeek, a financial copywriter, and a long-time contributing editor at The Week. Simon also works as an actor and corporate trainer; current and past clients include investment banks, the Bank of England, the UK government, several Magic Circle law firms and all of the Big Four accountancy firms. He has a degree in languages (German and Spanish) and social and political sciences from the University of Cambridge.