HP rallies the troops against a hostile takeover
HP, the PC and printer maker, is trying to fend off a hostile bid from its smaller rival Xerox. An eventual deal still looks likely.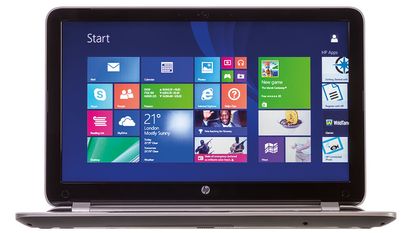 (Image credit: manaemedia)
HP is attempting to "rally" investors against a $35bn hostile bid from its rival Xerox, says Nico Grant on Bloomberg. The world's second-largest personal computer maker says it will return a large amount of money to shareholders, primarily through buybacks, which will be increased from $5bn to $15bn over the next three years. The buybacks will be funded by a combination of cash on hand and more debt. To free up additional cash, HP will increase the amount of money it aims to save through its cost-cutting programme to $1.2bn by 2022.
The planned $15bn in buybacks is certainly an "aggressive" move, since it represents more than HP has spent on them over the last seven years, says Dan Gallagher in The Wall Street Journal. They are also clearly meant to "bolster HP's case for staying independent", in the face of the Xerox bid. Still, the latest results certainly showed why the company needed to "sweeten the pot". While several "one-time items" helped per-share earnings beat Wall Street's forecasts, revenue across HP's businesses was "merely in line" with expectations. Worse, sales in the key print-supply business fell 7% year on year, the fifth consecutive quarterly decline.
The share repurchases aren't the only measures HP is taking to stop a hostile takeover, says Eric Savitz in Barron's. Last week it announced a "preferred-share purchase-rights plan", known as a "poison pill" manoeuvre. This "old-school anti-takeover measure" means that if any shareholder buys more than 20% of the company, the other shareholders will be able to buy additional shares at a discount. While this won't stop a takeover, it does mean that any acquirer will be diluted and have to pay more.
Subscribe to MoneyWeek
Subscribe to MoneyWeek today and get your first six magazine issues absolutely FREE
Get 6 issues free
Sign up to Money Morning
Don't miss the latest investment and personal finances news, market analysis, plus money-saving tips with our free twice-daily newsletter
Don't miss the latest investment and personal finances news, market analysis, plus money-saving tips with our free twice-daily newsletter
A merger makes sense
Both the buybacks and the poison-pill measure will make it harder for Xerox to take over HP, says John Foley on Breakingviews. However, it would be a pity if this completely scuppered any deal, because the case for a merger "remains compelling", especially since Xerox reckons that the combined cost savings "could hit $2bn a year". While some of this involves double-counting the cuts that HP has just announced, it would still add $8bn worth of extra value. As a result, HP should use the leverage that the defensive measures give it to "negotiate from a better position" and engage in "friendlier" merger talks.
An eventual deal may be likelier than you think, says the Financial Times. After all, while HP's buyback plan may be designed to "make it difficult" for Xerox to fund a takeover of HP, HP has pointedly refused to rule out a deal of a "different kind" between the two competitors, HP's CEO Enrique Lores stating that his company is "willing to engage" with Xerox, although any deal would have to be carried out "under different terms" from those originally proposed and would probably involve HP buying its smaller rival, rather than vice versa.
Matthew graduated from the University of Durham in 2004; he then gained an MSc, followed by a PhD at the London School of Economics.
He has previously written for a wide range of publications, including the Guardian and the Economist, and also helped to run a newsletter on terrorism. He has spent time at Lehman Brothers, Citigroup and the consultancy Lombard Street Research.
Matthew is the author of Superinvestors: Lessons from the greatest investors in history, published by Harriman House, which has been translated into several languages. His second book, Investing Explained: The Accessible Guide to Building an Investment Portfolio, is published by Kogan Page.
As senior writer, he writes the shares and politics & economics pages, as well as weekly Blowing It and Great Frauds in History columns He also writes a fortnightly reviews page and trading tips, as well as regular cover stories and multi-page investment focus features.
Follow Matthew on Twitter: @DrMatthewPartri