How much does it cost to sell a house?
If you're planning to sell a house it can be expensive. We break down all the costs you need to factor in.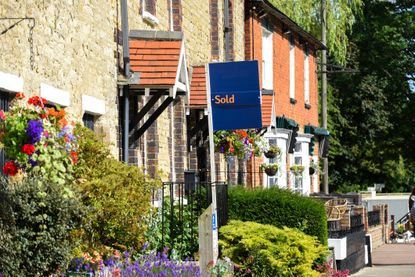 (Image credit: Getty Images)
If you're planning to sell your home, despite the falling house prices, you need to be aware of all the costs that you'll encounter along the way. many common and several not-so-common costs that are just a part of the price you'll pay for selling your home. From conveyancing and agent fees to closing costs, it's important to be prepared for a potentially high price tag, including often overlooked costs.
Many of the services you'll need charge a fee as a percentage of your home's value. As property prices have soared in recent years, this means you may have to pay more now in selling fees than in the past.
Overall, the total cost estimate for a fairly typical sale is £4,621, but that figure can vary quite a bit, according to The Advisory. The sale price of the property, the size of the home, where you're moving to, the estate agent and the property lawyer you choose all figure into the price you'll pay.
Subscribe to MoneyWeek
Subscribe to MoneyWeek today and get your first six magazine issues absolutely FREE
Get 6 issues free
Sign up to Money Morning
Don't miss the latest investment and personal finances news, market analysis, plus money-saving tips with our free twice-daily newsletter
Don't miss the latest investment and personal finances news, market analysis, plus money-saving tips with our free twice-daily newsletter
Generally, a seller's basic and potential costs include:
1. Estate agent fees
Estate agent fees can range from 0.9%-3.6%, according to the Home Owners Alliance (HOA). What you pay depends on which estate agents you use, how many agents are involved in the sale (whether you go for a sole or a multiple-agency agreement), and, of course, whether and how well you negotiate.
The average UK high street estate agent fee under a 'no sale, no fee' sole agency agreement is 1.42%, including VAT. If you choose to use more than one estate agent, expect to pay between 2.4% and 3.6%, which is typical for multi-agency. Online agents often charge much less than their high street counterparts, with fixed fee packages ranging from £0-£999.
Remember, since the agent's fee is based on a percentage of the final sales price, they are incentivised to try and get as much for your property as they can. While that may seem as though your objectives are aligned (of course you want to sell for as high a price as you can), sometimes that means that your overpriced property sits on the market without seeing interest or offers coming in.
Fees advertised and proposed by estate agents must be shown inclusive of VAT, according to The Property Ombudsman, with a statement confirming that VAT (currently 20%) is included.
2. Conveyancing solicitor fees
The conveyancing solicitor deals with the legal side of the sale of your home. Conveyancing costs can average between £610 and £950, according to Reallymoving, and are usually linked directly to the value of a property.
These conveyancing fees are typically split into two parts, legal fees and disbursements. The legal fees are what the conveyancer charges and the disbursements are third-party charges (usually fixed costs) for certain services, such as the transfer of ownership documents and title deeds.
There may be additional costs for selling a leasehold property, especially if there are changes to the lease or Share of Freehold to transfer — costs can range from £300 to as much as £800. You can save on these costs by shopping around and comparing conveyancing quotes. No-sale, no-fee arrangements are often cheapest but do check reviews online to make sure that your bargain legal fees come with good service.
3. Energy performance certificate (EPC) costs
Providing an energy performance certificate (EPC) to a buyer is a compulsory part of the process for anyone selling a home. The EPC includes information about the energy efficiency of your property on a scale from A to G — with A being the most efficient and G the least efficient.
The cost for the certificate can range from £35 to £150+VAT and if you don't already have one, you must have booked an inspection before you place your property on the market. Note: an EPC is valid for 10 years and can be used as many times as needed during that period.
4. Removal costs
Removal costs can vary quite a bit, from as little as £250 if you hire a van and do it yourself, or as much as £4000+VAT, if you choose to use a professional firm that does the packing and disassembles and reassembles your furniture.
A professional firm's price will depend on several factors, including the number (and size) of your possessions, whether you'll require storage, whether you box up your possessions yourself and the distance between your current property and where you're moving to.
If you take the DIY approach, tally the cost to hire a van, fuel costs, packing materials and "goods in transit" insurance. If you go with the pros, make sure you do your research and make sure they are as experienced as they say they are before you part with your money. There are any number of review sites that can help guide your decision-making.
5. Mortgage charges
When selling your home, you may come up against two possible mortgage-related charges: a mortgage exit fee and an early repayment charge.
A mortgage exit administration fee, or MEAF, can range from £50 – £300. It is a charge made when your mortgage balance is cleared, but not all lenders charge this fee. The early repayment charge, or ERC, can range from 1% – 5% of the loan amount. Not all mortgages come with this fee and it's most likely to be applied if you're on a fixed-rate mortgage (currently 74% of homeowners have this type of mortgage) and you're changing or ending the mortgage before your fixed-term deal ends.
Don't forget to check if your mortgage is portable – meaning you can transfer or 'port' your mortgage from the original property to the home you're moving into. In this case, you'll usually only pay for a valuation and undergo an affordability check.
6. Incidental costs
During the selling process, there are likely to be all sorts of additional costs that are required as part of the sales process.
Fees might include costs to deep clean your home or for making repairs and improvements. Babysitters, pet sitters, bridging loans, storage, and rental fees can all add to the cost of selling. These can quickly stack up, so it's best to put aside some budget for incidentals when selling your home.
Related articles

For the past 18+ years, Kathryn has highlighted the humanity in personal finance by shaping stories that identify the opportunities and obstacles in managing a person's finances. All the same, she'll jump on other equally important topics if needed. Kathryn graduated with a degree in Journalism and lives in Duluth, Minnesota. She joined Kiplinger and MoneyWeek in 2023 as a contributor.