Provincial house prices continue to soar as London gets left behind
A host of figures out this week confirm double-digit house-price rises in almost every area of the country bar one – London. Nicole Garcia Merida runs her eye over the numbers.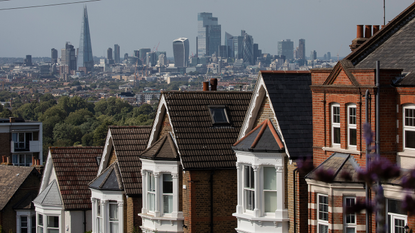 (Image credit: © Getty Images)
We had several interesting bits of property data come out this week, all of which confirmed in different ways that the house-price boom is not over.
Rightmove's house price index for May came out first, and revealed that new records continued to be set throughout the month, with the average price of the property coming onto the market up by 1.8% in the last month and 6.7% since last March to hit £333,564. (Rightmove is comparing May's figures with March 2020 as, it says, "the property market was suspended for most of April and May last year".)
It also showed average London house prices are 2.9 times higher than prices in the north of the UK, which is actually the smallest ratio recorded by Rightmove since 2013. Prices in London have risen by just 0.2% since March 2020.
Subscribe to MoneyWeek
Subscribe to MoneyWeek today and get your first six magazine issues absolutely FREE
Get 6 issues free
Sign up to Money Morning
Don't miss the latest investment and personal finances news, market analysis, plus money-saving tips with our free twice-daily newsletter
Don't miss the latest investment and personal finances news, market analysis, plus money-saving tips with our free twice-daily newsletter
Areas in the north have seen double-digit price increases, with the north west seeing an 11.1% jump, and Yorkshire and the Humber a 10.5% increase. Wales leads the way, however, with a 13% price increase. The north of England is still experiencing a greater imbalance between demand and supply than London as people are more likely to upsize locally – something that is likely to be partly behind the higher prices in the area.
The Office for National Statistics' house price Index for the year to March 2021 showed a 10.2% increase, and a 9.2% increase from February 2021 – the highest annual growth rate the UK has seen since August 2007. Its findings for London corroborated Rightmove's: London continued to be the region with the lowest annual growth for the fourth consecutive month, posting an increase of just 3.7%. Average house prices in England increased to £275,000 (10.2%), in Wales to £185,000 (11.0%), in Scotland to £167,000 (10.6%) and in Northern Ireland to £149,000 (6.0%).
And finally, HMRC data for monthly property transactions showed that the number of residential transactions for April was 117,860, or 179.5% higher than April 2020, but 35.7% lower than March 2021.
The good news is that prices in London, which has long been far more expensive than the rest of the country, are falling behind. My colleague John Stepek talked about this in Money Morning earlier this week (if you don't get our daily email, sign up here – it's free).
The stamp duty holiday will come to an end at the end of June, and then it will be tapered off in the coming months. That could slow down the market a bit, however there is also the supply shortage to contend with. Fewer properties on the market and increased buyer appetite could result in more bidding wars that push property prices up. We have mentioned what happened in New Zealand, which saw low property supply translate into bidding wars for houses that would traditionally attract very little buyer attention. Essentially, increased demand results in inflated prices.
There is also the fact that banks are more than happy to lend money at the moment. UK mortgage lending rose by the highest monthly amount on record in March, according to data from earlier in May from the Bank of England. Net mortgage borrowing was £11.8bn in March, the strongest since records began in 1993.
It remains to be seen what effect the end of the stamp duty holiday will have on the property market's boom. But I think it would be incorrect to assume that the bull market will suddenly come to an end, because people want to move regardless of the tax discount. Priorities have changed, property supply is low, and those who were in a position to buy have saved money throughout the pandemic, meaning they have more to spend. The combination of all of those things mean this boom is probably far from over.
Nic studied for a BA in journalism at Cardiff University, and has an MA in magazine journalism from City University. She joined MoneyWeek in 2019.