House prices are cooling as mortgage costs rise
UK house prices rose at 7.8% in the year to June – down from 12.8% in the year to May. Is this the start of a house-price crash?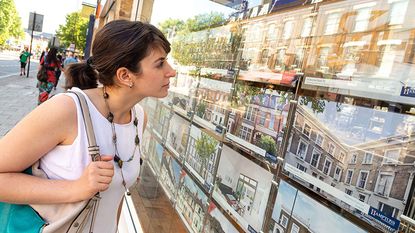 (Image credit: © Alex Segre / Alamy)
The pace of house price growth has slowed, according to the latest figures from the Office for National Statistics. Average UK house prices rose by 1% in the month to June and by 7.8% over the previous year. That compares with an annual rise of 12.8% in the year to May.
The average price of a house in the UK now stands at £286,397, with the average new-build property at £378,499 and older properties at £273,767.
But growth isn't uniform around the country. In Scotland, house prices rose by 11.6%, compared with 9.6% in Northern Ireland, 8.6% in Wales and 7.3% in England. And within England, the East of England saw the highest growth at 9.7%, while in the North East, prices rose by just 3.6%.
Subscribe to MoneyWeek
Subscribe to MoneyWeek today and get your first six magazine issues absolutely FREE
Get 6 issues free
Sign up to Money Morning
Don't miss the latest investment and personal finances news, market analysis, plus money-saving tips with our free twice-daily newsletter
Don't miss the latest investment and personal finances news, market analysis, plus money-saving tips with our free twice-daily newsletter
Is this the start of a crash? It's difficult to say, but it does seem that demand is cooling.
"New buyer enquiries continue to decline at a steady pace", says the Royal Institution of Chartered Surveyors (Rics) in its July residential market survey, a monthly sentiment survey of chartered surveyors in the residential sales and lettings markets.
House prices supported by lack of supply
One factor propping up prices is the lack of homes coming to the market. New instructions are "stagnant", says Rics, and stock levels are "close to all time lows". This lack of supply is a "crucial factor in underpinning continued growth in house prices".
Still, Rics does expect demand to fall. A net balance of -9% of survey respondents expect a fall in transactions over the following three months, and -21% expect sales to fall over 12 months.
"Right now, price rises are being driven by an imbalance of supply and demand", says Sarah Coles of Hargreaves Lansdown. "However, with buyer numbers slowly falling and seller numbers rising, this will shift."
But by far the biggest factor influencing house prices is the cost of borrowing, not the number of houses available to buy. With interest rates widely expected to rise further, the market is sure to tighten.
Low interest rates mean buyers can borrow more, which drives up the price of property. But since 2020, says Ruth Jackson-Kirby, mortgage rates have risen by 152%, adding £1,100 to the annual cost of a £200,000 two-year fixed-rate mortgage. The best two-year fix on a 60% loan-to value currently stands at 3.44%. This time last year, you could get one for 1.16%.
With inflation now running at 10.1% and expected to hit more than 13% before the year is out, but wages not keeping pace, household budgets are being squeezed. The labour market is healthy at the moment, but if unemployment does start to rise, and with the UK forecast to be in recession for much of 2023, it's not a pretty picture.
If your fixed-rate mortgage is coming to an end, or you are on your lender's standard variable rate, shop around for the best deal now.
Ben studied modern languages at London University's Queen Mary College. After dabbling unhappily in local government finance for a while, he went to work for The Scotsman newspaper in Edinburgh. The launch of the paper's website, scotsman.com, in the early years of the dotcom craze, saw Ben move online to manage the Business and Motors channels before becoming deputy editor with responsibility for all aspects of online production for The Scotsman, Scotland on Sunday and the Edinburgh Evening News websites, along with the papers' Edinburgh Festivals website.
Ben joined MoneyWeek as website editor in 2008, just as the Great Financial Crisis was brewing. He has written extensively for the website and magazine, with a particular emphasis on alternative finance and fintech, including blockchain and bitcoin. As an early adopter of bitcoin, Ben bought when the price was under $200, but went on to spend it all on foolish fripperies.