What is a stock split?
You may have come across "stock split" - but what is a stock split and how does it impact your investments?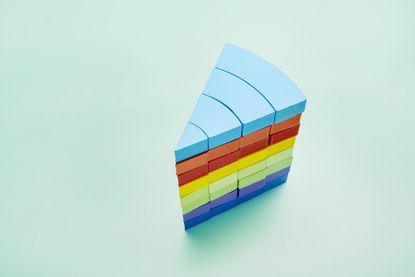 (Image credit: Getty)
Share price growth can be a sign of success for a company, but too much can mean the stock becomes too pricey for new investors – it is at this point that a company may initiate a stock split.
This is when a company decides to increase the number of shares it has in issue by giving its current investors extra shares for each existing share that they already own.
Extra shares sound great on paper, but here is what it really means. We explain what a stock or share split is.
Subscribe to MoneyWeek
Subscribe to MoneyWeek today and get your first six magazine issues absolutely FREE
Get 6 issues free
Sign up to Money Morning
Don't miss the latest investment and personal finances news, market analysis, plus money-saving tips with our free twice-daily newsletter
Don't miss the latest investment and personal finances news, market analysis, plus money-saving tips with our free twice-daily newsletter
Why do companies use stock splits?
When a company launches a stock split, they issue more shares to existing investors.
This helps reduce their share price by spreading it across more shares, boosting liquidity and making the stock more affordable for new investors.
Major companies such as Amazon, Apple and Google-owner Alphabet have used stock splits in the past to bring their share price down.
How a stock split works
Shares are typically split by ratios of 2-for-1 or 3-for-1, meaning each stockholder will have two or three shares following the split.
Some companies have gone even higher. Alphabet completed a 20-for-1 split in July 2022.
As a result, the company's share price will fall to reflect the larger number of shares in issue.
For example, if a company with 100 million shares at a share price of £5 per share, carries out a 2:1 (or two-for-one) split, the total number of shares increases to 200 million and the share price falls to £2.50.
This doesn't reduce the market value of a company as the price is also split across all the shares.
So in the example above, the market capitalisation would stay at £500m and an investor who previously owned 100 shares worth £500 will now have 200 shares worth the same. All financial ratios such as earnings per share and dividends per share will be halved.
It is like cutting a pizza into 20 slices instead of 10, you still have the same amount but more pieces to share.
Shareholders aren't really getting anything extra. Each investor still holds the same percentage of the company as they did before the split. It's just that it's divided into more individual shares.
Investors also retain the same voting rights but the main concern of a stock split is the type of investors it attracts.
Companies not faring so well may initiate a reverse stock split.
This is where the number of issued shares is reduced by a certain number, which in turn boosts the share price.
A reverse stock split is often seen as a desperate attempt by a company to artificially boost its value but it may help a firm remain listed or to attract the attention of other investors.
Marc Shoffman is an award-winning freelance journalist specialising in business, personal finance and property. His work has appeared in print and online publications ranging from FT Business to The Times, Mail on Sunday and The i newspaper. He also co-presents the In For A Penny financial planning podcast.