Property sales set to slump to lowest level since 2012
Higher mortgage rates and the cost of living crisis are forcing homebuyers to rethink their plans, and these headwinds could push property sales to the lowest level since 2012 according to Zoopla.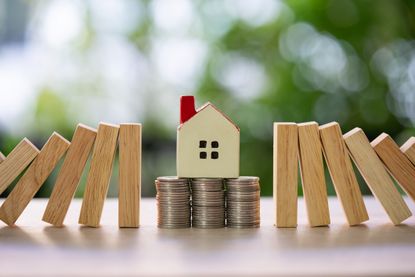 (Image credit: Getty Images)
Zoopla's latest House Price Index estimates the number of home sales completed during 2023 is on track to fall a fifth in 2022, supporting findings from other house price indices, all of which point to a slowing property market.
The online property portal reckons one million sales will go through this year - the lowest number for more than a decade.
That's the equivalent of the average household moving once every 23 years.
Subscribe to MoneyWeek
Subscribe to MoneyWeek today and get your first six magazine issues absolutely FREE
Get 6 issues free
Sign up to Money Morning
Don't miss the latest investment and personal finances news, market analysis, plus money-saving tips with our free twice-daily newsletter
Don't miss the latest investment and personal finances news, market analysis, plus money-saving tips with our free twice-daily newsletter
Zoopla's latest research suggests average UK house prices are up just 0.1% this month to £265,100. This is the lowest annual growth rate for more than 12 years.
In comparison, annual price growth this time last year was 9.6%.
It comes as the latest Nationwide House Price Index for July showed house prices are falling at their fastest rate since 2009.
The impact of rising rates on the property market
Average mortgage rates have passed 6% in recent months as lenders react to the rising cost of borrowing and higher swap rates.
The markets have been rocked by higher-than-expected inflation and 13 consecutive interest rate rises by the Bank of England (BoE).
This, coupled with higher bills - a consequence of the cost of living crisis - and worries about the economy, has dampened buyer demand.
According to Zoopla demand for homes is running 34% below the five-year average, with the level of sales agreed down 20%.
But in the clearest sign yet high borrowing costs are having an impact on the market, Zoopla estimates cash sales will fall just 1% over 2023 compared to 2022 levels, but mortgaged sales could fall by up to 28%.
Existing homeowners using a mortgage typically account for a third of annual sales, but this group is under less pressure to move as they already have a home and where possible, will be waiting until the outlook for mortgage rates improves from their current levels, the property website adds.
The economics of new buy-to-let purchases are also being squeezed by higher mortgage rates, Zoopla warns.
Its analysis also suggests first-time buyer numbers will be lower in 2023 but said flexible working may help them broaden their search for cheaper markets.
Zoopla adds that landlords selling previously rented homes - typically priced 25% lower than the wider market - is boosting available supply that appeals to first-time buyers.
Regional price divide
House price growth differs depending on where you are trying to buy or sell.
While annual price growth is up just 0.1% across the UK, all regions across southern England are registering year-on-year price reductions of up to 1%.
In contrast, all other regions and countries of the UK are posting low single-digit price growth.
Scotland is registering the highest growth at 1.7%, while London and the East of England were the worst performers with a 1% annual decline.
This reflects areas where buyers may need larger mortgages, deposits and higher incomes to buy.
The affordability gap
One silver lining of slowing price growth is that the affordability ratios are improving.
Housing affordability, on a house price-to-earnings basis, looks set to improve by 9-10% over 2023 as prices register modest falls and average earnings increase, Zoopla said.
It estimates that the UK house price-to-earnings ratio will be in line with the 20-year average at the end of 2023 at 6.3x.
On a regional basis, affordability has improved the most in London where the price to earnings ratio will fall back to single digits for the first time in 11 years.
This only really helps buyers if mortgage rates are affordable though and Zoopla suggests that pricing needs to fall below 5% to improve affordability and stimulate more home moves.
"House price growth has slowed rapidly over the last year as demand weakens in the face of higher mortgage rates," says Richard Donnell, executive director at Zoopla.
"Prices are falling more in southern England where higher mortgage rates have priced more people out of the housing market, weakening demand. While UK house prices are 0.1% higher over the year, it is the number of sales that have been hit hardest by higher borrowing costs, especially amongst mortgage-reliant buyers.
"Cash buyers are more immune and on track to account for more than one in three sales in 2023. Mortgage rates have started to fall slowly but rates need to fall below 5% before we see an increased appetite to move home in the second half of 2023."
Estate agents agree with this trend but highlight that parts of the market are still moving.
"With the Bank of England confirming the 14th consecutive rise in interest rates in a row at the start of August, buyers have been more cautious and are in some cases pausing their property search in order to adjust their finances," says Matt Thompson, head of sales at London estate agency Chestertons.
"However, there still are buyers who have already locked in a mortgage rate with their lender and are keen to secure a property before the rate expires."
Propertymark, the trade body representing estate agents, says members report that the market has shifted to "more serious homebuyers and sellers."
Tickets are now on sale for our annual investment conference, the MoneyWeek Summit on 29.09.2023 in London. Book now at www.moneyweeksummit.com.
Book before 10pm on 8th September 2023 to benefit from our End Of Summer Offer: MoneyWeek subscribers can book 2 tickets for £399 (normally £499). Not a subscriber? Get £80 off standard tickets using code: DISCOUNT80.
Marc Shoffman is an award-winning freelance journalist specialising in business, personal finance and property. His work has appeared in print and online publications ranging from FT Business to The Times, Mail on Sunday and The i newspaper. He also co-presents the In For A Penny financial planning podcast.