Collectables: the scramble for blue diamonds
Coloured diamonds are securing bigger prices at auction, says Chris Carter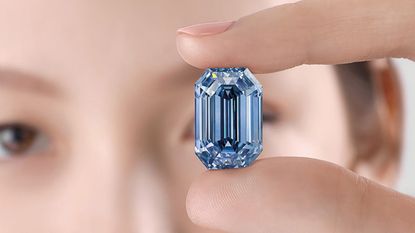 (Image credit: © Sotheby's)
Blue is beautiful when it comes to diamonds. Two of the top three to have fetched the highest prices for coloured diamonds at auction are "fancy vivid" examples – the top spot still belongs to the CTF Pink Star, which sold for HK$553m ($71.2m) in Hong Kong in April 2017.
Last week, the De Beers Blue joined this trio in third place. It sold for HK$451m, also in Hong Kong, with Sotheby's – only just behind the Oppenheimer Blue, which fetched just $70,000 more in Geneva in May 2016 in nominal terms. It's not every day that blue diamonds are unearthed in the rough. According to Sotheby's, only one brilliant blue gem turns up for every 10,000 gem-quality diamonds found, with trace elements of the chemical element boron responsible for their colour.
Simply the greatest
The rough diamond from which the De Beers Blue was cut was dug up by London-listed Petra Diamonds at the famous Cullinan mine in South Africa last April. It was, at 39.34 carats, a whopper. At 15.1 carats, the resulting De Beers Blue is to date the only blue diamond over 15 carats to appear at auction; only five blues over ten carats have ever passed over the auction block.
Subscribe to MoneyWeek
Subscribe to MoneyWeek today and get your first six magazine issues absolutely FREE
Get 6 issues free
Sign up to Money Morning
Don't miss the latest investment and personal finances news, market analysis, plus money-saving tips with our free twice-daily newsletter
Don't miss the latest investment and personal finances news, market analysis, plus money-saving tips with our free twice-daily newsletter
The Gemological Institute of America (GIA) graded the De Beers Blue a deep-hued "fancy vivid", an internally flawless diamond, underlining its exceptional rarity yet further. It is "quite simply the greatest blue diamond of its size I have ever seen during my 31-year-career at Sotheby's", says Patti Wong of Sotheby's Asia.
And size matters as much for white diamonds as it does for coloured gems. The largest white diamond ever to appear at auction will be leading the Christie's Geneva Magnificent Jewels sale on 11 May. Called The Rock, it is a 228-carat pear-shaped diamond, mined and polished in South Africa two decades ago. The GIA graded it as G for colour (meaning it is "near colourless") and VS1 for clarity ("very slightly included" – an "inclusion", in the jargon, is a blemish or imperfection within the diamond).
The Rock even comes with a letter from the non-profit institute attesting to its status as the biggest white diamond it has ever graded, far in excess of the second-place 163-carat gem, which sold for an auction record-high $33.7m in November 2017, also with Christie's. That should give some indication of the price The Rock should fetch on Wednesday. Christie's expects between $20m and $30m.
Going back to the coloured diamonds, pink still reigns supreme in the price stakes. As if a little reminder of that were needed to put blue-diamond enthusiasts back in their place, last month Christie's sold the 8.8-carat purple-pink Fuchsia Rose above its upper pre-sale estimate, for $6.8m. Pink truly is the crown jewel of coloured diamonds – at least for now.
Dig (in your jewellery box) for victory!
During the First World War, Christie's held a suite of auctions in aid of the Red Cross and the Order of St John, to help those affected and left struggling by the war. Among the lots was the Red Cross Diamond. At 205 carats, it is a canary-yellow cushion-shaped diamond with a pavilion faceted in the shape of a Maltese cross (the same as that used by the Order of St John for its symbol). The rough stone from which it had been cut had weighed 375 carats when it was dug out of the rock in South Africa in 1901. Following a "spirited bidding battle" on 10 April 1918, the Red Cross Diamond sold for "a staggering" £10,000 to London jeweller SJ Phillips, the equivalent of around £600,000 today, and more than three times the starting bid, according to Christie's.
The day's sale made £50,000 (£3m today) in total, while the Red Cross auctions raised a combined £320,000 (£13.9m) for the relief effort. Christie's also held the Red Cross Pearls sale that December, in 1918, following a nationwide appeal for people to donate their pearls to raise funds for the treatment and care of those wounded in the war.
The Red Cross Diamond next appeared at auction in Geneva in 1973, when it sold for CHF1.8m, and it is appearing for a third time in just over 100 years at Christie's Magnificent Jewels sale this month (see above). It is expected to sell for CHF7m-10m. A portion of the sale proceeds will be donated to the Red Cross.
Auctions
Going…
Pablo Picasso kept his extramarital affair a secret from the moment he met his lover and muse, Marie-Thérèse Walter, in 1927, when she was just 17. For the next five years, Picasso would introduce her into his paintings in coded form, sometimes embedded symbolically in the composition or rendering her unmistakable profile in the background, says Sotheby's. Then, in 1932, his "annus mirabilis", Walter fully emerged for the first time. In Femme nue couchée (above), painted that year, Picasso evokes Walter with "the strong and sensuous fin-like limbs of a sea-creature". She was an accomplished swimmer, and together they spent "their headiest days" by the sea. The auction house expects it to fetch more than $60m in New York on 17 May.
Gone…
In 1935, while still in a relationship with Marie-Thérèse Walter – and married to his wife, Olga Khokhlova – Picasso met Dora Maar, a photographer 26 years his junior. "Both strong characters, their love affair was passionate and turbulent, the emotional intensity of which is suggested by the… fiery [red] background" of Dora Maar, a portrait Picasso painted in 1939, says Sotheby's. Appearing in the painting in a "striking self-possessed and proud pose", Maar is "contemplative and inscrutable". Throughout their nine-year relationship, Maar remained "a constant companion and supporter" of Picasso and she appears in a number of the artist's most familiar works, such as Weeping Woman (1937). The painting Dora Maar sold for HK$169.4m (£17.2m) in Hong Kong last week.
SEE ALSO:
The $15m violins up for auction
Chris Carter spent three glorious years reading English literature on the beautiful Welsh coast at Aberystwyth University. Graduating in 2005, he left for the University of York to specialise in Renaissance literature for his MA, before returning to his native Twickenham, in southwest London. He joined a Richmond-based recruitment company, where he worked with several clients, including the Queen's bank, Coutts, as well as the super luxury, Dorchester-owned Coworth Park country house hotel, near Ascot in Berkshire.
Then, in 2011, Chris joined MoneyWeek. Initially working as part of the website production team, Chris soon rose to the lofty heights of wealth editor, overseeing MoneyWeek's Spending It lifestyle section. Chris travels the globe in pursuit of his work, soaking up the local culture and sampling the very finest in cuisine, hotels and resorts for the magazine's discerning readership. He also enjoys writing his fortnightly page on collectables, delving into the fascinating world of auctions and art, classic cars, coins, watches, wine and whisky investing.
You can follow Chris on Instagram.