Three solar stocks to invest in
This week, professional investor Nicholas Mersch of the HANetfS&P Global Clean Energy Select HANzero UCITS ETF tells us three solar stocks to invest in.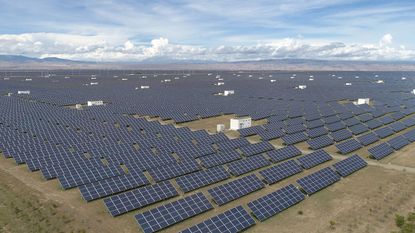 (Image credit: © Getty )
In investing you have to get the big ideas right. By identifying and tracking secular themes, you are participating in an industry where a rising tide lifts all boats. When the key trend is working in your favour you benefit from a natural hedge against company-specific risk.
Clean energy is one of these secular themes. It is also not always the case that you can do good for humanity while at the same time making the best decision for your wallet. Human beings are self-interested, and corporations need to allocate capital as efficiently as possible.
There used to be so much fossil-fuel consumption in the world because it was the most cost-effective method of generating power. Now, the narrative has flipped. It is much more efficient and profitable on a unit economic basis to produce one unit of solar power rather than use traditional fossil-fuel sources. This is no longer just some sort of science project: you can't fight the numbers.
Subscribe to MoneyWeek
Subscribe to MoneyWeek today and get your first six magazine issues absolutely FREE
Get 6 issues free
Sign up to Money Morning
Don't miss the latest investment and personal finances news, market analysis, plus money-saving tips with our free twice-daily newsletter
Don't miss the latest investment and personal finances news, market analysis, plus money-saving tips with our free twice-daily newsletter
Powering change
There is a saying in the renewable-energy sector that "the sun doesn't always shine, and the wind doesn't always blow", which refers to the so-called intermittency problem. However, we've now found a solution for this: battery technology. Take lithium-ion batteries. Using one to power a house cost $75,000 in the 1990s, and they weighed 250 pounds (lbs). In 2021, the cost is $2,000 and they weigh 88lb.
We need to find ways to harness this opportunity, and solar energy is excellent in this respect. The following three stocks are leaders in the industry. They are the drivers behind the cost optimisation that makes solar such an attractive alternative to traditional fossil-fuel energy.
Solar energy has a key part to play in addressing climate change, as replacing most sources of fossil fuels today with solar energy is one of the only ways we can achieve our climate goals. Allocating capital to these innovators is crucial for our success.
A key player in photovoltaics
First Solar (Nasdaq: FSLR) is a global solartechnology company that manufactures and sells photovoltaic (PV) arrays with an advanced thin-film semiconductor technology providing a high-performance, lower-carbon alternative to conventional crystalline silicon PV solar modules. The company currently operates many of the world's largest grid-connected PV power plants. It displays impressive attention to detail in all areas, from the sources of raw materials all the way though to the finished product. Enphase Energy (Nasdaq: ENPH) delivers smart solutions that are easy to use to manage solar generation, storage and communication all on one platform.
Enphase was founded in 2006 and revolutionised the solar industry with its microinverter technology. It has evolved to produce a fully integrated solar-plus-storage solution. SolarEdge Technologies (Nasdaq: SEDG) is also facilitating the race towards the globalisation of solar energy.
The company provides smart energy to both homeowners and businesses. Solar Edge is a leading provider of an inverter solution that optimises the way power is harvested and managed in PV systems. The company's direct-current inverter maximises power generation at the individual PV module level while lowering the cost of energy produced by the PV system
Nicholas Mersch works at HANetf S&P Global Clean Energy Select HANzero UCITS ETF.