Keynes – the economist with an eye for an art bargain
The economist John Maynard Keynes was an avid art collector – and a savvy one, too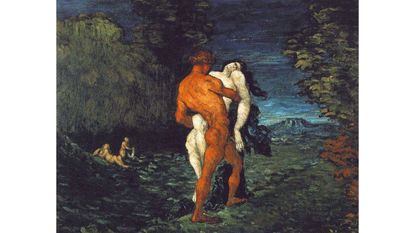 (Image credit: Credit: Artepics / Alamy Stock Photo)
It's well known that John Maynard Keynes was one of the 20th century's most important practitioners of the "dismal science" of economics. Less well known is that he was also an avid collector of fine art – and quite a successful one at that. The economist spent £12,847 on building up his art collection between 1917 and 1945. That collection, according to "Art as an Asset: Evidence from Keynes the Collector", a study from the Cambridge Judge Business School, is today worth £76.2m, representing an inflation-adjusted return of 6.1% a year.
True, if Keynes had sunk his money into British stocks and reinvested the dividends, his beneficiaries would be sitting on around £90.2m. But share certificates don't look half as good on the wall; not compared with Georges Seurat's Study for La Grande Jatte (1884), bought by Keynes for £400 in 1919 while he was writing The Economic Consequences of the Peace following World War I. Keynes' most expensive purchase was Paul Cézanne's 1867 canvas L'Enlèvement (The Abduction), bought for £3,500 in 1935, while he was working on The General Theory of Employment, Interest and Money. The ten most expensive paintings in his 135-piece collection accounted for 80% of his total expenditure.
Keynes's art investments performed better than bonds
Part of the reason for his success was that he shunned Old Masters' paintings in favour of Impressionist and post-Impressionist works that, after a few years, became much more sought after. Not that he received much credit for it at the time. Keynes's judgment of works of art had been decried as "lamentable" by Clive Bell, the art critic and brother-in-law of Virginia Woolf, as Patrick Hosking points out in The Times. Yet Keynes's collection made 9.2 times as much profit as a typical artwork portfolio and 20 times as much as it would have had the money been invested in government bonds.
Subscribe to MoneyWeek
Subscribe to MoneyWeek today and get your first six magazine issues absolutely FREE
Get 6 issues free
Sign up to Money Morning
Don't miss the latest investment and personal finances news, market analysis, plus money-saving tips with our free twice-daily newsletter
Don't miss the latest investment and personal finances news, market analysis, plus money-saving tips with our free twice-daily newsletter
"For the art collection to have performed far better over the period than government bonds, and to have nearly matched the total return on equities, is an extraordinary outcome," say the authors of the Cambridge Judge Business School study. "The collection performed especially well shortly after purchase, suggesting that Keynes was able to buy art at attractive prices." Keynes clearly had an eye for a bargain. His search even apparently involved visiting auction houses in disguise.
Ever the public servant (he had been employed by the government), Keynes, with artists Roger Fry, Duncan Grant and Vanessa Bell, at one point convinced the Treasury to put up the funds to buy a bunch of Cezannes going cheap for the nation. But in the end, the director of the National Gallery vetoed the decision, so Keynes bought them for himself. When he died in 1946, the collection went to King's College, Cambridge, where Keynes had been a bursar. Some of the paintings are today on display at the university's Fitzwilliam Museum.
Banksy's post-Brexit art
Britain has left the European Union and the in/out war is over (at least for now). But the question remains of what to do with all those placards left over from the pro- and anti-Brexit protest marches. Anonymous street-artist Banksy (who else?) has come up with his answer – turn it into art and flog it through Sotheby's. Using a found Vote Leave placard, Banksy has added a balloon to turn "Leave" into "Love". Vote To Love, as the piece is called, has been given an upper estimate of £600,000 ahead of its sale on Tuesday. Before that, it had hung as part of the Royal Academy's Summer Exhibition 2018, having originally been turned down for the show when Banksy submitted the work under the pseudonym Bryan S. Gaakman – a play on the words "Banksy anagram".
Once it had been accepted, it was given a "sardonic" price tag of £350m in the exhibition catalogue – high, even by Banksy's standards. The price was, of course, a whimsical nod to Vote Leave's infamous promise painted on the side of a bus, pledging to return that amount to the NHS every week. The rest of the art world may not be in the mood for laughing, however. The effect of Brexit on trade has placed London's art market in "limbo", says Melanie Gerlis in the Financial Times. "Most of the art market's participants were not in favour of leaving the EU, but are holding out for possible tax and fiscal-policy silver linings."
Auctions
Going…
Three neo-Impressionist "masterpieces" that were looted from Gaston Lévy, a successful Paris-based businessman and art collector, during World War II, were auctioned in London this week, says Kim Willsher in The Observer. Lévy, who was Jewish, fled to Tunisia with his English-born wife, Liliane, and daughter, where they survived the war. The "jewel of the group", Gelée blanche, jeune paysanne faisant du feu (1888), by Camille Pissarro, was valued at up to £12m. It, and Paul Signac's La Corne d'Or (1907), were both eventually returned to France and hung in the Musée d'Orsay in Paris. The third painting, Quai de Clichy (1887), also by Signac, had been found in the collection of German dealer Hildebrand Gurlitt. It was returned to the Lévy family last year.
Gone…
A painting by L.S. Lowry of workers in the Lancashire town of Pendlebury enjoying a day off had escaped the notice of art experts for 70 years, says BBC News. The Mill, Pendlebury (pictured), as the 1943 work is called, had been given by Lowry to Leonard D Hamilton, who later contributed to the discovery of the double-helical shape of DNA. The painting's existence only became known after his death. On 21 January the picture fetched £2.7m with Christie's in London, far in excess of its £1m upper estimate, but lower than the £5.6m paid for each of Lowry's later works, The Football Match (1949) and Piccadilly Circus (1960).
Chris Carter spent three glorious years reading English literature on the beautiful Welsh coast at Aberystwyth University. Graduating in 2005, he left for the University of York to specialise in Renaissance literature for his MA, before returning to his native Twickenham, in southwest London. He joined a Richmond-based recruitment company, where he worked with several clients, including the Queen's bank, Coutts, as well as the super luxury, Dorchester-owned Coworth Park country house hotel, near Ascot in Berkshire.
Then, in 2011, Chris joined MoneyWeek. Initially working as part of the website production team, Chris soon rose to the lofty heights of wealth editor, overseeing MoneyWeek's Spending It lifestyle section. Chris travels the globe in pursuit of his work, soaking up the local culture and sampling the very finest in cuisine, hotels and resorts for the magazine's discerning readership. He also enjoys writing his fortnightly page on collectables, delving into the fascinating world of auctions and art, classic cars, coins, watches, wine and whisky investing.
You can follow Chris on Instagram.