Three auctions for book lovers
Three upcoming auctions give readers a chance to find out what authors think of their classics.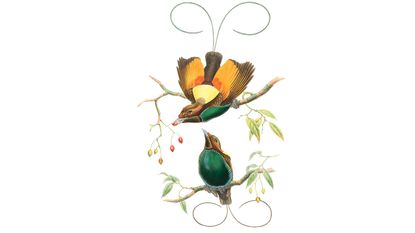 (Image credit: © Bonhams)
Summer is finally here. And as we turn our thoughts to holiday reading, a group of acclaimed authors have been rereading their most celebrated novels in support of English PEN, an organisation that champions the right to read and write freely around the world.
Double Booker Prize-winning writers JM Coetzee, Peter Carey, Margaret Atwood and Hilary Mantel are among those who have returned to their first editions with a pen to note down their thoughts, as they come to them now, in the margins. The books will be auctioned as part of Christie's "First Editions, Second Thoughts" sale, which runs online from 28 June to 12 July.
Rescued from "product"
The authors welcomed the chance to get reacquainted with their works. "The process of publication (however welcome and necessary) is a process of estrangement," says Mantel, on rereading her 2012 novel Bringing Up The Bodies. "Annotation gives your book back to you, but presents it multiplied. It rescues you from finished product, returns you to process." Her book is expected to sell for £6,000. In the margins of Monica Ali's 2003 novel Brick Lane, about the east London Bangladeshi community, Ali writes, "Haven't read BL in last 16 or 17 years. Sense of trepidation. Also curiosity". Hers is valued at up to £2,000. Sadly, John Le Carré died 45 pages in while rereading his 1963 classic The Spy Who Came In From The Cold. The copy is being offered with the bookmark still in its place from where Le Carré left off and it is expected to fetch up to £12,000. "His annotations are so typically Le Carré," Christie's Mark Wiltshire tells The Guardian. "For example, he says: 'Many agents lie about their personal lives for fear of losing their salaries. They also babble to their mistress or the stranger on a train.'"
Subscribe to MoneyWeek
Subscribe to MoneyWeek today and get your first six magazine issues absolutely FREE
Get 6 issues free
Sign up to Money Morning
Don't miss the latest investment and personal finances news, market analysis, plus money-saving tips with our free twice-daily newsletter
Don't miss the latest investment and personal finances news, market analysis, plus money-saving tips with our free twice-daily newsletter
The sale forms the second part of Christie's "The Art of Literature" event. The first part this week saw a signed first edition Harry Potter and the Philosopher's Stone (1997), which features errors, offered for private sale. Bidding began at £200,000. Bonhams is also offering another signed first edition Philosopher's Stone, valued from £100,000, on Wednesday.
The "Fine Books and Manuscripts" sale at its Knightsbridge premises in London also features 25 original parts of the splendidly colourful first edition copy of The Birds of New Guinea and the Adjacent Papuan Islands, Including Many New Species Recently Discovered in Australia by Victorian ornithologist John Gould. Not unlike John James Audubon's earlier The Birds of America (1827-1838), a copy of which sold with Sotheby's for $6.6m in late 2019, Gould's work (an example of which is pictured) features 320 hand-coloured lithographic plates of birds of paradise, kingfishers and parrots. The work, begun in 1875, was brought to completion after Gould's death by Richard Bowdler Sharpe, in 1888. It is expected to sell for up to £60,000.
Margaret Atwood's book-burning stunt
Never mind the signed and annotated first edition of Margaret Atwood's The Handmaid's Tale that's for sale with Christie's next month. The Canadian author left her mark – or rather, she tried to – on an altogether different edition of her seminal work. Atwood attempted to set it on fire. Toronto-based companies Rethink, a creative agency, and The Gas Company, a graphic arts and bookbinding speciality studio, teamed up with publisher Penguin Random House and the author to produce a single copy of the 384-page novel made from Cinefoil, a specially treated aluminium product. The 82-year-old duly wielded a flamethrower and she was filmed directing a jet of blue flame at a prototype. "I never thought I'd be trying to burn one of my own books... and failing," Atwood said afterwards.
The special edition's creation, and subsequent sale with Sotheby's last week, was in aid of PEN America to support its work in fighting censorship, as well as to raise awareness of the proliferation of book banning in American schools. Since it was first published in 1985, The Handmaid's Tale, a dystopian novel about the violent oppression of women, has itself been banned in schools and libraries, and even whole countries over the years. "Let's hope we don't reach the stage of wholesale book burnings, as in [Ray Bradbury's 1953 novel] Fahrenheit 451," says Atwood. "But if we do, let's hope some books will prove unburnable – that they will travel underground, as prohibited books did in the Soviet Union." The "Unburnable" edition of The Handmaid's Tale, featuring the iconic cover by Israeli designer Noma Bar, sold for $130,000. All of the proceeds from the sale went to PEN America.
Chris Carter spent three glorious years reading English literature on the beautiful Welsh coast at Aberystwyth University. Graduating in 2005, he left for the University of York to specialise in Renaissance literature for his MA, before returning to his native Twickenham, in southwest London. He joined a Richmond-based recruitment company, where he worked with several clients, including the Queen's bank, Coutts, as well as the super luxury, Dorchester-owned Coworth Park country house hotel, near Ascot in Berkshire.
Then, in 2011, Chris joined MoneyWeek. Initially working as part of the website production team, Chris soon rose to the lofty heights of wealth editor, overseeing MoneyWeek's Spending It lifestyle section. Chris travels the globe in pursuit of his work, soaking up the local culture and sampling the very finest in cuisine, hotels and resorts for the magazine's discerning readership. He also enjoys writing his fortnightly page on collectables, delving into the fascinating world of auctions and art, classic cars, coins, watches, wine and whisky investing.
You can follow Chris on Instagram.