Whisky is the hot new thing for collectors
Youngsters and Asians are developing a taste for firewater. Chris Carter reports.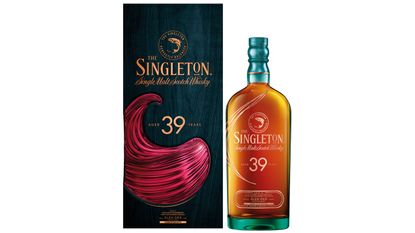 (Image credit: © Diageo)
No longer the tipple of niche drinkers, whisky has become the hot new thing. Distilleries are falling over themselves to capitalise on the fashion for old fashioneds, a cocktail made popular by Don Draper in Mad Men, and for cocktail-making in general. In the 15 weeks to 7 November, sales of mixed drinks soared by 45% at pub chain Wetherspoons compared with the same period in 2020, driven by a younger crowd, perhaps embracing discoveries made when bars were shut last year. And they haven't been slow to recognise the potential gains that can be made in whisky collecting. While the market did slip last year, rare whiskies have outpaced other collectables by some margin over the past decade, rising by 478%, according to the Knight Frank Whisky index, compiled by Rare Whisky 101. And most of that slippage was due to lower demand for the really expensive bottles. The broader market, as reflected by Rare Whisky 101's Apex1000 index, actually rose by 8% that year. That suggests newcomers are arriving.
Youth discovers malts
It's not surprising, then, that whisky makers are bringing out limited editions to take advantage of this new-found enthusiasm. The Singleton, owned by drinks giant Diageo, is following up its limited-edition 38-year-old malt, released last year, with one that has been aged for 39 years. The 1,695 bottles come with a recommended retail price of £2,295 each, available on malts.com. Appealing to the Millennial enthusiasm for "experiences", the release is to be accompanied with a range of bookable "rich gastronomic" events around the world, details of which are to follow in early 2022. Diageo has good form on this, having already invested £185m in "whisky tourism", culminating in the opening in September of its Johnnie Walker Princes Street "global flagship visitor experience" in Edinburgh.
Asia needs more casks
Asia is also a growing market. In October, a collection of six bottles known as The Dalmore Decades, spanning the years 1951 to 2000, fetched almost HK$8.8m (£830,000) in Hong Kong, setting a record-high price for a whisky lot sold by Sotheby's in Asia. Over in Japan, Japanese distillery Suntory recently released a few more bottles of its limited edition Yamazaki 55, bottled in 2020, and its oldest whisky to date. One of the 100 bottles sold at Bonhams in Hong Kong last year for HK$6.2m (£611,000).
Subscribe to MoneyWeek
Subscribe to MoneyWeek today and get your first six magazine issues absolutely FREE
Get 6 issues free
Sign up to Money Morning
Don't miss the latest investment and personal finances news, market analysis, plus money-saving tips with our free twice-daily newsletter
Don't miss the latest investment and personal finances news, market analysis, plus money-saving tips with our free twice-daily newsletter
Meanwhile, French Diageo rival Pernod Ricard has China firmly in its sights. Fresh from snapping up British retail website The Whisky Exchange in September, Pernod Ricard is set to release 100 casks of the first Chinese-made single malt whisky, called The Chuan – the result of the company's 1bn yuan (£120m) mission to cultivate a whisky-making industry in the country. With China's middle class to swell to 1.2 billion people by 2030, they are going to need more casks. A lot more.
Risking sacrilege
Yamazaki 25 commands an almost religious fervour in the hearts and minds of collectors of ultra-premium whisky, says Brad Japhe on Bloomberg. To tamper with the recipe would be to invite opprobrium from its fans. But that is exactly what Suntory, its Japanese distiller, did. The brand's chief producer, Shinji Fukuyo, sent shockwaves through the community when he declared earlier this year that the 25-year-old malt would be incorporating elements of American as well as Japanese mizunara oak.
Suntory denied it had anything to do with dwindling stock of sherry casks. It was, he said, to align the expression of the whisky with its younger 12- and 18-year-old siblings. Out went the dark fruit notes. In came the sandalwood and spiced honey. A bottle costs around £1,500. However, the price of a bottle made with the original recipe shot up overnight, to around £14,000. GlenDronach in Scotland and Elijah Craig in the US have also played with their recipes. Sometimes it's due to dwindling ingredients. Jack Daniels quietly reduced the proof of its "black label" Tennessee whiskey to stretch supply. Maker's Mark faced a backlash when it attempted a similar ploy in 2013.
The distillery is now inviting its customers to come up with their own creations though its Private Select "experience", says Tom Sandham in The Daily Telegraph. Working with Rob Samuels, the eighth-generation whiskey maker and chief operating manager at Maker's Mark, customers can select their own wooden finishing staves for a barrel before the whiskey is matured in a limestone cellar. The staves can be any combination of five "flavour profiles", including "Baked American Pure", "Roasted French Mocha" and "Toasted French Spice". With 1,001 possible combinations, drinkers can enjoy their tipple just the way they like it.
Auctions
Going…
In 1948, Ernest Hemingway was in a hotel bar in Stresa, northern Italy, swapping war stories with a young Italian named Arnaldo Zamperetti. Zamperetti's sister, Ornella, would be entering the Miss Italy competition the next evening, and Hemingway bet the bar tab, plus his favourite billiard cue, that she would win. Zamperetti disagreed, betting that model Fulvia Franco would win due to politics. (Franco hailed from Trieste, a city declared a free territory after the war by the Allies, and one Italy was keen to reclaim.) Franco did win, and Hemingway surrendered the cue, with a note: "To my young friend Arnaldo, in honour of his very beautiful sister Ornella." The cue will be auctioned with a reserve price of €35,000 at auction house Art La Rosa in Catania, Sicily, on 11 December.
Gone…
Hand-written notes on the theory of general relativity by Albert Einstein and Swiss engineer Michele Besso sold for €11.6m with Christie's, on behalf of Aguttes auction house, in Paris last week. It set a record for the most expensive autographed scientific document. Written in Zurich, Switzerland, in 1913 and 1914, the 54-page manuscript builds on Einstein's theory of special relativity from 1905, encapsulated in the equation E=mc2. Besso and Einstein had been looking to resolve a problem that had puzzled the scientific community for decades – the anomaly of the planet Mercury's orbit. The papers, which contain errors, would have been considered by Einstein as a working document, and it is thanks to Besso that they have survived. In 2018, Einstein's "God letter" sold for $2.8m at auction.
Chris Carter spent three glorious years reading English literature on the beautiful Welsh coast at Aberystwyth University. Graduating in 2005, he left for the University of York to specialise in Renaissance literature for his MA, before returning to his native Twickenham, in southwest London. He joined a Richmond-based recruitment company, where he worked with several clients, including the Queen's bank, Coutts, as well as the super luxury, Dorchester-owned Coworth Park country house hotel, near Ascot in Berkshire.
Then, in 2011, Chris joined MoneyWeek. Initially working as part of the website production team, Chris soon rose to the lofty heights of wealth editor, overseeing MoneyWeek's Spending It lifestyle section. Chris travels the globe in pursuit of his work, soaking up the local culture and sampling the very finest in cuisine, hotels and resorts for the magazine's discerning readership. He also enjoys writing his fortnightly page on collectables, delving into the fascinating world of auctions and art, classic cars, coins, watches, wine and whisky investing.
You can follow Chris on Instagram.