Get in on the new craze for digital art
Auction houses are hoping to lure the Reddit mob with digital art. Chris Carter reports.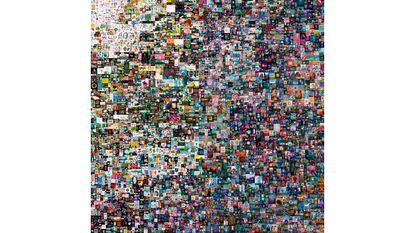 (Image credit: © Christies)
Last month, younger adults with time and money on their hands rocked the investing world when they descended en masse on GameStop and AMC Entertainment, taking on the hedge funds and investment banks. Christie's is hoping to lure this rabble into shaking up the traditionally staid world of art auctions. It is offering Everydays – The First 5000 Days (2021), an artwork by Mike Winkelmann, known as Beeple to his 1.8 million Instagram followers. In 2007, Winkelmann began creating an image a day, which he has collected together into this one piece (pictured right). It was 13 years in the making and was "minted" on 16 February. Everydays is a "non-fungible token" (NFT) and this is the first time a major auction house has offered a solely digital NFT, with online bidding due to run until 11 March. But what on earth is an NFT?
Place your bids in ether
It's the art equivalent of a bitcoin. The winning bidder in the auction will receive an encrypted file, bearing the artist's digital signature and information such as time of creation. The transaction will then be registered on the blockchain, a public digital ledger that cannot be tampered with. It is a technology more often associated with cryptocurrencies, such as bitcoin and ether (ethereum). This latter "crypto" has become the means of exchange most closely associated with the fledgling NFT market. One anonymous bidder on 14 February, as Anny Shaw points out in The Art Newspaper, paid 10.8 WETH (a form of ether), equivalent to $18,600, for "a glitchy rendering of a flower". Recognising the popularity of ether among NFT collectors, Christie's has even said it will accept ether in payment for the principle of Everydays, with the fees to be paid in dollars.
The auction house is keeping the opening bid for Everydays low at $100 and, as "this is a new medium", Christie's has listed its estimate for the artwork as "unknown". It is keen to find out what will be raised. Beeple, it says, is "one of the most sought-after digital artists within this market, having sold a collection of 20 works at auction for $3.5m on another blockchain-based platform". He has worked with brands, including Apple and SpaceX, as well as music artists, such as Ariana Grande and Childish Gambino. It is the younger generation associated with these brands that the auction house is out to attract. "I think we are going to see an explosion of not only new [NFT] artwork," says Winkelmann, "but also new collectors and I am very honoured to be a part of this movement."
Subscribe to MoneyWeek
Subscribe to MoneyWeek today and get your first six magazine issues absolutely FREE
Get 6 issues free
Sign up to Money Morning
Don't miss the latest investment and personal finances news, market analysis, plus money-saving tips with our free twice-daily newsletter
Don't miss the latest investment and personal finances news, market analysis, plus money-saving tips with our free twice-daily newsletter
The retro appeal of old computers
It's not just new technology that is getting collectors excited. Old "retro" computers are too. "'Retrocomputing', [as] the hobby is called, is hardly just a way to pass the time," says Kim Key in The New York Times. "Instead, as enthusiasts see it, it's a means of communing with the past." Demand for cumbersome, old vintage kit is rising, with collectors flocking to online message boards to trade spare parts. "You get into this mind-set of what it must've been like to be somebody in the late 1970s, having spent thousands of dollars on this thing that barely does anything more than a calculator," Clint Basinger, who runs YouTube channel Lazy Game Reviews, tells the paper. "It's like a time machine to me." Before the pandemic struck, vintage computing conventions were springing up across the US. But its not just an American phenomenon.
"The retro-computing scene is huge and growing in the UK," Martin Cooper, of the British Computer Society, tells Elisabeth Perlman in The Times. "Look no further than eBay. There you'll see machines including Amigas, Spectrums, and Acorn BBC Micros all eagerly changing hands for hundreds of pounds." Nostalgia is driving demand. The Acorn BBC Micros, for example, were widely used in schools and they have become favourites among collectors, says Katrina Bowen, design officer at the Centre for Computing History in Cambridge. And because these computers used fairly standard components, "many enjoy the challenge of learning basic electronics and repairing non-working machines", she says. But it is the Apple-1, created in 1976 by Steve Wozniak, Steve Jobs and Ron Wayne, that occupies the high end of the market. In March last year, a rare, fully functional one sold for $458,711.
Auctions
Going…
Jean-Michel Basquiat's 1982 painting Warrior (above) will become the most valuable Western artwork ever offered in Asia, when it goes up for auction with Christie's on 23 March in Hong Kong. The painting carries a HK$240m (£22m) upper estimate. It was, says the auction house, painted at the height of Basquiat's "artistic power", while the artist was still in his early 20s, marking him out as one of the most important painters of the last half century. The "Christ-like, gladiatorial figure" was "extensively explored by the artist in numerous sketches prior to this work". In 2017, Christie's in New York sold a similar painting, La Hara (1981), for $35m, including fees.
Gone…
Sandro Botticelli's masterpiece Young Man Holding a Roundel (late 15th-century) sold for $92m, with fees, late last month with Sotheby's in New York, setting a new auction record for the Italian Renaissance artist. There were doubts about whether art collectors would still be prepared to pay such sums, says BBC News. The successful sale could help boost prices for other such Old Masters paintings "at a time when many art collectors are chasing newer works from post-war and contemporary artists". The previous record for a Botticelli was set in 2013, when Madonna and Child with Young Saint John the Baptist, sold with Christie's in New York for $10.4m.
Chris Carter spent three glorious years reading English literature on the beautiful Welsh coast at Aberystwyth University. Graduating in 2005, he left for the University of York to specialise in Renaissance literature for his MA, before returning to his native Twickenham, in southwest London. He joined a Richmond-based recruitment company, where he worked with several clients, including the Queen's bank, Coutts, as well as the super luxury, Dorchester-owned Coworth Park country house hotel, near Ascot in Berkshire.
Then, in 2011, Chris joined MoneyWeek. Initially working as part of the website production team, Chris soon rose to the lofty heights of wealth editor, overseeing MoneyWeek's Spending It lifestyle section. Chris travels the globe in pursuit of his work, soaking up the local culture and sampling the very finest in cuisine, hotels and resorts for the magazine's discerning readership. He also enjoys writing his fortnightly page on collectables, delving into the fascinating world of auctions and art, classic cars, coins, watches, wine and whisky investing.
You can follow Chris on Instagram.