Rare Botticelli auction excites the art market
A rare portrait by Botticelli is to be put up for auction in New York. And the price could shatter the Old Master's previous record, says Chris Carter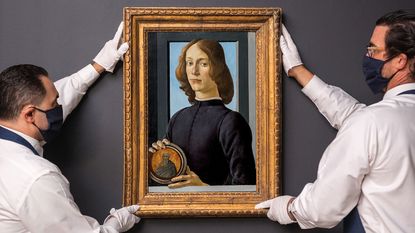 (Image credit: © Sotheby's)
Sandro Botticelli's Young Man Holding a Roundel has gone on show at Sotheby's in London. There the Renaissance masterpiece will remain before being shipped off for auction in New York next month. "Rare, megawatt treasures rarely come up for auction in times of turmoil – and rare, megawatt Old Master treasures rarely come up for auction at all," says Eileen Kinsella on Artnet News. "But Sotheby's is bucking both of these trends."
The 15th-century painting of the young Florentine nobleman, possibly a Medici, is billed as "one of the most significant portraits of any period" by Sotheby's. "High praise or not, the painting is set to shatter the previous auction record for Botticelli, recalibrating the market for him – and perhaps other Old Masters as well," says Kinsella. It is expected to fetch around $80m.
The current record for a work by the Italian painter was set at Christie's in New York in 2013, when Madonna and Child with Young Saint John the Baptist, dubbed the "Rockefeller Madonna" because it was once owned by John D. Rockefeller Jr, sold for $10.4m.
Subscribe to MoneyWeek
Subscribe to MoneyWeek today and get your first six magazine issues absolutely FREE
Get 6 issues free
Sign up to Money Morning
Don't miss the latest investment and personal finances news, market analysis, plus money-saving tips with our free twice-daily newsletter
Don't miss the latest investment and personal finances news, market analysis, plus money-saving tips with our free twice-daily newsletter
"Examples of Botticelli's work do appear for sale – about 20 so far this century of mainly religious subjects – but, although he made superb portraits, there are only a dozen or so accepted as being by his hand, and most are in museums," says Colin Gleadell in The Daily Telegraph. "The work should appeal to the swelling ranks of multibillionaire buyers who only want the best, regardless of which era it comes from or the style it is in."
That said, while undoubtedly an Old Master painting, it feels quite modern. "Set against a clear blue sky, the sitter is placed in front of a simple window frame rendered with stripes of different shades of grey in an almost illusory manner (think Josef Albers mixed with René Magritte)." As such, it might even find a buyer among modern art collectors.
The Solow collection
The seller is widely believed to be billionaire New York property developer Sheldon Solow – or rather his heirs now, as Solow died last month aged 92. When the painting was first consigned, it raised eyebrows: it is 99%-owned by Solow's private foundation. Solow bought the painting in 1982 for £810,000 (then $1.3m) at Christie's in London before donating it to his foundation. In 2017, it was valued at $60m.
The foundation is largely tax-exempt, with the result that at least $33m stands to be saved on capital-gains tax. "The rich routinely employ such tax-planning manoeuvres, which are perfectly legal, with assets from stocks to real estate," as Katya Kazakina pointed out on Bloomberg in October, before Solow's death. "[But] it may be the first time a major Botticelli has come up."
The proceeds won't directly benefit his heirs as the money must go back into the foundation. But Solow's widow, Mia Fonssagrives-Solow, says she is planning to open a private museum with the rest of Solow's art collection that will be accessible to the public. "Finally," says Georgina Adam in The Art Newspaper, the foundation will "be justifying its tax-free status as being in the public interest."
A close look at the Mona Lisa
The Botticelli auction is the finale of a flurry of Old Master sales at Sotheby's this week, Christie's (15-17 December) and Bonhams (17 December). But if A banquet still life, by the Flemish 17th-century painter Jan Davidsz de Heem, offered at Christie's for between £4m and £6m, is too rich for you, consider an exclusive (albeit time-limited) look at arguably the world's most famous painting for a fraction of that price.
The Paris branch of Christie's, together with local auction house Hôtel Drouot, is auctioning off the chance to get up close and personal with the Mona Lisa. Last week, the lower estimate of €10,000 had already been hit. Every year, the painting is taken out of its display case at the Louvre to be examined by restoration experts. The highest bidder at the online auction on Tuesday, along with their guest, will be present to witness that process. It will be "a far cry from a standard museum visit", says Bryan Hood on the Robb Report.
"Normally, to see the historic painting you would have to work through the throngs of tourists… And even if [you] get to the front of that pack, your view of the painting is still obscured by its thick bulletproof and climate-controlled display case." Afterwards, the Louvre's president Jean-Luc Martinez will lead a private tour of the Grande Galerie, replete with da Vincis and Caravaggios. The proceeds from the auction will offset Covid-19-related losses.
Auctions
Going…
Korean K-Pop music sensation BTS have donated the pastel-coloured costumes they wore for their hit music video Dynamite to raise money for MusiCares, a charity that helps people in the music industry whose careers have been adversely affected by the pandemic. The video, released in August, broke the record for the most online views in 24 hours after it was played 101.1 million times on YouTube. The outfits have been given a "conservative" estimate of $20,000 to $40,000 when they go up for sale with California-based Julien's Auctions on Friday, 29 January, ahead of the 63rd Grammy Awards the following Sunday.
Gone…
Three guitars that belonged to rock legend Eddie Van Halen, who died in October, fetched a combined $422,000 last week, also with Julien's Auctions. The guitarist's iconic red Kramer "Frankenstrat" went for the most of the three, selling for $231,250, well above its $60,000 estimate. Other guitars in the auction included two smashed examples that had belonged to Nirvana's frontman, Kurt Cobain, which, together, made $281,000. Bob Marley's acoustic guitar fetched $153,600 and the crystal-covered glove worn by Michael Jackson on his 1984 "Victory Tour" sold for $76,800.
Chris Carter spent three glorious years reading English literature on the beautiful Welsh coast at Aberystwyth University. Graduating in 2005, he left for the University of York to specialise in Renaissance literature for his MA, before returning to his native Twickenham, in southwest London. He joined a Richmond-based recruitment company, where he worked with several clients, including the Queen's bank, Coutts, as well as the super luxury, Dorchester-owned Coworth Park country house hotel, near Ascot in Berkshire.
Then, in 2011, Chris joined MoneyWeek. Initially working as part of the website production team, Chris soon rose to the lofty heights of wealth editor, overseeing MoneyWeek's Spending It lifestyle section. Chris travels the globe in pursuit of his work, soaking up the local culture and sampling the very finest in cuisine, hotels and resorts for the magazine's discerning readership. He also enjoys writing his fortnightly page on collectables, delving into the fascinating world of auctions and art, classic cars, coins, watches, wine and whisky investing.
You can follow Chris on Instagram.