Diamonds lose their sparkle for investors
Diamonds are no longer among investors' best friends, says Chris Carter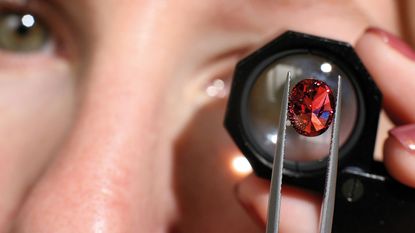 With investors fleeing for safe haven assets, now is the time for gold to shine. Diamonds, on the other hand, have lost their sparkle. In March, when stocks were plumbing new depths in the coronavirus crisis, the price for a single diamond carat fell by 6.8%, according to the RapNet Diamond Index. But the woes facing the industry actually go beyond the current crisis. Over the year, the single-carat price is down by 13.1%.
What's going on? Well, for starters, Covid-19 has exacerbated an existing problem. "India, where 90% of the world's rough diamonds by volume are cut and polished, is in lockdown," says Rachel Millard in The Daily Telegraph. That has resulted in a 50% drop in diamond exports from this processing hub. "For an industry that depends on being able to dig jewels out of a mine from Canada to Angola, fly them to the trading hubs of Antwerp or Botswana, and sell them to wealthy, hopeful consumers from London to New York and Beijing, coronavirus has been a fiasco."
A sorry state of affairs
With shops shut and people losing their jobs in, say, the US, the world's biggest consumer market for diamonds, but also in Europe, and China, where the market is growing, diamond prices can be expected to fall further – by 15% or more this year, Paul Zimnisky, an independent diamond analyst, tells Millard. De Beers cancelled its latest sale after witnessing a 28% year-on-year drop in sales, and it's been a similar story for its rivals.
Subscribe to MoneyWeek
Subscribe to MoneyWeek today and get your first six magazine issues absolutely FREE
Get 6 issues free
Sign up to Money Morning
Don't miss the latest investment and personal finances news, market analysis, plus money-saving tips with our free twice-daily newsletter
Don't miss the latest investment and personal finances news, market analysis, plus money-saving tips with our free twice-daily newsletter
But even before the coronavirus outbreak, the market had been in a sorry state owing to a glut, "coupled with declining marriage rates among millennials", says Alexander Gladstone in The Wall Street Journal. London-listed Petra Diamonds, already crippled by debt, has also had scant recent success at its famous Cullinan diamond mine in South Africa. That, in itself, wouldn't be so bad for diamond merchants. Scarcity in other markets leads to higher prices. But the diamond market has had to contend with "fakes".
In fact, artificial diamonds are not fakes – they have the same chemical and physical properties as their earth-born brethren. They are just "grown" in a lab. They are also cheaper to produce, free of any historical and ethical taint and, in theory, are potentially greener, notes Oliver Milman in The Guardian.
In the pink
Colour, in the literal sense, is important for collectors, as coloured diamonds are among the most sought-after – and few more so than the pink diamonds from Rio Tinto's Argyle mine in western Australia. "Most mines will be lucky to unearth one pink in the entire haul; at Argyle, it's about one pink carat for every 1,000 carats mined," says Mark Ellwood in the Robb Report. They are also "consistently of the highest caliber, with a strong, pure, intense shade". But the mine, which gave the world around 90% of its pink diamonds, has given up all but its last 150 or so carats. It is set to close later this year. Demand has been rising, however. So coveted are Argyle pink diamonds that it's been rumoured Rio Tinto could end up selling the Argyle name.
The £20 note worth £7,500
The introduction of the new polymer £20 note, featuring artist JMW Turner, has set off another round of frantic wallet-checking for notes with prized serial numbers. One of the first to be printed, a £20 note with the number AA01 000010, sold for £7,500 – 375 times its face value, and around twice its £3,000 to £4,000 guide price – at a charity auction held by Spink, says George Nixon for This Is Money.
The sale took place behind closed doors due to the spread of coronavirus. By tradition, the Queen is usually handed the first note, ending in 01, while the note ending in 10 tends to be the lowest-numbered note to be made available to the public, "even if it is [at] a premium price". In 2016, the lowest-numbered publicly available new polymer £5 note, ending in 17, sold for £4,150. A year later, it was the turn of the new tens, featuring Jane Austen. On that occasion, a tenner with the serial number ending in 10 sold for £7,200 at auction, also with Spink.
The second-most expensive £20 note at last week's sale was not the 11, but the 20, which after a bidding war, sold for £3,200. Notes ending in eights tend to sell well at auction, because the number is associated with good luck in Chinese culture. They "are very popular among our clients" and "likely to be sold at a higher hammer price", Spink tells This Is Money. The £20 note ending in 88 sold for £3,000 – above its £2,500 upper estimate.
Auctions
Going…
A letter written by nurse Florence Nightingale 121 years ago, addressed to "the Aylesbury Dairy Co.", is to go up for sale as part of Derbyshire-based Hansons Auctioneers' Spring Fine Art and Library Auction, currently postponed due to coronavirus. In the letter, dated 6 March 1899, Nightingale asks: "Would you be so very good as to send me at once 6 eggs, if possible, laid this morning (or less than 6 if laid this morning) with the dark brown shells, for a gentleman very ill indeed, who fancies them – and to supply me with the same every morning for the gentleman who likes your eggs, & takes hardly anything." The letter, discovered in a box of old papers, is expected to sell for up to £600.
Gone…
A sale of 1,100 items of memorabilia that belonged to the late actress Doris Day (pictured) raised almost $3m with Julien's Auctions. The California-based auction house had estimated the online sale to make between $300,000 and $600,000. Top-selling items included the classic 1930 Ford convertible that featured in the opening scene to Day's 1980 talk show Doris Day's Best Friends. It sold for $96,000. A Golden Globe award from 1962 fetched $25,600. A planter, decorated with brass elephants, that had been a gift from Day's friend, actor Rock Hudson, as well as a 14-karat gold poodle, both went for $15,625 each. All of the proceeds from the sale went to the Doris Day Animal Foundation.
Chris Carter spent three glorious years reading English literature on the beautiful Welsh coast at Aberystwyth University. Graduating in 2005, he left for the University of York to specialise in Renaissance literature for his MA, before returning to his native Twickenham, in southwest London. He joined a Richmond-based recruitment company, where he worked with several clients, including the Queen's bank, Coutts, as well as the super luxury, Dorchester-owned Coworth Park country house hotel, near Ascot in Berkshire.
Then, in 2011, Chris joined MoneyWeek. Initially working as part of the website production team, Chris soon rose to the lofty heights of wealth editor, overseeing MoneyWeek's Spending It lifestyle section. Chris travels the globe in pursuit of his work, soaking up the local culture and sampling the very finest in cuisine, hotels and resorts for the magazine's discerning readership. He also enjoys writing his fortnightly page on collectables, delving into the fascinating world of auctions and art, classic cars, coins, watches, wine and whisky investing.
You can follow Chris on Instagram.