Nintendo Playstation: geek dreams are made of this
The only Nintendo PlayStation ever made is up for grabs.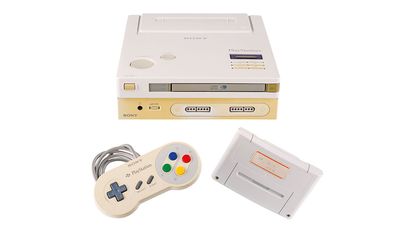 (Image credit: 2019 Heritage Auctions)
For years, the Nintendo PlayStation existed only in the hushed whispers shared between geeks at comic-book conventions. Nintendo and Sony working together to bring out a games console? It couldn't possibly be real. It would be like Coke and Pepsi teaming up to make cola. But the rumours were true. Sony and Nintendo, today arch-rivals in the gaming sphere, had indeed collaborated to make a console in the early 1990s.
Two hundred prototype Nintendo PlayStations were created in around 1992 and 199 are said to have been destroyed when the partnership ended early. Just one model survived and it was kept by Olaf Olafsson, the first president of Sony Computer Entertainment. Olafsson went to work for the Advanta banking corporation and took the console with him, says Sky News. But it was left behind when Olafsson changed jobs again in 1999. When Advanta later went bust, the PlayStation was sold. Now it has surfaced again – this time as part of an online sale with Dallas-based Heritage Auctions. As I write, the highest bid stands at $360,000, with fees. Bidding closes on 8 March.
For sure, it is a strange beast, worthy of any 21st-century curiosity cabinet. Part Sony and part Nintendo, at first glance it resembles a Super Nintendo Entertainment System, or "SNES" to those of us who grew up with it (it hit the shelves in Britain in 1992). The controller is almost identical. Except, look closely and the controller reads Sony PlayStation. Presumably, Nintendo chose to recycle parts of the design after the plug was pulled on the project. The console has been restored to full working order and it can play music CDs. Stranger still, it can apparently even play the games meant for the SNES.
Subscribe to MoneyWeek
Subscribe to MoneyWeek today and get your first six magazine issues absolutely FREE
Get 6 issues free
Sign up to Money Morning
Don't miss the latest investment and personal finances news, market analysis, plus money-saving tips with our free twice-daily newsletter
Don't miss the latest investment and personal finances news, market analysis, plus money-saving tips with our free twice-daily newsletter
Incidentally, the video games themselves are fetching ever higher prices. Heritage Auctions is also selling a rare copy of Stadium Events: Family Fun Fitness, which was made for the Nintendo Entertainment System (NES) in 1987. It has been given a 9.2 A+ grade rating by video-game grading group WataGames, which means it's in pretty good nick. The current bid at time of writing is $54,000 – for a video game! Games for the NES are particularly collectable.
Still, maybe Nintendo should have tried harder to hold the collaboration together. Sony went on to sell 103 million PlayStations, according to video-games website IGN. The SNES "only" sold 49 million units. Nintendo would lag the market for years, while Sega, another big player in the 1990s, stopped making consoles in 2001 to concentrate on video games. That same year, Microsoft entered the fray with its popular Xbox – but not popular enough to worry Sony, as it turned out. The best-selling console of all time at 159 million units sold is the Sony PlayStation 2. With the release of PlayStation 5 slated for later this year, that market dominance may continue.
A bubble in retro video games
The Nintendo PlayStation is a one-off. But there does appear to be a growing market in collectable (read "retro") video games. "The hottest investments are games for the Nintendo Entertainment System, which popularised characters such as Link, Mega Man and Mario in the 1980s," says Jason Bailey in The New York Times. A collector who spent almost $1,500 on one game was able to resell it for $12,000. "You almost can't pay too much, because stuff is going up so fast," Josh Hamblin, the owner of SideQuest Games in Oregon, who also advises collectors, tells the paper.
Nostalgia is one reason. Collectors who are now in their 30s and 40s are fond of the video games from their childhoods. The market really took off in 2018, when WataGames began grading game boxes, cartridges and manuals according to its ten-point scale, much in the same way baseball cards and comic books are graded. That gave the market a certain respectability, leading to a rush among collectors to get in early, and prices have been rising ever since.
Last February an unopened copy of Super Mario Bros., from 1985, set an auction record of $100,150 with Heritage Auctions. Some see a bubble. Some suspect companies with vested interests of stoking the market higher by creating hype. Still, there's no reason why video games shouldn't be considered collectable. Rarity and condition are crucial, so do your research. And, as with all collectables, buy it because you like it. And who knows – you might even make some money along the way.
Auctions
Going…
Bill Wyman, the former bassist of The Rolling Stones, is selling some of his instruments and music memorabilia through Julien's Auctions in Beverly Hills, California, at the end of May. Among the awards, concert posters and photos, his 1962 Vox AC30 amplifier is one of the most notable of the 1,000-plus lots, says Kory Grow in Rolling Stone. Keith Richards is said to have been so enamoured of the amp it was the reason he invited Wyman to join the band in the first place. It is expected to sell for at least $80,000. "Collecting and archiving has been one of the great pleasures of my life and will undoubtedly be one of my legacies," says Wyman. "It feels like the right time to share my archive with the world." A portion of the proceeds will go to charity.
Gone…
Seven microphones used by popular Korean boyband BTS fetched $83,000 as part of a charity auction ahead of the Grammy Awards late last month. The microphones used on the band's "Love Yourself" tour had been given an upper estimate of $20,000. Rock band Aerosmith also contributed items to the sale in aid of MusiCares, a charity. Singer Steven Tyler's autographed Shure SM58 microphone and accompanying scarves-covered white microphone stand sold for $7,680 at the Julien's Auctions sale, while a signed Joe Perry Gibson Les Paul Signature guitar also sold for $7,680. A limited-edition watch, made with the leather from one of the late Tom Petty's guitar straps, sold for over $22,000.
Chris Carter spent three glorious years reading English literature on the beautiful Welsh coast at Aberystwyth University. Graduating in 2005, he left for the University of York to specialise in Renaissance literature for his MA, before returning to his native Twickenham, in southwest London. He joined a Richmond-based recruitment company, where he worked with several clients, including the Queen's bank, Coutts, as well as the super luxury, Dorchester-owned Coworth Park country house hotel, near Ascot in Berkshire.
Then, in 2011, Chris joined MoneyWeek. Initially working as part of the website production team, Chris soon rose to the lofty heights of wealth editor, overseeing MoneyWeek's Spending It lifestyle section. Chris travels the globe in pursuit of his work, soaking up the local culture and sampling the very finest in cuisine, hotels and resorts for the magazine's discerning readership. He also enjoys writing his fortnightly page on collectables, delving into the fascinating world of auctions and art, classic cars, coins, watches, wine and whisky investing.
You can follow Chris on Instagram.