Celebrity bitcoin ads echo the subprime mortgage crisis
A wave of ads featuring celebrities punting crypto to the masses are reminiscent of how low income Americans were encouraged to take on loans they couldn't afford, says Merryn Somerset Webb.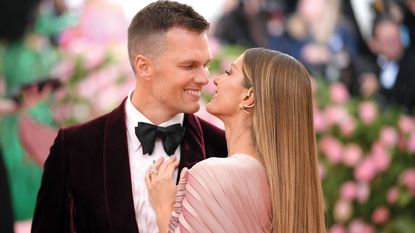 (Image credit: © Neilson Barnard/Getty Images)
If you have lost a lot of money on cryptocurrencies in the last few months, I wonder how you feel about the rich celebrities (mostly in the US) who encouraged you to get in.
Reese Witherspoon has marketed crypto, so have Gwyneth Paltrow, Larry David (his ad has the benefit of being a tiny bit funny), Paris Hilton (not funny) Matt Damon (funny but not supposed to be funny) and Kim Kardashian – among many others. But the bit of marketing I have found most irritating so far comes from Gisele Bundchen and Tom Brady (I'm classifying it as not funny at all on any level).
In an ad for FTX, Brady is seen calling a variety of people (let's call everyone, he says) and encouraging them to get into the crypto markets one way or another. Are you in, he asks them. I'm in, they say. I bet they wish they weren't. There's been a small bounce this week, but not one that goes much way towards mitigating the 70% fall in bitcoin from its highs of November last year.
Subscribe to MoneyWeek
Subscribe to MoneyWeek today and get your first six magazine issues absolutely FREE
Get 6 issues free
Sign up to Money Morning
Don't miss the latest investment and personal finances news, market analysis, plus money-saving tips with our free twice-daily newsletter
Don't miss the latest investment and personal finances news, market analysis, plus money-saving tips with our free twice-daily newsletter
You might wonder why this is the most irritating ad. The answer is that the majority of the people Brady calls do not look like they can afford to lose money in the way that he can (one of the lucky recipients of his advice is his plumber) and the whole thing reminds me a little too much of the sub-prime crisis. Think the bit towards the end where every low-income person in the US had been persuaded that they could both stick it to the man and make a quick buck by buying a pile of low-quality flats and flipping them.
The celebrity bitcoin ads marked the same part of the cycle – and once again, the less able take the hit. Most of the bankers and fund managers who facilitated the sub-prime bubble were fine. The holders of the flats were not. Giselle and Brady look fine. Those with undiversified portfolios majoring in crypto are all too often not fine.
Taking the losses
The only upside (and I am stretching here) is that there is some gain in crystallising losses in order to set them against future gains in the following four years. If you do so, remember that you must not buy said asset back within 30 days (although if you must you could buy another cryptocurrency – they seem to move together) and that you must inform HMRC of the loss for it to be allowable.
You will be wondering where the future gains I mention will come from. That makes sense; there's plenty of bad news out there at the moment (see this week's magazine for why a recession is close to a certainty, for the inadequacies of the central banks who are supposed to be preventing it and for details on the stunning levels of public debt globally).
But maybe it isn't all bad. Matthew Lynn argues there are long-term upsides to a recession. There is also some small good news for those just reaching retirement: annuity rates are up a little, so if you want to swap what is left of your savings for a long-term guaranteed income, you will get more for your money now than you did last year. Those far from retirement should also be cheered: with global stockmarkets off 20% or so, they too are getting more for their money. Finally, see the story of Vitalik Buterin, the crypto guru who reckons that anyone really into crypto for the long term should also "welcome a bear market". He won't, I assume, be crystallising his losses for tax purposes.
Merryn Somerset Webb started her career in Tokyo at public broadcaster NHK before becoming a Japanese equity broker at what was then Warburgs. She went on to work at SBC and UBS without moving from her desk in Kamiyacho (it was the age of mergers).
After five years in Japan she returned to work in the UK at Paribas. This soon became BNP Paribas. Again, no desk move was required. On leaving the City, Merryn helped The Week magazine with its City pages before becoming the launch editor of MoneyWeek in 2000 and taking on columns first in the Sunday Times and then in 2009 in the Financial Times
Twenty years on, MoneyWeek is the best-selling financial magazine in the UK. Merryn was its Editor in Chief until 2022. She is now a senior columnist at Bloomberg and host of the Merryn Talks Money podcast - but still writes for Moneyweek monthly.
Merryn is also is a non executive director of two investment trusts – BlackRock Throgmorton, and the Murray Income Investment Trust.