The case for cryptocurrencies in times of war
Both sides in the Russia-Ukraine war are turning to cryptocurrencies. Saloni Sardana looks at the case for digital cash in times of war.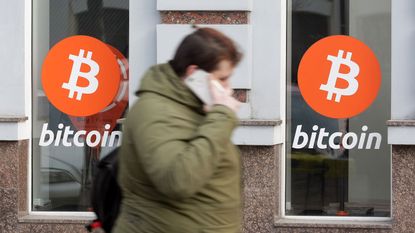 (Image credit: © Pavlo Gonchar/SOPA Images/LightRocket via Getty Images)
A week is long in the cryptocurrency world, and the past week is a perfect example of this.
The cryptocurrency market tanked last week, moving in tandem with risk-on assets such as equities when news broke of russia's invasion of Ukraine. This led crypto-sceptics to claim that digital currencies clearly aren't the gold 2.0 that many crypto-bulls believe.
But the opposite happened this week, with cryptocurrencies soaring on Wednesday even as stocks struggled.
Subscribe to MoneyWeek
Subscribe to MoneyWeek today and get your first six magazine issues absolutely FREE
Get 6 issues free
Sign up to Money Morning
Don't miss the latest investment and personal finances news, market analysis, plus money-saving tips with our free twice-daily newsletter
Don't miss the latest investment and personal finances news, market analysis, plus money-saving tips with our free twice-daily newsletter
So why is crypto up and what have tensions between Russia and Ukraine taught us about the crypto market's various uses?
Ukranians are flocking to cryptocurrencies
Ukraine has seen a surge in demand for cryptocurrencies. As the Wall Journal Points out, bitcoin has been trading at a "premium" this week against the Ukrainian currency, the hryvnia.
"On Binance, the largest exchange in the world, bitcoin was trading for the equivalent of $45,894 in hryvnia terms. On Kuna, the largest exchange in Ukraine, it was at $46,847, and had traded as high as $51,240," the Journal said.
Ukraine has raised more than $35m in donations from digital currencies, as it pleads for more financial support from the world to help it survive Russia's invasion, says blockchain analysis firm Elliptic.
"Some Ukrainians are also turning to crypto as an alternative to Ukrainian financial institutions, which are limiting people's access to bank accounts and foreign currency," says Recode.
​"In a scenario where governments are in chaos, it's difficult to rely on traditional banks, and there's fear of surveillance. So a relatively anonymous system where no government is involved is appealing," adds Recode.
Cryptocurrencies were gaining traction in Ukraine even before the war took place after it passed a law in February legalising cryptocurrencies. Now Ukraine now ranks fourth in the world in terms of cryptocurrency adoption, according to blockchain analytics firm Chainalysis. Russia was much further down, in 18th place.
Russians may use crypto to avoid sanctions
Another school of thought is that Russia, which has been slapped with a host of sanctions in the last week, including being banned from SWIFT and being restricted from selling foreign reserves, could use cryptocurrencies to reduce the impact of being financially cut off from the world.
Crypto could be a way for the Kremlin to transact with the world even after being financially isolated. That is the view of OANDA's market analyst Edward Moya who thinks Western sanctions against Russia are "bolstering the argument for blockchain products that will compete with the SWIFT network".
This isn't the first time the world fears that a country may use cryptocurrencies to avert sanctions. The US and many other nations have long accused Iran of using bitcoin to avoid the sanctions it faced because of its nuclear activities. Indeed, earlier this year, Iran was said to be building a cryptocurrency called Ramzarz to help businesses make international transactions
Russia has been developing the digital rouble as a central bank digital currency (CBDC) since October 2020, and is committed to piloting it in 2022, according to CoinDesk.
"Similar to how Covid accelerated a lot of digital economy and stay-at-work adoption, this aggression by Russia and the West's response in terms of sanctions and freezing of reserves, might accelerate the adoption of alternative payment channels and self-custodial stores of value," says Lyn Alden, founder of investment firm, Lyn Alden Investment Strategies.
But using cryptocurrencies in wartime isn't easy
While cryptocurrencies may seem like a blessing in times of war, in reality using it is far from simple. Given the volatile nature of the market, donation amounts cannot be guaranteed, as Ukraine may receive less than was initially donated if the value of the cryptocurrency suddenly falls.
Also, using cryptocurrencies is likely to require an internet connection, something which cannot be guaranteed as Russia intensifies its shelling of various cities. And not everyone is familiar with the nuances of the crypto market, so starting to learn that during war may not be the best time.
Another risk is the uncertainty behind making a withdrawal. Imagine taking money out of a cash machine, only to realise your funds have lost half their value just minutes later. But for somebody living in a city under fire, having an alternative to cash may be useful.
Cryptocurrency exchanges have so far refused to ban Russia
Ukraine's vice-prime minister, Mykhailo Fedorov, along with the EU and US, has called for cryptocurrency exchanges to block the addresses of Russian users.
"It's crucial to freeze not only the addresses linked to Russian and Belarusian politicians but also to sabotage ordinary users," tweeted Fedorov.
So far most cryptocurrency exchanges have fallen short of committing to an outright ban on Russian transactions with exchanges such as CoinBase, KuCoin and Kraken saying they would only do so if they were legally required to do so.
Binance said it won't implement an absolute ban, but it will take action against Russian individuals subject to sanctions.
Cryptocurrencies may not be the gold 2.0 inflation hedge many claim, but the fighting between Russia and Ukraine has demonstrated that it can be used as a short-term solution in times of great uncertainty and, love it or loathe it, it is here to remain in one form or another.
Saloni is a web writer for MoneyWeek focusing on personal finance and global financial markets. Her work has appeared in FTAdviser (part of the Financial Times), Business Insider and City A.M, among other publications. She holds a masters in international journalism from City, University of London.
Follow her on Twitter at @sardana_saloni