What is Solana and why has the cryptocurrency rocketed this year?
Cryptocurrency Solana hit an all-time high this week after rising by around 350% in the last month alone. Saloni Sardana explains what's going on and why this particular cryptocurrency is catching investors' attention.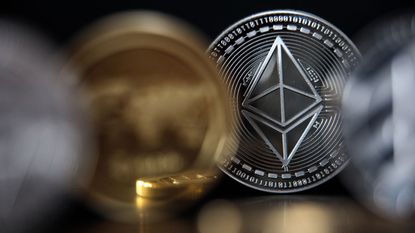 (Image credit: © Jack Taylor/Getty Images)
Cryptocurrency Solana – which is being touted as the "next ether" (see here if you have no idea what that means) – has done rather well in recent days, even while many other big cryptocurrencies have fallen.
Solana (SOL) hit an all-time high of $194.30 on Tuesday and has risen by around 350% in the last month alone.
So what's going on and why is this particular crypto catching investors' attention?
Subscribe to MoneyWeek
Subscribe to MoneyWeek today and get your first six magazine issues absolutely FREE
Get 6 issues free
Sign up to Money Morning
Don't miss the latest investment and personal finances news, market analysis, plus money-saving tips with our free twice-daily newsletter
Don't miss the latest investment and personal finances news, market analysis, plus money-saving tips with our free twice-daily newsletter
What is Solana?
Solana is a blockchain network tied to cryptocurrency token SOL, in the same way that Ethereum hosts the ether token.
SOL has been on a tear in recent weeks and now boasts a total market valuation of more than $41bn. It has risen so rapidly that last week it overtook popular "joke" cryptocurrency Dogecoin to become the seventh largest cryptocurrency by market cap.
So why is this little-known crypto shattering records?
SOL has been helped by the NFT mania
SOL's spectacular gains follows the network's foray into non-fungible tokens (NFT) and the launch in particular of the "Degenerate Ape Academy", an NFT that was built on Solana's network last month.
The NFT was so successful that 10,000 pictures of cartoon apes were sold in the first ten minutes after it launched. As people needed SOL tokens to buy the cartoon apes, the price of SOL dramatically shot up in value.
As Antoni Trenchev, co-founder of crypto lender Nexo, puts it, proponents of NFTs definitely tout SOL's success as a key reason to invest. "Solana has a growing ecosystem, projects are being built on it and it's benefited hugely from the mania that's taking place in NFTs."
The NFT market shot to fame back in March after a piece of digital art sold for $69.3m at a Christie's auction. NFTs are unique (ie non-fungible) cryptographic tokens – much like a cryptocurrency, save that a cryptocurrency token is fungible – that are recorded on a blockchain and can be used to prove the authenticity, ownership and provenance of anything (physical or non-physical) such as artwork, collectable cards, to name a few.
Solana is also seen as a way to play "decentralised finance"
Another key reason behind the altcoin's upward trajectory is its promising future in the world of "decentralised finance" (DeFi).
Like Ethereum, Solana has made "smart contracts" a core focus. These are simply programs that run on the blockchain when predetermined conditions are met, without the help of any financial intermediaries, effectively cutting out the middleman.
This begs the obvious question: what does Solana, a relative newcomer, have that ether – the world's second largest cryptocurrency – does not?
Put simply (there's already enough jargon in this story) Solana is considered to be both cheaper and faster than Ethereum, with a transaction speed of up to 50,000 transactions per second, compared with Ethereum's 20,000-30,000 transactions per second.
"Pyth network went live on Solana late last month, a development that helps to bolster the world of DeFi, [which] is also one of the few catalysts that helped pave the way for Solana's upward momentum," adds Fiorenzo Manganiello, partner at venture capitalist LIAN Group.
Solana could face competition from Cardano
So where does Solana go from here? Is this a classic story of a cryptocurrency that explodes in value, everybody buys in, and it then crashes?
That's impossible to say. Boom and bust is part of the crypto landscape, as the adventures of anyone who's ever invested in bitcoin can demonstrate.
Also, SOL is not the only "altcoin" to shine in recent weeks. Cardano has risen more than 85% in the last month and will likely compete with SOL for market share once its Alonzo update (a major upgrade which is expected to boost its smart contract functionality) takes place on 12 September.
Cardano's ADA token already shot up dramatically earlier this year, again because of investors betting on its potential to become the "next big thing" after Ethereum.
As the complexity surrounding both investing in and even understanding cryptocurrencies demonstrates, this is still a very niche area. However, it's also one that is hard to dismiss entirely. For the enthusiast, dabbling or conducting research with money you can afford to lose seems perfectly reasonable.
Meanwhile, those who are interested in getting exposure to the area as a whole, but can't be bothered with the jargon or all the individual cryptos, might want to look at an exchange-traded fund.
Saloni is a web writer for MoneyWeek focusing on personal finance and global financial markets. Her work has appeared in FTAdviser (part of the Financial Times), Business Insider and City A.M, among other publications. She holds a masters in international journalism from City, University of London.
Follow her on Twitter at @sardana_saloni