Cryptocurrency ether has hit an all-time high. Why? And will the bull market last?
Cryptocurrency ether – the world's largest cryptocurrency by market cap after bitcoin – hit an all-time high this week. Saloni Sardana looks at what's behind the big rise and asks if the bull market can continue.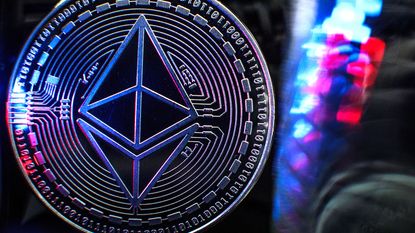 (Image credit: Ether cryptocurrency © Jack Taylor/Getty Images)
Cryptocurrency ether – the world's largest cryptocurrency by market cap after bitcoin – hit an all-time high of $3,516.34 on Tuesday, just a day after it first crossed the $3,000 mark.
So is it different this time, or will the bull market be short-lived, like when it climbed almost 9000% in 2017, and made only modest gains thereafter?
Ether now has a market cap of more than $400bn, according to data from CoinMarketCap, and has risen by around 400% since the start of year, outpacing even bitcoin's year-to-date gain, which has risen around 100% since the start of the year.
Subscribe to MoneyWeek
Subscribe to MoneyWeek today and get your first six magazine issues absolutely FREE
Get 6 issues free
Sign up to Money Morning
Don't miss the latest investment and personal finances news, market analysis, plus money-saving tips with our free twice-daily newsletter
Don't miss the latest investment and personal finances news, market analysis, plus money-saving tips with our free twice-daily newsletter
So it may very well be different this time, and ether could well enjoy several months of further growth. Why is that? A number of market watchers think market fundamentals and several broader factors justify ether's stunning price rally.
So what caused the milestone for ether?
Why the ether price spiked
A lot of the rally has got to do with the nature of the cryptocurrency and how useful it is. For a start, ether has enjoyed greater interest from institutional investors. In the last two weeks alone, four ether exchange-traded funds have debuted on the Toronto Stock Exchange. This has made it "easy for institutions to gain access as demand for crypto exposure broadens beyond bitcoin", says investment management company Ark Invest.
Ether was invented in 2015 by Vitalik Buterin. It runs on the Ethereum network, which shot to fame for its ability for developers to execute "smart contracts". It has been particularly useful in decentralised finance (DeFi). But more recently the rise of non-fungible-tokens (NFTs), which are cryptographic tokens that run on a blockchain and work as a record of ownership, has also driven the ether price higher. The digital tokens caused shockwaves in markets when it emerged that artist Mike Winkelmann sold an NFT of his work for $69m. But how are these obscure tokens related to ether's rise in value?
Simply put, most NFTs use the Ethereum blockchain (although they can use others, too). "Usage of the Ethereum network is increasing and, by some measures, outpacing that of bitcoin, as shown by the number of active wallets and total transaction fees. In our view, decentralised finance (DeFi) and non-fungible tokens (NFTs), both of which are burgeoning, explain Ethereum's recent breakout", says Ark Invest.
Ether's all-time high also comes weeks after euphoria around the recent listing of Coinbase, America's largest cryptocurrency exchange. A number of cryptocurrencies hit fresh record highs after its public debut.
Ether's expected upgrades are also boosting its price
A number of expected protocol upgrades to Ethereum's system is also having a positive impact for the cryptocurrency. Anticipation of the forthcoming "Ethereum Improvement Proposal", commonly referred to as EIP-1559, has been positive for ether.
Transaction charges must be paid for any cryptocurrency payment to be settled or recorded on the blockchain. Fees for ether, which are called "gas", are highly volatile, which means users often have to speculate on what to charge. EIP-1559 is expected to mark an end to this problem as Ethereum developers approved a proposal in March, paving the way for an average transaction price to be used in the network.
Another prominent feature of the update is that ether's supply will fall, meaning this could provide further upside. At present ether's supply is limitless, in stark contrast to other cryptocurrencies, like bitcoin which has a fixed supply of 21 million coins.
Ethereum is also currently in the process of shifting to a mechanism known as proof-of-stake (PoS) to verify transactions on the blockchain. That should make the platform more scalable and energy efficient. At present proof-of-work (PoW) remains the most popular method, used by bitcoin and other cryptocurrencies. PoW requires "miners" to solve complicated mathematical puzzles and share the proof before blocks can be added. But the problem with this is that it requires a lot of energy.
Looking ahead
So is there no looking back for ether, or could it come crashing back down? Ark Invest points out a downside of EIP-1559 as "miners will bear the brunt of fees burned", adding that "a miner revolt could impede the progress of the EIP-1559 upgrade".
But ether's rally has become one of the latest sources of frenzy in the market, with one analyst predicting ether prices could race past the $5,000 mark in coming days. "Ether is one of the main beneficiaries in the wider explosion in the cryptocurrency market," says Nigel Green, chief executive and founder of financial services firm deVere Group.
Ether is undoubtedly a promising cryptocurrency underpinned by strong fundamentals and practical uses. So this isn't a classic story of a cryptocurrency soaring without reason or cause, such as Dogecoin, which began as a joke but has risen more than 11,000% since the start of the year.
Another promising sign for ether is that the ETH-BTC ratio, which reflects ethereum as a proportion of bitcoin prices, is rising. This shows that ether is rising and bitcoin's dominance is waning.
But while ether's gains are unlikely to fizzle out anytime soon, its usefulness and success will ultimately determine whether ether prices will eventually reach a top or have much further to go. But bitcoin's prices may come under pressure if ether lives up to its hype.
Saloni is a web writer for MoneyWeek focusing on personal finance and global financial markets. Her work has appeared in FTAdviser (part of the Financial Times), Business Insider and City A.M, among other publications. She holds a masters in international journalism from City, University of London.
Follow her on Twitter at @sardana_saloni